Worth It: Westman Atelier Skin Activator Serum
It's sensitive skin-approved.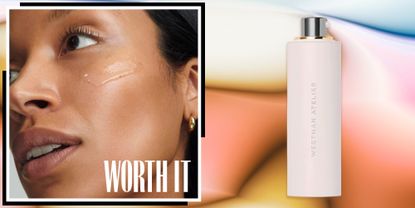 (Image credit: Future)
Welcome back to Worth It, our weekly seal of approval on noteworthy launches and bespoke collaborations in the worlds of beauty and fashion. If it's featured here, consider these investments worthwhile.
The Promise
Gucci Westman knows good makeup, no question about it. Over the past 20 years, she's collaborated with everyone from Jennifer Aniston to Gwyneth Paltrow, worked her magic backstage at fashion shows, and had her technique become synonymous with the easy, breezy, finger application, no-makeup makeup look. Circa 2018, she launched her namesake line, Westman Atelier, which brought award-winning, best-selling, foundation, bronzers, blushes, and highlighter sticks to the market. Since then, the line has expanded to include complexion drops (one of my personal favorites), eyeshadows, powders, and more—all with non-toxic, skin-first ingredients and a luxe feel.
And as of this week, Gucci has ushered the brand into its natural next chapter: skincare, which kicks off with the Skin Activator Serum. The product is jam-packed with actives (12 to be exact), but is restorative, calming, and skin-safe at its core. Its main goal is to restore and strengthen the moisture barrier with ingredients like ceramides and prickly pear extract. In the long term, it's thought to do it all: Even tone, plump, calm, firm, brighten, reduce fine lines, shrink pores, and protect against free radicals.
There's a laundry list of benefits said to be made possible by a Multi Lamellar Technology that's rooted in Korean beauty. Essentially, this proprietary tech is able to stabilize every active ingredient and release each individual component at the optimal depth. In short: It enables you to get the highest possible benefit out of the formula. Alas, every product in the world sounds freaking' phenomenal on paper. So, how does this one live up to its promises in practice?
Why I'm Obsessed
I love skincare, but to my chagrin, my skin does not. New products are risky and the majority send my sensitive skin in a scary spiral that ends in an SOS, accompanied by a trip to the dermatologist. I have rosacea, perioral dermatitis, and a highly reactive complexion. Really, fun stuff. That all said, I test new face products sparingly and with an abundance of caution. If I'm being completely candid, a serum with 12 potent actives would normally get tossed to the side. It sounds somewhat like a recipe for disaster.
But I met with Gucci a few weeks back (when the product was hush-hush) and she clued me into the fact that she too has rosacea and showed me a wild before and after photo of the serum's redness-reducing, rash-fighting powers. I was convinced—well, convinced enough to actually try it. I took the chic, refillable serum home with me and started slathering my face with it that night.
It passed my initial test with flying colors. Two pumps worth of product genuinely calmed my skin. I watched as the prickly pear extract worked its magic to take the redness out of my complexion. There was even a nice cooling effect that brought down visible inflammation. The product rubbed in completely and left a hydrated, but not necessarily glowy, appearance behind. It also had a tacky grip; normally that isn't my preference, but I could tell it would be much appreciated under makeup.
The second test for me lands at the two-week mark. In my experience, that's when breakouts, rashes, and irritation come to a head. To my surprise though, I experienced none of the above. Instead, my skin looked even and balanced. My rosacea was nearly non-existent. My face felt balanced—I hadn't had a stinging sensation or burning tingle in days. I thought I had perfected my skincare routine, but Westman Atelier's newest serum elevated my regimen. The fragrance-free formula didn't just keep my highly irritable skin stable, but it actually improved my tone and texture.
Oh, and my makeup has never looked better. That tacky grip I wasn't so sure about? It doubles as the perfect primer. I haven't even been putting on a moisturizer during the day. This serum keeps me hydrated, and makeup on, all day. But honestly, I'm not even surprised—this was cooked up by *the* Gucci Westman after all.
Samantha Holender is the Beauty Editor at Marie Claire, where she reports on the best new launches, dives into the science behind skincare, and keeps up with the latest trends in the beauty space. She has previously written for Us Weekly, Popsugar, Makeup.com, Skincare.com, and Philadelphia Wedding. Follow her on Instagram @samholender.