This Woman Holds The Future of NASCAR in Her Hands
It used to be the pastime of choice for good ol' boys. Not anymore, thanks in part to Jill Gregory, NASCAR's vice president of industry services, who's reinventing the sport for men and women with a taste for speed.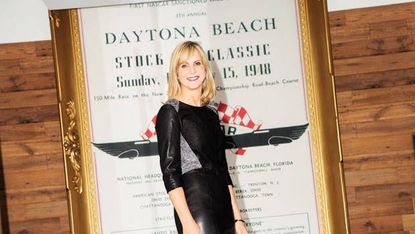 (Image credit: Adam Kremer)
MARIE CLAIRE:Were you always a NASCAR fan?


JILL GREGORY: No. I grew up in the relatively small city of Modesto, in northern California. My parents played golf, I played tennis—NASCAR wasn't something we followed. But I always wanted to be in sports; I just didn't know what form that would take. After college, I got a job at Wunderman Cato Johnson, a sponsorship and branding agency that handled all different kinds of sports deals, so I was able to work on the Atlanta Olympic Games, PGA golf, and U.S. Open tennis. Years after, when I went to work for Nextel [later acquired by Sprint], which had just taken over the sponsorship of what was then known as the Winston Cup, I had a chance to work with NASCAR.
MC:How did you end up actually working for NASCAR?
JG: Like any business or industry, sports is a pretty small universe. I'd been working at the sports marketing agency of record for Visa, which was also the official credit card of NASCAR, when I met Steve Phelps [NASCAR's chief marketing officer], who was then at the NFL. Years later, I ran into him, and he was hiring for a position at NASCAR. He was like, "Hey, you know what? I was thinking of you for this position." Maintain relationships and contacts! They will serve you well throughout your career.
MC:What do you do exactly?
JG: Mostly sponsorships and branding. On the team side, how do we help the teams and their sponsors get the most value out of NASCAR? From an events standpoint, how do we sell more tickets and get more fans out to our tracks? And from the drivers' standpoint, how does NASCAR take a more active role in developing new drivers?
MC:It sounds like the future of NASCAR is basically in your hands.
JG: No pressure!
MC:Some people think of car racing as a lowbrow sport, certainly when compared with golf and tennis. Do you think that's a fair characterization?
JG: I don't think it's fair. Maybe it's a preconceived notion that people had many years ago, but it's not true today. Look who comes to the tracks: It's families, it's females, and we're getting more diverse. There are also some preconceived notions of what a NASCAR driver looks like, but a lot of the work that we've been doing over the past few years is changing that image. Our drivers are young and hip, and they're from all over the country. This isn't just a Southeast-based sport.
MC: But is it really a sport?
JG: Absolutely. Every successful driver has a full fitness regimen, a trainer, a nutrition plan. They're hydrating four days before the race. When we bring any sort of media or celebrities to the track, we put them in a pace car with a driver so they can see the hand-eye coordination, balance, and mental sharpness that you need to be a driver—to say nothing of being in a 130-degree car for four hours.
MC: How important are female fans to NASCAR?
JG: We are about 40 percent female. It's the only major U.S. sport where men and women can compete at the same level. And we have one of the highest percentages of female viewers on television. If you look at the crowds at our races now, you see women, kids, and families. It's an event, something women have always wanted to be a part of.
MC:Do you market differently to women? If so, how?
JG: In general, storytelling and the personalities of the drivers are important to our fans. But our research shows that women want to know more about the driver's background—how he or she got into racing, why racing over soccer or basketball. That kind of information strengthens their connection to the sport.
MC:You travel quite a bit for NASCAR. Do you like that part of the job?
JG: I do. We go from February until November, which is one of the longest seasons in sports. I'm on the road a lot. Everybody complains about travel, but if I sat in the office every day, I would go nuts in a week. If you want a 9-to-5 job, and you want to know what's going to happen every day so you can cut out by 5, then this isn't for you.
MC:What was your toughest job interview?
JG: It was one of my first jobs in sports. A friend of mine said, "I have a lead on a job for you—it's in San Francisco, and you're going to love it." I wasn't feeling great the day of the interview, and I bombed. It was terrible. We just didn't connect. I walked out of there thinking, Oh, my God, I really want this job so badly. I can't believe I did so poorly. I went home out of sorts and upset. So I called him back, and I said, "Look, I know that our interview went really badly, but I really, really want this job. I think I would be really good at it. Can I come back tomorrow and meet with you again? I can be there at 9." He said yes, and I ended up getting the job.
MC:NASCAR is still largely run by men. Do you ever find it difficult to assert yourself?
JG: Yes, but as I've grown and gotten more leadership experience, I think my style has become more direct. But you have to do it with a certain amount of finesse and graciousness. I've learned that you are evaluated on the "how" as well as the "what"—you could have the best results for the "what," but how you got there matters, too. If people didn't enjoy working with you, if you left a bad taste in their mouth, if you went about it the wrong way—then it doesn't matter if you got the best results in the world. You really weren't successful.
MC:What's your advice for women who want careers in sports? Network?
JG: I don't have time to network. I'm always on the road. I think it's about your work, your style, and your word—and whether people enjoy working with you. The sports world is small. We attend the same conferences; we see all the same people at awards shows. We read all the same trade publications. People will remember whether they enjoyed working with you. So you have to maintain those relationships and let your work speak for itself.
Jill Gregory at NASCAR headquarters in Charlotte, North Carolina, in a Boss dress, with a Tiffany & Co. thin bracelet & band ring, Pluma open cuff, and Jessica Biales wave ring.