An Exclusive Look Inside the New 'Daily Show,' with Producer Jen Flanz
'The Daily Show' executive producer reveals why she helped choose Trevor Noah, what changes to expect, and what could top working on Late Night's most groundbreaking show.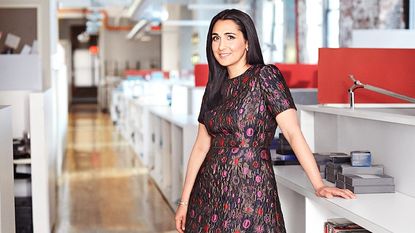 (Image credit: Winnie Au)
Marie Claire: What was your reaction when Jon Stewart broke the news that he was leaving the show?
Jen Flanz: I was shocked but not surprised. He had been doing this job for a very long time, and I knew there were a lot of other things he wanted to do creatively, having just come off directing his first movie. Personally, I was very sad. I was here a year before him, so we've been together for over 16 years now, which is longer than a lot of marriages. [He taught me] that you can be the boss and still be nice and relatable and friendly. You don't have to rule with fear, which is such a common misconception.
MC: You started out as a production assistant and worked your way up to executive producer 15 years later. How did you do that?
JF: I recognized what I was good at early on—and that's getting everything together and making it happen. I'd always had an interest in art, and when I said I wanted to work on graphics, they let me. And then eventually when somebody left, I took it on. I have also hired literally half the staff as interns and production assistants—and they've gone on to be writers, producers, and executives. I like to think they prove that I have a good eye for recognizing talent and managing them.
MC: Is there a downside to working in one place for so long?
JF: It's possible. I'm sure I'm not the first person Fox News wants to hire, but I'm OK with that. Sometimes I've worried that my experience on the whole isn't diversified enough, that it might be a hard transition one day if I wanted to work on a scripted one-hour drama. But I love it here, and so the worry is outweighed by my happiness.
MC: Were you involved in helping choose Stewart's successor, Trevor Noah?
JF: Yeah. I saw him a few years ago doing stand-up, and I was like, That guy's amazing—we have to get him on The Daily Show. He won't be Jon; he'll be different. But he's going to be great.
MC: Noah was the subject of a lot of controversy concerning off-color tweets he posted about Jews and women. What did you make of that?
JF: Comedians use Twitter to try out jokes the way they used to do it in clubs. When Jon was starting, I don't know what kind of jokes he told at comedy clubs in the mid-'80s. Guess what? Nobody knows. It's not recorded anywhere. With Trevor, it was not so much that the jokes were offensive—those just weren't great jokes. It's like the kid who smokes pot in college and then wants to run for president later. I don't back the jokes, but I do back Trevor.
MC: What can we expect from this new Daily Show?
JF: There will be a younger vibe. Trevor is not American [he's South African], and this will be his first election season here, so he's got a long year ahead of him. He's also more into social media in general, and we are definitely talking about multi-platform content, Snapchatting, Web exclusives. I've worked with him a bit now, and I have a feeling it's not going to be that tough of a transition.
MC: Stewart has suggested he needed a change of scenery. Do you ever feel burned out?
JF: Sometimes. I've had a pretty crazy ride personally. I was married, divorced, had cancer—all while I was here. [Flanz was diagnosed with Hodgkin's lymphoma and has been in remission for five years.] I have friends who play hooky from work. I would never even consider it. When I was in chemo for six months, I took every other Thursday off. I would still come in on Friday because it kept my head in the game and away from thinking about dying. I am really, really lucky to have a job that I wake up every day and want to go to.
MC: Do you ever think about what comes next for you?
JF: I do! The next thing for me would be going to work on a project that I created. I've yet to be offered a job that is more exciting than working on this show, and the idea of leaving here is heartbreaking. But I would be interested in being a showrunner, creator, writer, the whole thing.
MC: What's your advice for young women interested in working in TV?
JF: Don't be crazy. Act sane, even if you're the biggest fan of somebody. In TV and film, I think that is a big deal. What got me really far in my job here was just treating Jon like a normal person. And I always had another outlet for my creativity. I tell everyone here to do that. You should have something that is your voice: Be in a band, draw cartoons, have your own podcast, a blog—whatever makes you happy and fulfilled creatively, because this job will never fulfill your every creative need. Nobody else's show ever will.
The Daily Rundown
9:30 a.m. Writers' meeting. "There's a constant e-mail chain overnight, so by the time we get in, we know what stories we're going to be talking about."
10:15 a.m. Production meeting. "I fill everyone in on what stories we are doing."
10:40 a.m. Catch-up with the host. "All the executive producers meet with him and talk about the plan for the day."
11 a.m. First-round scripts. "We read through them and give the writers notes, and then they go back and do a second draft."
1:30 p.m. Second-round scripts. "After, I'll look at the graphics and figure out what needs to be tweaked."
4 p.m. Rehearsals. "We are all in headsets doing a run-through with the crew, graphics department, props. It all happens really fast."
6 p.m. Taping. "Afterward, we edit and do a postmortem. We usually don't get out of here much later than 8:30 p.m."
The article appears in the October issue of Marie Claire, on newsstands now.
Follow Marie Claire on Instagram for the latest celeb news, pretty pics, funny stuff, and an insider POV.
Marie Claire email subscribers get intel on fashion and beauty trends, hot-off-the-press celebrity news, and more. Sign up here.