The Business of Feeling Good
Entrepreneurs who place health and nutrition at the core of their companies are, quite literally, doing well.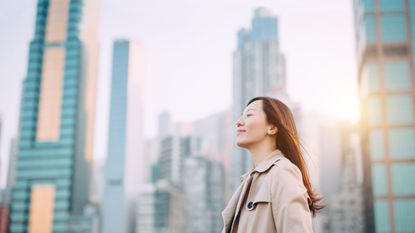 (Image credit: Getty Images)
The Green Guru
Carly De Castro, Cofounder, Pressed Juicery
It was a family tragedy that set Carly de Castro on the path to launching her company, Pressed Juicery. In July 2008, while working as a publicist at entertainment-PR firm 42West in Manhattan, she got a call from her stepdad. Her mom had had a brain aneurysm. "I remember collapsing to the ground and kind of hyperventilating," de Castro says. At 5 a.m. the next day, she flew to Los Angeles, her hometown, then drove straight to the hospital. Her mom was out of surgery—but diagnosed with a fatal form of brain cancer. Chemo and radiation followed, and de Castro worked remotely while flying back and forth between New York and L.A. for several months. When the glioblastoma returned in May, she quit her job and moved home. By September 2009, she had lost her mom.
During her trips out West, de Castro—who, only a few months prior, had jumped on the cleanse bandwagon, citing its ability to help her lose weight, clear brain fog, and ease anxiety—noticed L.A.'s lack of juiceries. So did her friend Hayden Slater, another New York transplant originally from L.A. "Hayden introduced me to his friend Hedi Gores [Pressed Juicery's third cofounder]. We all started having lunches and said, 'OK, let's just plant the seeds of this,'" she says. "But after my mom died, I was crying all the time. I wasn't feeling motivated."
"One morning around Thanksgiving, I said to myself, You need to get up off the bathroom floor." She spent the next few months brainstorming with Slater and Gores. By April 2010, they had mapped out a business plan. De Castro then took a six-week wellness-focused trip to India, and in June, using their savings, the trio bought a juicer, hired research and development consultants, and rented Pressed's first space: a 22-square-foot storefront in Brentwood tucked under the yoga studio they frequented. A few months after opening that first store's doors, when Pressed required nearly all of de Castro's attention, she and her boyfriend of four months found out she was pregnant. "I didn't know what I was going to do. I credit [my now husband, Alejandro] for saying, 'You have to trust that this is going to turn out the way it's supposed to turn out.'"
Today, Pressed Juicery has 70 stores, 250 full-time employees, and more than $50 million in annual revenue. De Castro, now mom to three kids, focuses on PR, marketing, flavor innovation, and content. "Looking back, it all makes sense. But in the moment, it feels scary," she says. "It took having something really intense happen, but I now listen to my instincts. It's just about trusting the journey."
The Soothsayer
Tina Sharkey, Cofounder and CEO, Brandless
Thanks to her cofounding of digital-media company iVillage in 1995 and stints on the leadership teams at Sesame Workshop, AOL, Johnson & Johnson, and Sherpa Capital, Tina Sharkey has an extensive network—so much so that venture capitalist Aileen Lee is one of her best friends. After a lunch in 2014 with serial entrepreneur Ido Leffler, which involved a ton of brainstorming about severely broken industries (consumer packaged goods) and how they could fix them (a combination of commerce, community, content, and context), Sharkey and Leffler mapped out their concept for a transparent e-commerce brand, ironically called Brandless, that sold everyday essentials with clean ingredients at accessible prices—catnip for millennials. Then they told a few friends they were thinking about building it as a business. "Aileen said, 'OK, you had me at thinking,'" Sharkey says. And Jeff Brody, a friend and partner at Redpoint Ventures, texted her, "You're thinking about starting something? I'm on my way." In 2016, he led the company's seed round, which closed at $3.2 million.
Sharkey wasn't expecting her role at Brandless to be fulltime; she envisioned more of an advisory seat so she would have time to be present in her sons' lives. (Her youngest was going into his freshman year of high school, and her oldest was applying to college.) At family dinner one night, she told her sons she had interviewed great candidates to be CEO of Brandless. "They said, 'Why would you be interviewing a CEO for Brandless? That would be like having someone else raise us. Brandless is your baby.'"
She took the job in 2014, and she's since amped up the company's messaging on community and wellness. The initial goal with Brandless was to make everyday products "better for everyone," she explains, and the company has done that by selling everything from organic extra-virgin olive oil to bathroom tissue made from sugarcane and bamboo grass to stainless-steel kitchen knives at a flat rate of $3 each. "We embraced the seismic shift of an entire new generation that wants something different than their parents' generation," Sharkey says. In May, Brandless launched its first-ever popup shop in L.A., with a full program featuring panels with titles like "Vegan Women of Color" and "Using Your Platform for Social Good." And, to stay on top of customer wants, Brandless relies on feedback via its social channels to fuel its product planning. That unique combination helped the company close a $35 million round of funding in December. "If we want to see the world reflect the values and the change we want to make," says Sharkey, "it's incumbent upon us to make those changes."
The Pacifist
Pamela Elizabeth, Cofounder, Blossom Restaurant
Though Pamela Elizabeth has spent the past 12 years building a vegan restaurant empire, six months after launching Blossom Restaurant in 2006 she felt wary about the customer base dining at her two-story eatery in the heart of New York City's Chelsea neighborhood. For her, eating vegan was about ending the cruel treatment of animals (the Bronx native had been inspired to pursue a plant-based diet after a pamphlet from the Fund for Animals in Texas showed up in her mail when she was a teen), but Blossom's earliest fans seemed more focused on health than saving feathered and furry creatures. It wasn't until a vegetarian customer had a meal and said, "I'm going vegan; vegan food can taste the way I want it to taste if I just put some effort into it" that her worries were allayed. "At the end of the day, we got people to consider veganism through food," she says. "The more vegans, the fewer animals eaten. It was a little shift in me. It gave me a renewed energy." That attitude has served her well. There are now eight Elizabeth-owned locales in New York: two Blossom restaurants; four "fast food" spots named Blossom Du Jour; Urban Vegan Kitchen, launched with David Tianga and known for its comfort food; and dairy-free chocolatier Cocoa V.
Growing the business was the easy part. Even after a second Blossom restaurant opened about two weeks after the stock market crashed in late September 2008, "there was a demand for healthier food," says Elizabeth. "The day we opened our second location, we went through 500 takeout menus because customers came in and asked for them." Balancing her work and her personal life proved more difficult. Elizabeth had met future husband Ronen Seri a few years after moving to NYC to pursue acting and opera-singing dreams. With Seri, also an aspiring actor, she opened her first business in 1997: the Barking Zoo, a store with healthy food options for animals. They sold it in 2005 and used the profits from the sale to launch Blossom. As business boomed, their 15-year love fizzled. Telling the Blossom employees they were getting divorced (yet remaining business partners) in 2011 felt like telling family. "Everyone was upset and shocked," Elizabeth says. "We reassured them that nothing would change."
The ex-couple still work together on the business. Elizabeth focuses on the original Blossom restaurant, Seri oversees operations at the second location, and Blossom Du Jour, Urban Vegan Kitchen, and Cocoa V are solely Elizabeth's projects. Recently, Cocoa V lost its chocolatier, creating the opportunity to rethink the brand; without romantic roots tying Elizabeth to New York, she's not opposed to looking west. "Cocoa V is something that would do really well in a place like Beverly Hills, because it's an upscale chocolate shop," she explains. "It's about being open to what's there and what might come. It's a time to have fun with it all."
HOW BOSSES STAY BALANCED
"My daughter and I frequent Seattle's Olympic Peninsula, visit the Northwest's beaches, and kayak on the salt water. Spending time with family and friends keeps me grounded." —Julie Averill, EVP and Chief Technology Officer, Lululemon

"Each of my employees has to take a blackout day once a week, which is for reflection and for getting things done uninterrupted. Everyone needs time to go offline and think big picture." —Stacie Henderson, CEO, Keep.com
"I hold Friday nights sacred; I go to bed early and sleep at least 10 hours, which gives me enough energy to get through another week. When I'm restless, I bake in the middle of the night. It always helps me sleep." —Christina Stembel, Founder and CEO, FarmGirl Flowers
"I use Headspace to meditate, go to SoulCycle once a week, consider brunch with friends a sport, and love a good glass of champagne." —Shan-Lyn Ma, Cofounder and CEO, Zola
"The first thing I do in the morning is avoid doing anything at all. I play with my dogs and hold off on powering through my e-mails." —Melody McCloskey, Cofounder and CEO, Styleseat
"To prevent stress related tension, I get acupuncture every other week, whether I feel pain or not. It's my bimonthly check-in with my body." —Jean Brownhill, Founder and CEO, Sweeten
This article originally appeared in the July 2018 issue of Marie Claire, on newsstands now.
Celebrity news, beauty, fashion advice, and fascinating features, delivered straight to your inbox!