Sarah Thomas: A Day In the Life
It involves two showers and up to seven miles of running.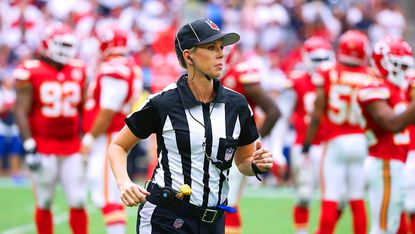 (Image credit: Archives)
Sarah Thomas swears by preparation. For the first female Super Bowl referee—who holds down a day job as a pharmaceutical sales rep in addition to reffing games during the football season—following a carefully calibrated routine helps ensure nothing falls through the cracks. The mom of three from Brandon, Mississippi, who will make history on February 7, 2021, as the first-ever woman to referee the Super Bowl LV, also serves as a spokesperson for Activia's "It Starts Inside" campaign celebrating women who are overcoming hurdles. Something Thomas is an expert on.
Here, she breaks down a typical game day and how she keeps herself centered, ready, and on it, every step of the way.
Waking up sometime before 7:00 a.m. in whatever city the game is scheduled for, she rolls out of bed and heads to a devotion service around 7:15. Getting in a moment to connect with her spirituality is important to Thomas: "This starts my day off right."
Afterward, she grabs breakfast—usually an Activia yogurt—which she often eats downstairs at the hotel with the other the refs. Then she goes to her room to get dressed in business attire ("It's a profession," she says), does her makeup, and grabs her uniform to change into later at the stadium.
10:00 a.m.: Stadium-bound
Three hours before the scheduled kickoff (often 9:00 a.m. or 10:00 a.m.), Thomas and her fellow refs head to the stadium in a bus. Some chat on the way over, she says, while others like to get quietly in "game mode." For Thomas, this is a bit of "me time." Her secret weapon: coffee, usually hazelnut. "You cannot drink it fast, so to me, it's calming."
If there's something going on back home, she might shoot her kids a text to remind them about tutoring or to check in, but she says, they don't give her a hard time about being unavailable for the most part. "They know my schedule when I'm in pre-game, and they respect it."
12:00 p.m.: Prep, prep, prep
Once at the stadium, she fills out the basic necessities on her foul grading sheet (which she'll use again later) and goes to find the home-teach coaches for a check-in.
Next, Thomas changes into her uniform, pulls her hair up into a ponytail, and does a quick round of crunches and pushups (150 of the former, as many as she can crank out of the latter) in the locker room to get her blood flowing before kickoff.
1:00 p.m.: Game time
Thomas says, "That's when all the excitement really starts." And, of course, the physical work—estimates have refs running between six and seven miles a game.
5:00 p.m.: The wind-down
By this time, it's usually early evening. She grabs a plate of food provided by the stadium, rinses off the sweat she worked up, and changes out of her uniform. Then, she heads back to the bus where she finishes filling out her foul report before getting on her flight home. Once in the air, she says, "I always watch the game that I just worked, just to critique myself."
Thomas also examines the daily data from a league-provided fitness tracker that snaps onto her jersey. "I get a report on how much exercise I did, where my heart rate was, the stress level I was under. And I always want to be in green!"
11:00 p.m.: Back home
After Thomas lands, she heads to her house, usually pulling in around 11:00 p.m. She unpacks and washes her uniform before taking another shower and watches the news before finally heading to bed around 12:30 a.m. or 1:00 a.m. Her alarm is usually set for 5:30 a.m. the next morning, when she gets up to get the kids ready for school and herself ready for work. Making sure she gets it all done is important to her: "I've got two jobs I love to do, but then I also have three beautiful kids and I want them to be successful," she says. "I have an inner strength. I don't want to ever let them see me falter."
Celebrity news, beauty, fashion advice, and fascinating features, delivered straight to your inbox!