These 25-Year-Olds Are Forging the Future
From environmental science to adaptive wear, these young women are changing the game.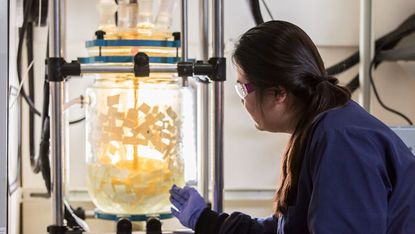 (Image credit: Bart Michiels)
Marie Claire Newsletter
Celebrity news, beauty, fashion advice, and fascinating features, delivered straight to your inbox!
Thank you for signing up to Marie Claire. You will receive a verification email shortly.
There was a problem. Please refresh the page and try again.
Millennials have been called everything from entitled narcissists to socially minded tech obsessives, but perhaps the true defining characteristic of the generation is the entrepreneurial spirit. While millennials of all ages dream of being their own boss, and founders in their 30s have a proven success rate (see: Jan Koum of WhatsApp and Tim Westergren of Pandora), data shows that older millennials—those who graduated before the end of the Great Recession—are actually more risk-averse than their younger cohorts who graduated well after the financial crisis was over. It's the younger millennials who are going to be driving the startup world, and many of them are already behind the wheel.
In honor of Marie Claire's 25th anniversary, we're honoring a handful of young female entrepreneurs as old as we are. These 25-year-old women aren't waiting to change the world—they're tackling ambitious problems and transforming industries, including environmental science, fashion, and healthcare, now. We're certain the future is in good hands.
Miranda Wang and Jeanny Yao
Co-founders of BioCellection
In 10th grade, on a field trip to a garbage plant in their native Vancouver, Canada, Miranda Wang and Jeanny Yao were struck by how little plastic was actually being recycled—only 9 percent of the 8.3 billion metric tons produced over the last six decades. It wasn't that people refused, there just wasn't an economical way to break down certain single-use plastics that make up things like food and beverage packaging. "That was very shocking to us," says Wang.
They approached a professor at the University of British Columbia who agreed to let them conduct research in his lab. Over the span of about six months, they confirmed their hypothesis that certain bacteria could disintegrate plastic, but very slowly. After graduating high school in 2012 and enrolling in different colleges, they continued to research how plastic biodegradation works and brainstorming ways chemistry could be used to achieve the same results of the bacteria, only faster. During their senior year, they founded BioCellection.
Wang and Yao moved the business to California's Bay Area and invented a process that breaks down polyethylene plastics—the type used in shopping bags—into chemicals that are both biodegradable and can be upcycled into other industrial materials. While they're currently in the testing and development phase, next year they plan to scale their operation to eventually recycle up to 100kg of plastic per day.
"Don't be afraid to put your feet into really complicated problems, because those are the ones that are worth solving," says Yao, sharing their advice for other entrepreneurs. "All of the problems that are resulting in environmental and cultural injustice are really complicated; that's why they exist in the first place. If you really want to create a positive impact in the world, then don't be afraid to go after those."
Maria Markina
Co-founder of Athena Club
In 2018, Maria Markina left her full-time job in consulting to co-found Athena Club, an organic tampon delivery service that charges customers 40 percent less than other similar services (a 18-count box will run you $7.50 or less).
"Everybody wants to save time," says Markina. "They don't want to have to run to the store to pick up questionable tampons with ingredients that you're not really sure how they're made."
Athena Club customers can choose between premium tampons made with organic cotton, rayon, polyethylene, polypropylene, and polyester or tampons made from 100-percent organic cotton. Both come unscented, are packaged in BPA-free plastic applicators, and are manufactured in Germany before being bundled by Markina and her team here in the U.S.
The direct-to-consumer business model enables Markina and her partners to keep their prices low while still allowing customers to personalize their order (they can select different sizes and quanities based on their individual needs). With nearly two-thirds of low-income women in the U.S. unable to afford period care products, ensuring affordability was a huge priority for Markina, and so far the company has donated more than 100,000 tampons to low-income and homeless women and girls through partner organizations, including Support the Girls, 28 Days Project, and Period.org.
"Women not having access to feminine care products, or having to choose between paying for dinner for their family or buying themselves some period care products absolutely should not be happening," says Markina.
In November, the Athena Club brand is expanding to include more skews. Markina says she can't reveal much ahead of the launch but hints it will be "very far beyond tampons," with her goal being to help customers streamline their personal care shopping: "Right now we're facing all these different subscription companies and having to manage all these different credit cards charges."
"We're gearing ourselves to become a one-stop-shop self-care brand for everything women need in high-quality, affordable essentials," says Markina. "I think it's going to make people's lives even more simple."
Chaymeriyia Moncrief
Founder of Tesix Wireless
Chaymeriyia Moncrief launched Tesix Wireless, a prepaid cell phone carrier, in December 2018. The Montgomery, Alabama, native was fed up after being burned by her previous carrier; even though her plan was marketed as $98 per month, she was consistently charged up to $200 because of hidden fees.
"[The cost] was impossible for me to handle as a 17-year-old working a part-time job making $7.25 an hour," says Moncrief. "Starting Tesix was my chance to do something, not only for me, but for other 18- to 25-year-olds as well."
Tesix—which operates as a mobile virtual network operator (MVNO), meaning Moncrief does not own the network her company operates over—offers a variety of plans featuring unlimited talk, text, and data ranging from $45 to $62 per month. Their prices are lower because the company only leases the cell coverage and data bandwidth that they use, so Tesix doesn't incur the added expense of purchasing and maintaining the hardware necessary to run a whole network. Before the company even launched, Moncrief was offered a $4.4 million acquisition deal. But she turned it down.
"I'm a numbers gal," says Moncrief. "I calculated and read the data...I would have been selling out far too early when what was being offered, I could make per year with just 9,000 to 10,000 subscribers."
Today, with nearly 6,000 subscribers, coverage across 98 percent of the country, and planned store openings in 12 states, Tesix is valued at nearly $8 million, according to Moncrief. (Marie Claire was not able to independently verify this estimate.)
"My advice to young women [entrepreneurs] is to trust and love the process," says Moncrief. "The entrepreneur's journey is not an easy one, so loving the process and being ready for the obstacles that come along with building a company and maintaining a brand to its fullest potential is crucial."
Emily Levy and Maria Del Mar Gomez Viyella
Co-Founders of Mighty Well
This year, the adaptive wear market—clothing made specifically for people with disabilities, chronic diseases and injuries—is predicted to generate $288.7 billion in revenue, $349.9 billion by 2023. But three years ago, when Emily Levy and Maria Del Mar Gomez Viyella launched their company Mighty Well, a consumer brand that designs products for chronically ill patients with long-term medical devices, the category didn't even exist.
At 19, Levy was diagnosed with chronic neurological lyme disease. After years of unexplained symptoms, it was a relief to finally have answers. But with the diagnosis came the news that she would need a long-term IV, also known as a PICC line, to administer her medication. To protect the catheter running from her hand to her heart, she was instructed to wear a sock over her arm.
"I was like, 'You've got to be kidding me,'" recalls Levy.
Her dad owned a surf shop and shapes and designs his own boards. He suggested cutting up a rashguard instead, since sportswear fabric is often antimicrobial and moisture-wicking. Levy thought taking sportswear fabric technology and applying it to the medical industry was inspired.
Levy met Del Mar Gomez Viyella at Babson College. After developing the concept together for a class project, the two launched Mighty Well in 2016. Today, they have four products, including the original PICCPerfect sleeve. Two more products are set to be released later this year. They also run a blog, Friend in the Fight, which they hope will be an online community of support for chronically ill patients.
"Our big idea is to be the Under Armour of healthcare," says Levy. "Under Armour started with an undershirt for football players and they've grown into a publicly-traded, billion-dollar global company that not only has amazing products, but has fostered amazing community around those products."
Daniela V. Fernandez
Founder of the Sustainable Oceans Alliance
Daniela V. Fernandez was just 12 when, during her walk home from school, she spotted a poster of her favorite animal, a penguin, walking on sand instead of ice. It was a promotion for Al Gore's documentary An Inconvenient Truth, which Fernandez instantly rented and credits with changing her life.
"I became enlightened by the fact that climate change is a reality and that my generation is going to have to confront it," says Fernandez. "From that day forward, I did everything I could to educate myself on climate change and environmental issues."
Over the next several years, she enrolled in environmental science classes and became a climate change activist. As a 19-year-old student at Georgetown University, she was invited to attend a meeting on the state of the oceans at the United Nations headquarters in New York City. There, listening to ambassadors and heads of state discuss problems, like overfishing and pollution, but propose no solutions, she decided to act. On the train ride home to D.C., she drafted the business model for what would become the Sustainable Oceans Alliance (SOA).
SOA started in 2014 as a student-led club within Georgetown and was incorporated into a 501(c)(3) in 2018. Its goal is to develop young environmental leaders and accelerate solutions for ocean health and sustainability. So far, SOA has members who are actively working on ocean-related projects in 160 countries. And with $3.2 million raised to provide funding and support for these youth-led initiatives, Fernandez launched an eight-week accelerator program. The plan is to fund 100 ocean technology startups by 2021 (they've invested in 20 so far). She's also developing Ocean Academy, an online program for younger entrepreneurs to incubate their ideas and support their efforts in order to to one day become ocean tech heroes themselves.
"Throughout my entire life, I was searching for that pathway to make a significant difference in the climate movement but that framework did not exist," says Fernandez. "That's what SOA is now: a platform that any young person can plug into and have access to information, mentors, a pathway to activate themselves."
For more stories like this, including celebrity news, beauty and fashion advice, savvy political commentary, and fascinating features, sign up for the Marie Claire newsletter.
RELATED STORY
Celebrity news, beauty, fashion advice, and fascinating features, delivered straight to your inbox!
Ashley is a Brooklyn-based freelance writer and former longtime editor at Glamour and, before that, Page Six Magazine (#RIP). In addition to those publications, her work has appeared in/on Marie Claire, Cosmopolitan, Goodhousekeeping.com, Self, Refinery29, The Well, Boston.com, The New York Post, The New York Times, Mademan.com, and various other outlets.