How Jennifer Lee Built a Career on Imagination
The writer and director made her mark with Frozen. Now she's at it again with Frozen II—and this time she's running the show.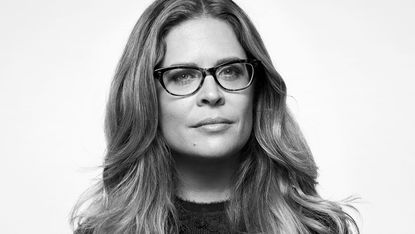 (Image credit: ART STREIBER)
It's August, three months before the release of Frozen II, and I'm in the film's story room at Walt Disney Animation Studio's headquarters in Burbank, California. (You can't miss the building; the 84-foot replica of Mickey Mouse's Fantasia sorcerer hat above the entrance is visible from the highway.) Sitting at a table for about 40 people, with more chairs lining the walls, the studio's chief creative officer, Jennifer Lee, walks me through the film's sketches, drawings, storyboards, and inside jokes. There's a chaos to it all—one that only Lee seems to be able to sift through. All ideas, even the goofy Olaf jokes scribbled on scraps of paper, are essential to building the final vision.

The process for creating an animated feature film is incredibly collaborative, Lee explains. It takes about two to three years to develop the story, then another two years of production. "I probably did about 40 drafts total of the screenplay. We'll draw the movie officially eight times. I always say animation is very unforgiving. There's no moment where you can just let it breathe because the actor's doing something special that takes the story to a new place. Everything's crafted," she says. "[During production] there are about 50 of us piled in here. We walk literally moment by moment, line by line, and shot by shot in the scene. It's a really complex process."
Lee's ability to harness the energy generated by a room full of creatives helped her become the first woman to head Walt Disney Animation Studios, in June 2018. She stepped into the role after John Lasseter, the famed animator who cofounded Pixar, resigned amid multiple accusations of inappropriate behavior toward his female subordinates. "It was a difficult moment," Lee, 48, says. "The directors and producers had all been working closely during his sabbatical, and we just came together and said, 'We have two films in production, and we have films in development. Let's stay focused.'"
But her promotion wasn't that surprising: Lee wrote and codirected 2013's Frozen, which was the highest-grossing animated film of all time until this year's The Lion King surpassed it. She cowrote Wreck-It Ralph (2012) and wrote A Wrinkle in Time (2018). She's worked on other Disney blockbusters like Moana (2016) and Zootopia (2016)—she helped develop the former and reworked the latter—and now she's leading Frozen II, her organization's most ambitious project to date.
Lee's talent didn't always manifest itself in obvious ways. When she was growing up, Lee says her ADHD (she never got an official diagnosis but says she put things together after her daughter's diagnosis) kept her from sitting still. Her dad would give her drawing books, and her mom had her take dance classes. "They knew I just needed to always be 'doing.'"
She graduated from the University of New Hampshire with a degree in English, eventually landing in Manhattan at Random House, where she spent almost a decade designing covers for audiobooks and DVDs. (Her dad owned a tech company, so Lee grew up around computers and helped the book publisher's art department transition to using design software.) In her free time, she started shooting amateur videos, which led to video work for local bands. "Like, all those weird artists, not anyone of note. It was when the sort of performance-art-and-everyone-living-in-warehouses scene was in Williamsburg in the '90s," she says. "Then one day, I wrote a scene. I didn't mean to. I overheard a conversation and started writing and then just kept going and went, Oh, wait a minute. Now things are making sense."

She took a screenwriting class at NYU and started at Columbia University's School of the Arts shortly after. Lee was one of the older students, and she says it was that experience that gave her the motivation she needed to get as much out of the program as she could. "I was just turning 30, and I met my collaborator Phil Johnston. We were paying for [the classes] ourselves," she says. "I don't know if it was being older or if it was just because I found the right thing, but there was no problem with focus." She eventually won the Columbia University Film Festival with her screenplay Hinged on Stars, about a boy who loses his parents, and from that got an agent at CAA. A few years later, Johnston, who was working on a project for Disney, called and asked if she'd move to L.A. from New York to cowrite Wreck-It Ralph. She was a single mom with a 7-year-old daughter. "My entire family is from the East Coast, and my daughter's entire life had been in New York City, and her father was still working there. But I knew the opportunity was so incredible, it would only create more opportunities for her," she says. The job was supposed to last eight weeks. She's now been in L.A. for almost nine years.
These days, she says she's able to juggle a lot of things at once and that she acts largely on instinct. "Some people are processors, and I'm not. So you'll get the best from me right away, and then I'll sit back. Then I have less to offer. I jump around a lot, and I'm very fast." But when it comes time to write, she draws on the hyperfocus that can be a hallmark of ADHD and works for seven or eight hours straight. (She's never been on meds for the condition and has chosen to pursue educational therapy to treat her daughter. "The truth is, I understand myself better and better every day in working with her," she says.)
As the head of the studio, Lee has lots of big-picture responsibilities, like figuring out Disney Animation's slate for the next few years and overseeing all the movies currently in production—including Raya and the Last Dragon, which is slated for release in November 2020. "I like a big mess. That's where a great story comes from because it's complex. This is an environment where that is welcome and needed," she says. "There hasn't been any other workplace where I have felt more embraced for whatever this little crazy mind is."
Lee is also involved in recruiting and developing new talent in a field historically dominated by men. That includes overseeing the films in Disney's Short Circuit program, which develops emerging animators.
Paying her talent forward is something she learned from a chance meeting with Emma Thompson at an event honoring Angela Lansbury in 2013. "Emma Thompson is one of my heroes. I told her how inspiring she was," says Lee. "She said, 'Darling, Angela Lansbury inspired me, and I've inspired you. And now you have to pass that on.'"
This story appears in the Holiday 2019 issue of Marie Claire.
RELATED STORY
Marie Claire email subscribers get intel on fashion and beauty trends, hot-off-the-press celebrity news, and more. Sign up here.
Doree Shafrir is the author of the novel Startup and the cohost of the podcasts Forever35 and Matt & Doree's Eggcellent Adventure. She lives in Los Angeles with her family.