How Do I Fight Burnout and Get Reenergized for Work?
"I'm more tired and less motivated to do my job. How do I 'reset' in the new year?"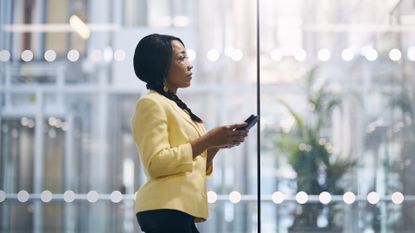 (Image credit: Getty Images ¦ Kelvin Murray)
Marie Claire Newsletter
Celebrity news, beauty, fashion advice, and fascinating features, delivered straight to your inbox!
Thank you for signing up to Marie Claire. You will receive a verification email shortly.
There was a problem. Please refresh the page and try again.
Every month, career coach Liz Bentley will be answering your candid questions about work, so you never have to stress about the office.
---
I've been feeling a bit burned-out at work—I'm more tired and less motivated to do my job than I've been in the past. I want to be excited about my job and would love to "reset" in the new year. Do you have any tips for how I can rediscover my enthusiasm for work?
The new year is a great time for a reset, especially if you wrapped up 2019 feeling burned-out, exhausted, and relieved to have it behind you. For many people like yourself, it may not have been the best of times. So onward and upward in 2020.
Before you adopt any tips, you first have to understand that change is the root cause of your exhaustion. The reality is that change is the only constant in our lives and it's here to stay. As we have all experienced–sometimes painfully–it's change that pushes us to step out of our comfort zones, pivot, and grow. While that all sounds good and we have heard these sayings repeated over the past decade, it's now pervasive and significantly impacting our everyday lives. Change is hitting us on so many deep levels from the construct of family and relationships to industries shifting and businesses being forced to rethink their existence. This wears us down because when we are in the midst of change, we feel uncertain about our future. What worked previously doesn't work anymore, causing us to feel unsettled. The race for relevance makes people feel like they are running out of time, and it can cause fear and sometimes confusion as companies, products, and people try to survive in this competitive environment. This leads to impatience, short tempers, long workdays (which are not always productive), and a world of 24/7 connection that makes us feel like we need to be in response mode at all hours of every day.
In the midst of this market chaos, here's how to get ready to rally in 2020 with a fresh and inspired outlook.
1. Get comfortable being uncomfortable.
Change is hard and so is growth. Stop fighting it! Recognize that it's easier to shift than to resist it. You are not going to have all of the answers but you can find pieces to the puzzle each day which will open new avenues to the future. So be a scientist in your work, constantly studying what is working and what it not. And lean into the positive and away from the negative to direct yourself and your team toward success and small wins. Keep a curious mind that's open to all new possibilities. Being comfortable in the discomfort will help you stay motivated in this important work.
Related Story
2. Shift your mindset.
It's going to be hard, stop hoping that will change. Accept where you are and get ready to grow or become irrelevant. Adjusting your thinking will actually relax you. Waiting for it to get better will make you constantly think that you're in the wrong place in time, instead of realizing you are exactly where you need to be.
3. Have faith.
Have faith that with due diligence, hard work, and integrity, you will find your way through to productive outcomes. Faith helps us live in uncertainty, not knowing our future, which is the new norm. We need it to help us believe in ourselves and our work, which keeps us grounded in hard times.
4. See your truth and shift.
In your work as a scientist of life and business, see the truth of what is working and what is not and shift. It's not just about seeing it, it's about moving and doing something with the new information. While feedback got trendy in the last decade, in the new one it's going to be about doing something with it, not just hearing it. There's no time to waste, so get over the sting of defeat and figure out how to adjust so you can be victorious.
5. Manage your energy.
You are the machine that's going to get it done. Hard work and output are more valuable than ever before, so you need to manage your energy. First, get enough sleep. Sleep recharges the brain and rests the body so that you can kill it each day. Next, do work that leads to results. Stop reorganizing your inbox; that is a waste of time and not leading to the discovery you are going to need to be successful. Say "yes" to things that push you to grow, help others and yourself, and drive success. Say "no" to things that will not push you to grow.
6. Have an exceptional work ethic.
This means discipline! You need to have the discipline to work hard on the right work. Hard work cannot be underestimated. It's so easy to want to watch Netflix or jump on social media when we have a pile of things that need to get done. Keep your focus; it will pay big dividends in the long run.
7. Forgive yourself for your imperfections.
You are going to get things wrong, make mistakes and struggle. That is a given so get over it. Everyone double faults on match point, even when you are the best tennis player in the world. Recovery is about forgiving yourself so that you can get back up quickly and succeed. There is no honor in beating yourself up over a mistake but they do need to be fixed, so stare them down, forgive yourself and move on.
2020 can be your best year yet but only if you embrace growth. Don't be afraid, go forward with courage, refocus your energy, and step into your power.
---
For more stories like this, including celebrity news, beauty and fashion advice, savvy political commentary, and fascinating features, sign up for the Marie Claire newsletter.
Celebrity news, beauty, fashion advice, and fascinating features, delivered straight to your inbox!
Liz Bentley is the founder of Liz Bentley Associates, a consulting firm specializing in leadership development programs for individuals and companies. Drawing upon her background in psychology, previous experience in sales and management, and a lifetime of experience in competitive sports, Liz has a unique appreciation of mindset and the power it has to change patterns of behavior. Liz received her BA in Psychology from the University of Virginia and her coaching certification from New York University.