WNBA Players Finally Win a Better Contract
After 23 seasons of subpar playing conditions, a new collective bargaining agreement finally prioritizes female athletes.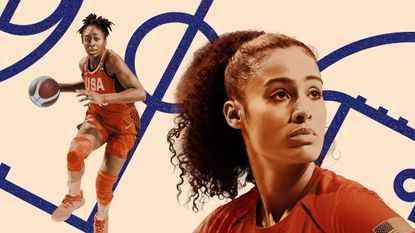 (Image credit: Getty Images)
Marie Claire Newsletter
Celebrity news, beauty, fashion advice, and fascinating features, delivered straight to your inbox!
Thank you for signing up to Marie Claire. You will receive a verification email shortly.
There was a problem. Please refresh the page and try again.
Every WNBA player is entering the 2020 season, whenever that might be, with a victory. (The season was scheduled to tip off May 15, but has been postponed due to COVID-19. The WNBA will host a virtual draft on April 17, which will air on ESPN's main channel for the first time in history.) In January, the league's player association reached an agreement with the WNBA on a new collective bargaining agreement (CBA) that ushers in a brighter future for a sport that has historically sidelined player rights.
The progressive new contract, which had a 90 percent player vote and was ratified shortly thereafter, is the definition of a team accomplishment. "It was long and it was tedious, but it's a breath of relief to see the gains we've achieved," says player-association president and Los Angeles Sparks forward Nneka Ogwumike, 29. The deal targets a laundry list of player grievances, many rooted in the inequality that plagues women's sports. For example, like every WNBA player, Ogwumike travels commercial to competitions—about 36 flights a season. Meanwhile, NBA guys fly charter. Think you're uncomfortable stuck in that economy-class middle seat? Imagine being six foot two.
But travel woes are just the beginning. A WNBA player's average salary has been about $75,000 a year, a whopping $7.6 million less than what NBA players earn (though the men's numbers are skewed by some insanely high earners). While it doesn't come close to closing the gap, the new agreement will allow top WNBA players to earn more than $500,000, triple what they were able to make last year. And it's not just MVPs cashing in: For the first time in WNBA history, average salaries will exceed six figures—incentive to keep athletes from traveling overseas in the off-season to supplement their income, a practice that Ogwumike says is "a symptom of the lack of equity and equality." Plus, players are poised to get a significant cut of broadcasting revenue. That's a potentially lucrative deal, as WNBA TV ratings grew by 64 percent in 2019.
For point guard and CBA ally Skylar Diggins-Smith—who, during the 2018 season, played until she was 14 weeks pregnant, partially out of fear of backlash from the league—the agreement's revamped parental-leave policy means finally feeling heard. In October, she tweeted that she felt little support from her former team, the Dallas Wings, after returning to the court nine weeks postpartum, "still bleeding, boobs leaking." She wanted to continue breastfeeding but found that she didn't have a private, dedicated space within the arena to pump. "After I spoke about my needs," she says, "nothing happened."
Though Diggins-Smith, 29, negotiated to receive her full salary while on maternity leave, many players get just half their pay during that time. (They are also placed on suspension, to indicate they're not actively playing.) "If you are pregnant, that shouldn't be held against you," she says. With the new contract, players receive their full salaries throughout leave, plus veteran players (those who have played at least one season) receive up to $60,000 to cover costs related to adoption, surrogacy, and IVF treatments. Moms used to have to cover their own childcare costs (for example, a nanny's hotel and airfare); with the new agreement, they'll get a $5,000 stipend. Plus, the CBA mandates that players now get a private place to pump.
Both Diggins-Smith and Ogwumike are part of Team USA Basketball, which would have competed as frontrunners in the Tokyo Olympic Games this July. The Olympics has been postponed, but the team is still a likely contender for next summer: If they win, they'll tie for the most consecutive Olympic gold medals ever in a traditional team sport—for men or women. Ogwumike, for one, isn't banking on much press. "We're the winningest organization, and people still don't care," she says. "It's not the game; it's the investment." To boost marketing initiatives, the CBA introduced WNBA Changemakers, a collective that will partner with organizations like Nike and AT&T for high-profile branding.
Though there's certainly more work to be done, for now players will take the CBA triumph—and the additional legroom. Under the new contract, they can fly premium economy.
This story originally appeared in the May 2020 issue of Marie Claire. At press time, the WNBA season was scheduled to tip off May 15, and both players were slated to headed to the Olympics. Due to the COVID-19 pandemic, both the season and the Olympics have been postponed. This version has been updated to reflect that news.
Related Story
Celebrity news, beauty, fashion advice, and fascinating features, delivered straight to your inbox!
Megan DiTrolio is the editor of features and special projects at Marie Claire, where she oversees all career coverage and writes and edits stories on women's issues, politics, cultural trends, and more. In addition to editing feature stories, she programs Marie Claire's annual Power Trip conference and Marie Claire's Getting Down To Business Instagram Live franchise.