Hollywood Told Her Women Aren't Funny. She Proved Them Wrong.
After making blockbusters Hustlers and Booksmart, what will Jessica Elbaum bless the silver screen with next?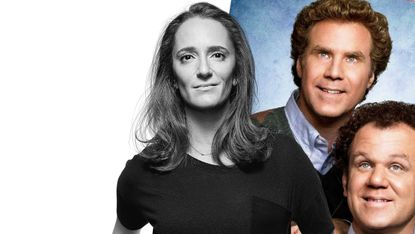 (Image credit: Sony Pictures + Courtesy of the Subject)
Marie Claire Newsletter
Celebrity news, beauty, fashion advice, and fascinating features, delivered straight to your inbox!
Thank you for signing up to Marie Claire. You will receive a verification email shortly.
There was a problem. Please refresh the page and try again.
Jessica Elbaum's Hollywood office is mostly bare, save for the deep gray couch where we're lounging with our feet up, her desk, and some cabinets—one of which is covered with framed family portraits. They're not of her real-life family (she's married to film producer Rafael Marmor) but rather of fictional broods from movies she's worked on, including a Santa-hat-wearing Will Ferrell, Kristen Wiig, and their faux child from Lifetime's 2015 parody thriller, A Deadly Adoption. As we're talking, Ferrell casually saunters down the hallway. Elbaum was once his assistant, but now they're partners in Gloria Sanchez Productions, a woman-oriented offshoot of Ferrell and Adam McKay's Gary Sanchez Productions (responsible for hilariously sophomoric comedies including Step Brothers and Get Hard). She's the muscle behind female-fronted blockbusters Booksmart and Hustlers.
Back when Gloria Sanchez launched in 2014, Hollywood thought its "one female movie" of the year was enough. But Elbaum wanted women to be the leads, not the supporting roles. Even before the entertainment business's much-needed reckoning, Elbaum started making movies the industry was afraid of, letting women be funny—no matter how uncomfortable that might make guys in the theater. "The thing I'm most proud of is that Gloria Sanchez wasn't started in response to #MeToo or Time's Up," says Elbaum. "It was truly born out of a desire to tell female stories."
Helping change the culture in Hollywood is challenging, but it's hardly been Elbaum's toughest job; that was washing cars. After graduating from the University of Southern California, she worked in publicity at MGM Studios until an "I don't think PR is for me" moment caused her to join the family business, Red Carpet Car Wash in the San Fernando Valley. Her days were spent laundering towels and wiping windshields. "I always joke that my time at the car wash was harder than any 16-hour day on set," she says. A string of lucky breaks led to a decidedly more glamorous career: In line at a coffee shop, a fellow patron (who worked at United Talent Agency) suggested Elbaum look into an entry-level gig there. She wasn't hired, but it sparked her desire to get into film production.
A friend got Elbaum a desk job on Ferrell's team, and she heard water-cooler whispers that Ferrell was looking for an assistant. Elbaum had seen how other assistants in the building—like Jim Carrey's—had made the leap from coffee getter to moviemaker, so, on a call with Ferrell, she threw her hat in the ring. "I don't know what came over me," she says now. "There was dead silence on the other end, and I thought, I've overstepped. This is a nightmare. But then he goes, 'That's so great. Let's talk about it.' " Her first day was spent on set for Anchorman reshoots. (Years later, she would coproduce Anchorman 2.)
Elbaum worked as Ferrell's right hand—completing assistantly duties like managing his schedule, but also immersing herself in the development and production process—for eight years before she produced her own feature, Bachelorette. The 2012 comedy starring Isla Fisher, Lizzy Caplan, Kirsten Dunst, and Rebel Wilson started out as a very different project. Elbaum had been working with Caplan to develop a TV show that "didn't go anywhere because at that time, HBO could have only one female show—Girls." Elbaum pivoted, asking the show's writer, Leslye Headland, about the screen adaptation of her off-Broadway play that follows a group of women prepping for a friend's nuptials.
Still Ferrell's assistant, Elbaum shot the film while he was on vacation. Less than a year later, Bachelorette was released to mixed reviews. Some critics didn't know what to make of a raunchy chick flick; others hailed it as the female response to The Hangover—indecent and risqué, yes, but also sharp. It confirmed Elbaum's hunch: "People were thirsty for female stories."
Bachelorette helped usher in a new age of comedy—one in which women are funny, not a punch line. It also solidified Elbaum's decision to become a producer. "I just knew that it was my calling," she says. Ferrell got another assistant, and Elbaum pitched her idea for a company devoted to female-driven projects.
Gloria Sanchez's first feature, Sleeping With Other People, hit theaters in 2015, and an avalanche of sleeper successes followed. In 2019, the company produced the Netflix binger Dead to Me, starring Christina Applegate and Linda Cardellini; that same year, it released Booksmart, the indie antidote to every cliché high school comedy, directed by Olivia Wilde. Both were winners, but neither prepared Elbaum for the smash that was to come.
Hustlers, based on the true story of strippers swindling Wall Street patrons out of thousands, wasn't an easy sell. "Nobody wanted to make that movie," Elbaum says. Gloria Sanchez had partnered with Annapurna Pictures, which later dropped the film. "It wasn't a clear home run for them," she says. "It was daring. People were afraid of it." Luckily Jennifer Lopez—already cast as the lead—had a relationship with STX Entertainment, which picked it up. From there, Elbaum assembled the all-star cast, including Constance Wu, Lizzo, and Cardi B. Not only was the film a smash at the box office (it grossed $157.6 million—poor Annapurna), it again proved that "risky" female stories were well worth the wager.
Though Gary Sanchez Productions dissolved in 2019, Gloria is revving up. In January, Gloria Sanchez signed a multiyear first-look deal with Netflix. The second season of Dead to Me premiered on May 8, nabbing rave reviews. Elbaum's group is currently producing The Shrink Next Door, based on the true-crime podcast, and next summer it will release Barb and Star Go to Vista Del Mar, a comedy-gold reunion of Kristen Wiig and Annie Mumolo. For Elbaum, it's another fresh, female-fronted film that flips expectations. "Kristen and Annie wrote one of if not the most original, wild [screenplays] I've ever read or worked on. It's exactly what the world needs right now," she says. If her track record proves anything, it's that Elbaum is probably right.
A version of this story originally appeared in the Summer 2020 issue of Marie Claire. It noted that Barb and Star Go to Vista Del Mar would be in theaters in July 2020; due to the coronavirus pandemic, the release has been delayed until next summer.
RELATED STORIES
Celebrity news, beauty, fashion advice, and fascinating features, delivered straight to your inbox!
Megan DiTrolio is the editor of features and special projects at Marie Claire, where she oversees all career coverage and writes and edits stories on women's issues, politics, cultural trends, and more. In addition to editing feature stories, she programs Marie Claire's annual Power Trip conference and Marie Claire's Getting Down To Business Instagram Live franchise.