Ellevest's Brand-New Membership Model Is Its Most Accessible Yet
The female-focused financial planning service just launched a new program designed to help "women, non-binary people, and male allies" invest.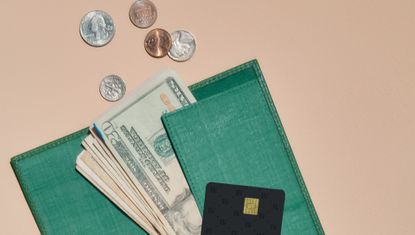 (Image credit: Tayler Smith/Ellevest)
In case you needed a reminder, the gender wealth gap is real: (opens in new tab) For every dollar a white man owns, a white woman owns 32 cents, and Black and Latinx women own just pennies (opens in new tab) (this is partially a result of the insane income gap (opens in new tab)). The gap is only growing wider during the COVID-19 pandemic: Research suggests that the pandemic has disproportionately affected women, (opens in new tab) people of color, and low-income people, both in terms of health and their finances. (opens in new tab)
"It's absolutely clear that this recession is hitting women harder," Sallie Krawcheck, founder of female-focused financial company Ellevest, tells Marie Claire. "The data doesn't lie. And it's really a perfect storm. Women are losing more jobs than men are, Black and Latinx women in particular. So many of the women still in the workforce are taking on more childcare with the kids out of school…which means that a lot of them end up having to quit to manage it all. And then there's the fact that women—again, especially Black and Latinx women—also make up the majority of essential workers."
In response to the pandemic, Ellevest asked their community where they needed help most. They found that, due to COVID-19, 92 percent of women they polled who were earning less than $50,000 a year said they'd realized they needed to build financial safety. In addition, 80 percent of the women they polled across all income levels said they're rethinking their financial health and goals.
Ellevest says it wants to help them do that. That's why today they're launching a new money membership designed to put more change in the pockets of "women, non-binary people, and male allies," according to the company. Available in three affordable plans (the step-in program starts at $1 dollar a month), the new membership is accessible for those who need it most. Members will be able to invest using "proprietary, gender aware-investing algorithms," meaning the algorithms take into account factors like pay gaps and career breaks for having children, unlike other standard investing algorithms which mostly cater to the career, earning, and spending habits of men (opens in new tab), according to Krawcheck. Members will also receive one-on-one financial planning and coaching and free workshops, plus will have access to spend and save accounts (which help you save sooner by rounding up your change) and a (super cute) Ellevest debit card.
"Wealth inequality in this country is getting worse year after year," says Krawcheck. "That's why it was so important to us to offer a membership with plans starting at just $1 a month. To keep our banking and investing fees low. To have no minimum amount to invest. And to build our community loud and strong, so our members can talk and connect about money." The plan is to decrease the barriers many women face when it comes to investing. In order to help women, specifically women of color, gain financial freedom and equity, we need to start first by designing resources everyone can access. "We know that what might work for other women, who don't struggle against intersectional injustices and systemic racism in the same way, won't work for Black women," she continues. "So we're committed to centering Black perspectives as we grow our learning and coaching products."
This article has been updated.
Head to Ellevest.com (opens in new tab)or download the iOS app from the App Store to get started. Your first month of membership is free.
Megan DiTrolio is the editor of features and special projects at Marie Claire, where she oversees all career coverage and writes and edits stories on women's issues, politics, cultural trends, and more. In addition to editing feature stories, she programs Marie Claire's annual Power Trip conference and Marie Claire's Getting Down To Business Instagram Live franchise.