Today, Black Women's Equal Pay Day, Illustrates Just How Much Black Women Are Undervalued and Underpaid
In addition to the wage gap, new research from LeanIn.org shows that there are numerous "invisible" injustices as well.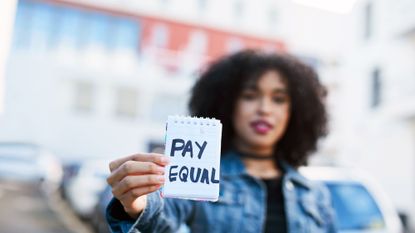 (Image credit: LaylaBird)
Today, August 13, marks Black Women's Equal Pay Day, the date in 2020 that a Black woman had to work until to make the same amount of money that her white, male counterpart did in the year 2019 alone. That means Black women, on average, have to work an extra seven-and-a-half months to earn the same amount of money, for the same job. Let that sink in. Equal Pay Day for women, generally, was on March 21, illustrating yet another wage gap: the one between white women and women of color.

The pay gap in the U.S. workforce is staggering, with women of color impacted by this most of all: Women make, on average, 82 cents on the dollar, compared to men, but according to recent research from the National Partnership for Women and families, Latinas are typically paid just 54 cents for every dollar paid to white, non-Hispanic men, and Black women just 62 cents. (That means that over a 40-year career, Black women earn almost a million dollars less—$946,000 less to be exact—than their white male counterparts, per the National Women's Law Center.) These massive disparities make it impossible to have an equitable workplace.

But the word "equitable" doesn't only apply to salary. To build a truly equitable workplace, a company also needs to offer fair and impartial benefits, growth opportunities, and workloads to all employees, regardless of race, gender, sexual orientation, disability, or other identifying factor. A new study released today by LeanIn.Org titled "The State of Black Women in Corporate America" exposes the inequitable reality that Black women face at the office. The research, supported by various findings, concluded that Black women face more barriers at work than any other population. Some key findings:
For every 100 men who are promoted to be a manager, only 58 Black women are promoted (despite asking for promotions at equal rates).

Black women receive less support from managers and get less access to senior leaders. In fact, 59 percent of Black women have never had an informal interaction with a senior leadership, making it difficult to establish a rapport.
Black women are 3x more likely than white men and 2.5x more likely than white women to hear a coworker express surprise about their language skills or other abilities (a common microaggression).
"It's so acutely obvious that the only way to make workplaces equal for women is to center on the women who are most marginalized," says Rachel Thomas, co-founder and CEO of LeanIn.org, the organization (co-founded by Sheryl Sandberg) behind the research. "If employers want to do better by women, they have to do better by Black women."
The report lays out practical ways that employers can start to create sustained, long-term change in their companies, including, Thomas notes, putting the responsibility on leaders to specifically prioritize supporting Black women and—to add a layer of accountability—say publicly how they are going to do so. Secondly, they should take an intersectional approach to all diversity and inclusion efforts.
"Too often, women of color end up getting overlooked because organizations are thinking in terms of gender or race and ethnicity," she adds. "Women of color are at the intersection of both of those identities and that does lead to a distinct and often worse experience."
Thomas points out another important finding of the research: Despite all of the barriers they face, despite the wage gaps and discrimination, the report found that Black women are deeply ambitious, more so than white women. They want to be a positive influence on company culture, be role models, and are interested in becoming top executives in their fields.
Companies must create an environment that let's Black women thrive. They must create cultures that value the work that Black women do. And they must create true equity that specifically focuses on ending workplace injustices—pay-related and otherwise. As Thomas says, "if we only get to equality to white women, we will have failed."
RELATED STORY
Megan DiTrolio is the editor of features and special projects at Marie Claire, where she oversees all career coverage and writes and edits stories on women's issues, politics, cultural trends, and more. In addition to editing feature stories, she programs Marie Claire's annual Power Trip conference and Marie Claire's Getting Down To Business Instagram Live franchise.