So You Want a Postnup
No, they're not planning to divorce, yet more couples are facing the awkwardness of getting their marital finances in order—after they say "I do."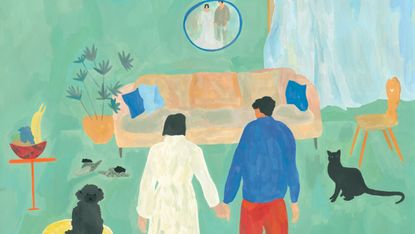 (Image credit: Dror Cof)
Marie Claire Newsletter
Celebrity news, beauty, fashion advice, and fascinating features, delivered straight to your inbox!
Thank you for signing up to Marie Claire. You will receive a verification email shortly.
There was a problem. Please refresh the page and try again.
When Maria and Charlie decided to get married, they'd already been together for nine years. During their relationship, they'd kept their finances separate and divided expenses equally. "Lots of Venmo-ing back and forth," says Charlie, 29, a Ph.D. student. Because they each had inheritances, Maria, also 29, suggested that they get a prenup. (The two are using pseudonyms to protect their privacy.) She thought it would help the couple get "into the nitty-gritty of each other's finances," she says, and promote discussion around financial goals and values. However, like many couples who got married during the COVID-19 pandemic, they scrambled to secure their marriage license and remote court date. "We ended up not having time to resolve all the things we thought were necessary before getting married, including a prenup," Maria says. Now they are starting the postnup process.
Prenups are becoming increasingly common, especially among people ages 25 to 40. About half the attorneys surveyed by the American Academy of Matrimonial Lawyers have seen an increase in prenup requests by millennials. This cohort is getting married later, has enormous amounts of student-loan debt, and saw firsthand how financially disastrous divorce can be: Nearly four in 10 millennials grew up in a divorced or single-parent household, higher numbers than in any previous generation. It's no surprise that when it comes to their own unions, millennials are eager to protect themselves.
But what about couples who want to work out their financials after they've walked down the aisle? Enter the postnup, which is simply an agreement executed after marriage that gives instructions on handling financial issues in the case of divorce. This could include assets, debt, child care or custody, gifts, even pets. Essentially, it's a prenup for already-married people; it can do everything a prenup can, but it can be signed at any time during a marriage. Once you're wed, however, there aren't a lot of bargaining chips if you and your partner don't align on terms, warns Emily Pollock, a partner at law firm Kasowitz Benson Torres in New York City. She was drafting a prenup for a couple who disagreed over gifts from family members. Then, due to COVID, the two had a last-minute wedding. Now, without the wedding deadline forcing a resolution, the postnup negotiation has become complicated. "The leverage just isn't there," says Pollock. "They're already married."
"Most people are simply not aware that postnups exist," says financial expert Erin Lowry, author of the Broke Millennial book series. Those who are may find them distasteful. Lowry says she's not surprised that postnups are somewhat taboo. "If prenups are still discussed in hushed tones by most, can you imagine [talking about] a document that spells out the terms of a split after you're already married?"
Despite the fraught associations, there are plenty of reasons a postnup might work for a couple not planning to get divorced. The motivation could be a big life change or unexpected windfall. Maybe getting your dream job requires your spouse to leave one and move (taking a lower-paying job). It might be that your partner starts a business and you want protection if that venture goes south. Leslie Geller, a wealth strategist at Capital Group and former practicing lawyer, says she frequently dealt with postnups when there was a big change in finances from a marriage's beginning. "When people get married in their late 20s or early 30s before they have children, before they might have made a significant amount of money," she says, "they're thinking really differently five or 10 years into the marriage about their assets and the marriage itself." Kelly Frawley, a partner at a law firm who specializes in family and matrimonial law in New York City, recently did a postnup for a couple buying a home. One spouse's parents had given the down payment and wanted to ensure that the gifted money would go to their child in a divorce.
For many couples, children are the reason to seek a postnup. When Doreen Bloch, an entrepreneur in San Francisco, got pregnant, she and her boyfriend, Jeff, made the spontaneous decision to get hitched. "We just went to the courthouse nearby on a Friday morning," says Bloch, 33, the founder of a data-analytics company. Even though she and Jeff, also 33, keep their financials separate, California law says they would have to split all assets equally in a divorce. They started looking into a postnuptial agreement because of her business and the experience of her parents' split. "My parents went through a terrible legal saga for years to finalize their divorce," Bloch says. It was important to her that she and her partner be on the same page if they ended up uncoupling.
For Melissa Neacato, a 34-year-old finance and travel writer, a postnup protects the child she had in a prior relationship. She and her husband move around frequently for work and don't want their location to determine the allocation of assets. "[It] isn't a judgment on our commitment," she says. "A postnup is just us deciding that we want to have a say in what happens."
Even if you already have a prenup, you might want to consider a postnup. "Prenups are very limited in the situations they cover," says Geller. When a couple enters into a prenup, they are basing their agreement on a specific set of facts—family circumstances, current assets, existing children, employment—that can change very quickly. "The effectiveness of that particular prenup gets diluted as time goes on and things change," Geller says.
Beyond being a legal document, a postnup is a framework for tough conversations about money, goals, and partnership. Annmarie Kelly, a self-help author, treats her postnup more like a marriage contract, one that she and her husband revisit periodically. Kelly, who is in her 60s, says she was reluctant when her now-husband suggested they marry: "I didn't want to lose my sense of freedom and my independence." Ultimately she agreed—with a caveat: that they revisit, rethink, and renegotiate their marriage agreement every five years. "One marriage agreement was mostly about our businesses and money. Another one—after a rough patch—was about expectations, honoring values, and ensuring that those reflected how we lived, including household logistics, like picking up after ourselves."
Of course, a postnup isn't a magic pill for marital money woes. "If you're only willing to do it because they might divorce you, that's a big problem," Frawley says. Before you reach out to a lawyer, she suggests making sure that you and your spouse are on the same page. For newlyweds Maria and Charlie, the postnup discussion cast a negative light on their brand-new relationship status. "Maria's excitement about getting a postnup was kind of distressing because we had just gotten married," Charlie says. But Maria, who grew up in a family where one parent controlled the finances, knew she wanted something different in her marriage. "My mom has to ask for money for large purchases," she says. "That dynamic is not fun for her." Charlie ultimately realized that a postnup would help them share their finances more easily. "Knowing that no matter how much [of my inheritance] I spend on joint purchases, I'm not ever relinquishing control of it would make me more comfortable using it when necessary."
So should every couple consider a postnup? Like life-insurance policies and wills, Lowry says, they "should be a routine part" of financial life. For Bloch, financial protection is important, no matter how unlikely a divorce may seem. "We all obviously want our marriages to last forever, and no one wants to think about divorce, but it really is so common, and circumstances change," she says. "It's important to protect the assets that you've worked hard to create."
How to talk postnups with your partner
Build trust and safety by talking about your money history. Start with how your parents handled money and how you feel about the way it affected their lives.
Clarify your financial situation. This may include income, expenses, assets, debts,
and credit score, among other things.
Narrow down your top individual and joint goals and how you want to achieve them. Are there situations in which one spouse may have to make a big sacrifice?
Choose and execute a plan. Have regular check-ins and an annual review.
Source: Adam Kol, host of the Couples Financial Coach podcast
This story appears in the Summer 2021 issue of Marie Claire.
Celebrity news, beauty, fashion advice, and fascinating features, delivered straight to your inbox!
Emma Pattee is a writer from Portland, Oregon. Her work has appeared in The New York Times, The Washington Post, The Cut, Glamour, Elle, and more.