The Sacred Boom
With the demand for mystical services on the rise, a growing number of women are channeling their spiritual gifts into full-blown careers.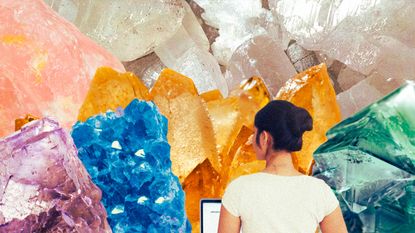 (Image credit: Susanna Hayward / Getty Images)
Marie Claire Newsletter
Celebrity news, beauty, fashion advice, and fascinating features, delivered straight to your inbox!
Thank you for signing up to Marie Claire. You will receive a verification email shortly.
There was a problem. Please refresh the page and try again.
Growing up, Amber Finney dreamed of landing on the masthead of a glossy fashion magazine. In college, she interned at two and thought it would be easy to find a paying job in the industry. It wasn't; she says she felt undervalued as a plus-size Black woman in fashion. She ended up working as a brand manager in the jewelry industry. The energy at the job was "toxic," and though the money was decent, Finney knew there was something better in the cards for her.
Finney, now 28, had grown up watching her mother read tarot; she often created vision boards to manifest her goals. So, while still toiling away at her nine-to-five, she began practicing African spirituality, harnessing gifts that had long run in her family. "My great-great-great-grandfather, a freed slave, was a renowned healer and medicine man, also known as a 'root worker,' " she says. "He was the catalyst to the work that I do." Finney turned to her godmother, a priestess of Ifa, a religion of the Yoruba people of western Africa and system of divination, to teach her about mediumship.

She took those learnings and, in 2018, launched Amber the Alchemist. Today, Finney has a full roster of hundreds of clients seeking spiritual guidance on love and career matters. She charges anywhere from $50 for a "mindful" consultation to $200 for a 45-minute session during which she may channel messages from a client's ancestral guides. She also runs an online shop that sells crystals, incense, and "Florida water," a traditional spiritual cologne composed of flowers, citrus, herbs, and essential oils that is historically used for energetic cleansing. Over the last year and a half, Finney's Instagram following has more than
doubled—from 6,000 to more than 13,000—and she estimates that her income jumped by roughly 50 percent from 2019 to 2020. "This pandemic was a sacred pause," she says. "A lot of us were forced into doing some healing, and people just want a guide to help them in that process."
It's in the stars—and the data: After last year's massive social and economic upheavals (COVID-19, a contentious election, rampant racism and discrimination), many women are reconsidering their priorities and seeking different ways to find purpose; some are using their own spiritual gifts (and business prowess) to help. According to Google Trends, the number of searches for the word psychic in the U.S. peaked in March 2020. And research firm IBISWorld estimates the market for psychics will total $2.2 billion by the end of 2021. Oliver Niño, 35, a healer based in Sedona, Arizona, and Laguna Beach, California, whose clients include Demi Moore and Laura Dern, says there's been a tremendous surge in demand for his 30-day online course (which features lessons in how to shield yourself from others' energy) and eight-week energy-healing certification program. Of the 5,000 total sign-ups, about 95 percent are women, says Niño, who has gained half a million new followers on TikTok since November. Shaman Durek, perhaps one of the most popular names in the realm of new-age spirituality (and most boldfaced: He's Gwyneth Paltrow's spiritual guide and the boyfriend of a European princess), has noticed an uptick in the number of women reaching out to him over Instagram to ask for career advice. "I do see [the use of spirituality] as an opportunity for women to level up," he says.
The fascination with mysticism during the pandemic isn't surprising. In fact, the recent reliance on spiritual practices correlates with past eras of political upheaval. Natalia Mehlman Petrzela, an associate professor of history at the New School in New York City, draws a parallel between the counterculture movement and alternative medicine in the 1960s and '70s and the renewed interest in all things new age that we are seeing now. "I think women in particular have been drawn to these practices because they have not been treated well by the medical establishment," she says. "There's a history of women's health being disregarded." Fifty years ago, women embraced natural childbirth, Eastern medicine, and yoga; today, we're leaning into healing crystals, sound baths, and moon circles. The impulse originates from the same desire: "These kinds of activities help people feel in control of their own lives and health."
Take Amanda Edwards, who in 2015 found herself in the hospital for six days, diagnosed with extreme fatigue, during which time she lost her job and, later, her health insurance and sense of career direction. "It was an eye-opening experience about my overall well-being, but also the weaknesses in our health-care system to manage women's health holistically," says Edwards, now 32, who spent her early 20s interning at Christie's auction house and the famed Gagosian gallery in New York. "With the pressure from my family and also myself, I did what I thought I needed to be an adult. But I felt the life I had created for myself no longer fit me, like I'd outgrown a pair of shoes."
In search of a better way to support her health and manage stress, she started studying energy healing, meditation, Chinese medicine, and herbalism and took a part-time job working for Deborah Hanekamp, a healer in New York known as Mama Medicine who boasts an A-list following that includes Emma Roberts and Alicia Keys. Learning about energy work, Edwards finally felt like she was on the right path. Over time, she invested $11,400 in workshops and materials and eventually moved with her partner to France, where she launched a business making bespoke flower essences and body oils. A $234 "One-on-One" experience includes a 60-minute Zoom "plant guided meditation" session, during which Edwards blends a signature fragrance to match your "frequency" (in her words: "where you're currently at in life") and plays her singing bowls. Edwards works with a handful of customers each week and is collaborating (and cashing in) with four corporate clients.
Then there's the fact that women—especially women of color—have borne much of the burden of the pandemic, often carrying more work on the home front and being forced to leave paying jobs. It makes sense that not only would women be drawn to alternative spiritual modalities to deal with their extreme stress, they would also be inspired to pursue them as a new career path. "In the current challenging economic times, women feel even more disposable," says Lena Gurba, 51, a Long Island–based personal-transformation mentor and healer who spent most of her career working at big-name banks for big-time paychecks before swapping pinstriped skirt suits for crystal amulets. "Money, title, projects, exposure were not meaningful enough. I did not believe what I was doing had value," she says. Gurba quit her job in 2018 and started studying Tibetan Buddhism. Soon after, she launched Empowered You, a business offering personal-transformation mentorship services by word of mouth and, somewhat unconventionally, LinkedIn, in hopes of helping women struggling to thrive in C-suite-obsessed America. "Many are experiencing what I felt: being successful but not feeling successful. [Being in a high-powered corporate job] is not a position where you are empowered to thrive. You feel vulnerable and self-conscious."
Malaurie Barber, 48, a psychic based in Orange County, California, has found fulfillment (and success) working as a psychic medium. Her first month in business (November 2020), she earned more than $4,000 performing sessions over Zoom; her following on Instagram has since tripled. "I was often reading friends and channeling messages for them; seeing and hearing spirits has always been part of my daily life," says Barber. Next up? Expanding her online platform—which will allow her to work with more clients and pull in more income—and launching a podcast.
Though the past year has sparked mainstream attention and monetary growth, these practices are hardly a trend. The boom may in fact reflect a bigger societal shift: giving voice and conferring respect to marginalized Indigenous cultures. "It's crucial to remember that so many—if not all—of these 'alternative' practices are 'alternative' only to Western medicine and religion," says Petrzela. "The story of how everything from acupuncture to yoga to massage became mainstays of American wellness is one of reinterpretation, and sometimes flagrant appropriation, of other cultural products and forms. This can be forgotten, or deliberately obscured, when some of their biggest acolytes and popularizers are white Westerners."
Anu Garg, 48, a Maryland-based yoga instructor, Reiki master, and quantum healer, speaks to both sides of the conversation: "When I first got into yoga, I was appalled by the way it was being appropriated—like the Om symbol being put on clothing, especially underwear. That's desecrating a sacred symbol," says Garg, who is Hindu. But Garg also acknowledges that she is adopting Japanese culture by performing Reiki. She believes the solution is to be conscious and respectful that certain practices are rooted in a particular culture. But she doesn't like to overwhelm her clients with that education if they are not asking for it: "For me, as a practitioner, I have to ask myself, Are they coming to me for a history lesson or to be guided in healing? If I feel comfortable, I might offer the education outside of the session."
Although business is booming for some, not everyone experiences overnight success. Besides the major financial risk of starting your own business, practices that depend upon touch, like certain modalities of energy healing, have felt the impact of the pandemic. (Some Reiki practitioners maintain it works through Zoom.) Even for those who have made it, the daily path of a new-age healer isn't paved in rose-colored quartz. Finney talks of feeling drained after a long day of readings, especially during difficult political or cultural moments when people are seeking comfort; she wears a head wrap and cleanses her energy with a selenite wand after each session. It's not easy delivering messages that clients don't want to hear, adds Barber. Customers may expect you to magically fix all of their problems—impossible, no matter how much good karma you have.
Still, despite the unique hardships, most healers feel satisfied by their work and the fact that they have the courage to do something that's ultimately about helping others, especially during devastating times. "I think the pandemic has been a crisis for mental, emotional, spiritual, and physical health," says Hanekamp. "A lot of us have had to reevaluate how we are showing up in the world. More healing is needed now."
This story originally appeared in the Summer 2021 issue of Marie Claire.
RELATED STORY
Celebrity news, beauty, fashion advice, and fascinating features, delivered straight to your inbox!