Katrina Lake Might No Longer Be the Boss, But She's Still a Boss
The founder and soon-to-be former CEO of Stitch Fix is stepping down from the top spot—while stepping up her company's future.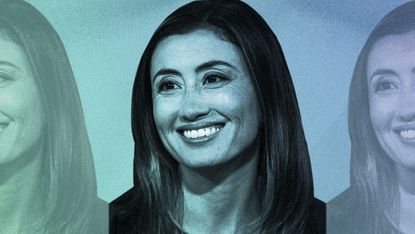 (Image credit: Courtesy)
When Katrina Lake, founder of Stitch Fix, announced she was stepping down as CEO of her company last month, many were stunned. Investors, surely—shares of the personal styling and shopping service fell more than 5 percent after the announcement. Business publications, of course—they soon started playing the speculative "why now" guessing game, an especially popular one when a female founder is the nut to crack.
A surprise to many, maybe, but this was Lake's plan, and it had quietly been in motion while the world was shut down, while the fashion market dipped and dived, and while Stitch Fix carefully treaded the 2020 retail minefield. No doubt, it's been a difficult year for countless businesses, especially those whose revenue model is based on selling clothes (that, you know, one wears outside the house). Although Stitch Fix's value overall increased from 2019, it wasn't immune to challenges—the brand laid off 1400 stylists, or 18 percent of their workforce, in June 2020.
But Lake's decision to step down as CEO and instead take a role as the company's executive chairperson wasn't a hurried or scared response to the retail frenzy. "This decision has been in the works for a long time, honestly," says Lake, 38. She shares that she started daydreaming about the move "years and years ago" and finally broached the topic with Stitch Fix's board months before the pandemic. Lake is officially moving into her new role in August and handing her company over to Elizabeth Spaulding, who joined Stitch Fix as president in January 2020.
"If somebody had started [Stitch Fix], I would have happily worked for them. I didn't need to be the founder," she says. "I didn't need to be the face of it."
But Lake was the face of it, her name synonymous with the brand and all of its tremendous success ($1.7 billion annually in revenue and nearly 4 million clients). For the decade after founding the company (she got the idea in 2011 as a student at Harvard Business School), Lake was the successful female founder poster child. She was on the cover of Fast Company. She was the star speaker on panels at nearly every women's conference (including Marie Claire's Power Trip) and a frequent guest on podcasts. Everyone wanted to know her, learn from her, or be her.
Her pseudo-celebrity status rose even higher in 2017, when Lake took Stitch Fix public—becoming one of only about 20 women, out of the thousands of publicly traded companies, to do so. And despite the immediate praise, there were very real challenges, which Lake alludes to, but won't speak about specifically. It seems that for Lake, a lot about being the female founder in tech! was somewhat of a distraction from what she really wanted to focus on: growing and evolving the brand. "There definitely are elements of public company, CEO life that I'm fine leaving behind. I think there's the public nature of everything that we do. And of course, that is part of my job. But it's also just a part of the job that's stressful."
There aren't many female founders of such success stories who have stepped down by choice (though recently, a league of buzzy female founders have stepped aside as a result of public backlash to reported discriminatory or racist practices), and even fewer women who helm a public company and pass the baton on another women (four, to be exact). But Lake has always been a trailblazer. She's one of the few female unicorns, a term meaning the company is valued over $1 billion. When she led Stitch Fix through its IPO, she became the youngest female founder ever to do so. (Whitney Wolfe Herd, who cites Lake as a mentor, has since taken over that title, which Lake admits she's happy to give up.) In February 2021, Lake, who owns a reported 10 percent of Stitch Fix, became one of 19 self-made female billionaires in the U.S.—even if only for a fleeting moment while company stocks were up 282 percent. During her tenure as CEO, she's pushed for pay equity and parental leave. She could step down and retire to a life of bonbons and Netflix binges, and her legacy would still be safe.
But Lake would never. She's not someone to stop leading just because her job title doesn't have "chief" in it. It's her steadfast belief in the brand—and in its power to shape shopping—that drives her. She's also not someone who's an entrepreneur for the sake of being an entrepreneur: She says she doesn't have another billion-dollar idea in the works, and her words feels genuine, not like a PR soundbite. "I'm not going anywhere. My full-time job is going to be at Stitch Fix. I have no second career planned."
Ensuring Stitch Fix's future has always been paramount. When Spaulding was hired as company president, a takeover was imminent. "Succession planning was always part of why we brought her on," says Lake. "From the moment of meeting Elizabeth, this idea of transition was always the intention. I always had a belief that it was possible that somebody would be able to lead Stitch Fix in the next chapter." The two women hired a career coach to help them navigate the transition and prepare them for the new power dynamic that will come into effect on August 1: As CEO, Spaulding will report to the board, which Lake has a seat on. But Lake will effectively become an employee of her own company, answering to Spaulding.
For an ego maniac (which, let's face it, many CEOs are), that could create strife. But for Lake and Spaulding, who have been building trust over the past year (Spaulding has slowly been taking on more responsibilities within the company, including becoming the main contact for investors), the dynamic isn't threatening, but empowering. "Katrina is an inspiration to all of us at Stitch Fix, and to the industry at large, and we'll stay closely connected through the next phase of Stitch Fix's journey," Spaulding says. "With Katrina dedicating her time to social impact and sustainability, she will help us continue to disrupt the industry and create the positive change we need."
Lake hopes the move sets a precedent for other founders looking to make a similar leap. "I do think there is an older model of CEOs and leadership that is more about ego and less about a sense of purpose and servant leadership," says Lake, musing on whether or not she thinks the average male founder would choose to forfeit some power if they thought it was in the best interest of the company. "In that old model, I think it was a lot harder to pass the baton and let go of the reins for fear of looking weak (or whatever). As employees are looking to a different type of leadership, I hope that ego-centric motivations are lessening."
It's that self-awareness and commitment to the success of her company that truly defines Lake as a, well, boss. Though she has all the reason in the world to have a big ego, she has none. She could stay on the magazine covers, but she's choosing to allow another brilliant, savvy, experienced and more-than-capable woman to take charge of her company's next chapter. It's a chapter that many speculate will be more focused on direct sales, a speciality of Spaulding's, instead of the traditional "fix" model in which customers get a box of clothing an algorithm predicts they will like.
Now that the secret is out, Lake is feeling all the feels. Excitement, nervousness—"new job" jitters, she says—and hope. Relief also comes to mind, but she's not sure it captures the full spectrum of emotions. "I don't know if relief is the right word, but there's definitely a sense of openness and authenticity that I feel like I get to feel."
She's anxious to throw dinner parties once again—pre-pandemic, she'd host one monthly and theme each around a musical artist like Prince or Fleetwood Mac. Though her new role is still taking shape—"I haven't quite landed exactly what the roadmap is going to be"— she plans to devote more of her time an energy to Stitch Fix's sustainability and social impact initiatives. The brand is considering launching a resale arm, as well as developing recycled fabrics.
For now, Lake will continue to lead her company into its new future. "I will always feel so connected to and proud of the business," she says. "But I don't need to be the boss to feel that way."
Spoken like a true boss.
RELATED STORIES
Celebrity news, beauty, fashion advice, and fascinating features, delivered straight to your inbox!
Megan DiTrolio is the editor of features and special projects at Marie Claire, where she oversees all career coverage and writes and edits stories on women's issues, politics, cultural trends, and more. In addition to editing feature stories, she programs Marie Claire's annual Power Trip conference and Marie Claire's Getting Down To Business Instagram Live franchise.