The Surprising Reason Men Are Snagging the Jobs You Want
Changing that ASAP, just in time for the January job hunt.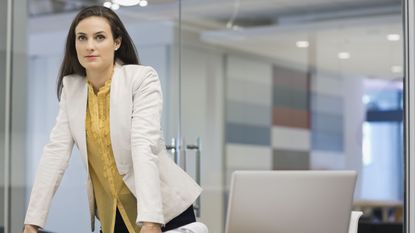 (Image credit: Getty Images)
The job-search-in-January phenomenon is a totally real thing. Everyone does it. Blame it on the holidays giving you extra time to think or on New Year's Eve prompting life-improvement resolutions, but come early 2015, the market will be flooded with candidates on the hunt.
Interestingly, women are at a particular and surprising disadvantage amidst all this competition—and it's one we create for ourselves.
Hear me out. According to women's leadership expert Tara Sophia Mohr, who wrote on this topic for Harvard Business Review, an internal Hewlett Packard report showed that men apply for a job when they feel they meet 60% of the required qualifications, but women only apply if they feel they meet 100%.
OK, I get it…qualifications are qualifications, and if you see on paper, plain as day, that you don't have everything they're looking for (enough years in the field, knowledge of a particular program, experience in some certain facet of the job) you figure, "Why bother?" But that's exactly the problem. While you're busy trying not to waste your time and are therefore moving on to the next, men are going for it—and sometimes getting it.
"[Those who didn't apply] didn't see the hiring process as one where advocacy, relationships, or a creative approach to framing one's expertise could overcome not having the skills and experiences outlined in the job qualifications," Mohr writes about those who opt out.
She makes a great point: Who you are in person—and who you're going to be, or can be for this job—are different things from who you are on paper, and you should always give yourself the chance to advocate. After all, some of the "required" qualifications may be pie-in-the-sky dreams on the part of the employer, and they may fully expect that no one will meet them all.
"For those women who have not been applying for jobs because they believe the stated qualifications must be met, this statistic is a wake-up call that not everyone is playing the game that way," Mohr says. "When those women know others are giving it a shot even when they don't meet the job criteria, they feel free to do the same."
So please, I beg of you, stop missing out! Get out there and sell—nay, oversell—yourself. Talk a big game. Level the playing field. We deserve it, no?
You should also check out:
Why Women Find It Harder to Say No to Extra Work
Confessions of a Kiss-Ass: How Being "Perfect" Almost Ruined My Career
Marie Claire email subscribers get intel on fashion and beauty trends, hot-off-the-press celebrity news, and more. Sign up here.
As the editor of Cosmopolitan, Jess oversees the editorial for all of Cosmo's efforts across print, digital, video, and emerging platforms. Previously she served as the digital director of Marie Claire, where she tripled the readership, and she's held print and hybrid posts at Glamour and Teen Vogue. In 2013 she launched an interactive e-commerce platform for a fashion-tech startup, and in a former life she was a ballet dancer and NYU film student. She lives in Manhattan with her scruffy dog George.