The Dos and Don'ts of LinkedIn
Because, really, what ARE the rules?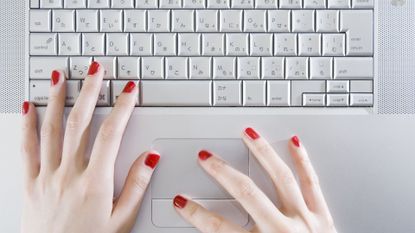 (Image credit: Getty Images)
Marie Claire Newsletter
Celebrity news, beauty, fashion advice, and fascinating features, delivered straight to your inbox!
Thank you for signing up to Marie Claire. You will receive a verification email shortly.
There was a problem. Please refresh the page and try again.
You rely on LinkedIn a lot, right? Us too, but here's an arresting professional thought: We're doing it wrong.
Like, are you supposed to accept all the invitations you get, or does that mess with the algorithm of your network (or something)? Is there a way to job-hunt without your boss seeing basically all your activity? Is there a cheat for showing up in more candidate searches?
We think it's high time we establish some official rules. Here, with the help of LinkedIn career expert Catherine Fisher and workplace coach Lindsey Pollak, we present the Smart Person's Guide to Using LinkedIn the Right Way:
Do go stealth. Happy news, creepers: You can make it so people can't tell when you're looking at their profile. Go to privacy & settings and change "select what other see when you view their profile" to "anonymous." You're welcome.
Don't broadcast every profile change you make. If you're ready to hit the job market and realize you haven't updated your profile in forever, PLEASE DO THIS: Before you save any changes, alter your privacy settings so "only you" can see the activity on your page. This way, your boss won't notice that you're A) dusting off the old resume and B) telling the world that you actually do half the work she's supposed to be doing.
Do take the two seconds to fill in that summary line. "It makes you so much more searchable—a summary of 40 words or more makes you more likely to turn up when someone's looking for job candidates. A good tip is to also ensure your summary includes keywords featured in desirable job descriptions related to your field." —Catherine Fisher
Don't endorse people you don't really know for skills you're not sure they have. It's weird.
Do upload a photo. "You're 14x more likely to have your profile viewed if you include a photo, but make sure to keep it professional! Unless you're a swimsuit model, the photo of you in your bikini won't work." —CF
Don't accept every single invite you get, no matter how much of a leg up you think it'll give you. "Building a strong network of professional connections is not a numbers game. You want to establish and cultivate quality connections with people you know and trust professionally." —CF
Don't be one of those people who sends a generic LinkedIn connection request. "When you send a request or InMail message, customize your note to your connection, such as same college, former employer, or where you met in person, so they know they actually know you." —Lindsey Pollack
Do use it kind of like a social network. "'Like' one of the articles of people in your network. Comment on the status updates of your connections. Even a simple "Congratulations!" on a job change can help you stay top of mind, which may prompt others to review your profile and even recommend an opportunity they hear about. The more active you are, the more active people will be with you in return." —LP
Don't include the time you made a photocopy for the CEO when you were an intern on your profile. This is a place for highlights, not your stream of professional consciousness.
You should also check out:
5 Leaving-for-a-Job-Interview Excuses You Should Never, Ever Use
Why Women Find It Harder to Say No to Extra Work
Glassdoor's 2015 List of Best Places to Work May Seriously Surprise You
Celebrity news, beauty, fashion advice, and fascinating features, delivered straight to your inbox!
As the editor of Cosmopolitan, Jess oversees the editorial for all of Cosmo's efforts across print, digital, video, and emerging platforms. Previously she served as the digital director of Marie Claire, where she tripled the readership, and she's held print and hybrid posts at Glamour and Teen Vogue. In 2013 she launched an interactive e-commerce platform for a fashion-tech startup, and in a former life she was a ballet dancer and NYU film student. She lives in Manhattan with her scruffy dog George.