Tech Influencers: The 3 Women Changing Everything
In an industry notorious for its buzz, bros, and billions, a new crop of whip-smart women is taking its rightful place at the top.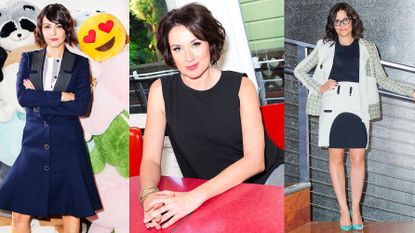 (Image credit: Damien Maloney and David Cortes)
The Studio Head: Erin McPherson
TV? Who watches TV? Today's must-see original content is online, and Maker Studios' Erin McPherson is fast becoming one of the most powerful (and prolific) entertainment execs in the game.
McPherson was overseeing business development at Yahoo when she had a realization. It was 2010, and even from her perch in Los Angeles, she saw the explosive growth of video content. Viewers were spending less time in front of the television and at the multiplex, and more time clicking—on their computers, tablets, and phones. Still, Yahoo had no unified strategy when it came to video. Shouldn't there be a head of video programming? So the Harvard-educated lawyer pitched herself for the job. Her higher-ups loved the idea, but decided to interview other candidates for the position as well.
"It kind of reminds me of dating," says McPherson. "If the guy wants to date other people, let him. It's the whole 'Set the bird free, and if it comes back to you, it was meant to be.' I thought, If they go with someone else, I'll go to a different company and do it. When you're really sure of your worth, other people know your worth, too."
Sure enough, McPherson nabbed the job. That kind of plucky confidence and a willingness to seize new opportunities has crowned her one of digital entertainment's most formidable new forces. About a year ago, Maker Studios, the Culver City, California–based mega-producer of video for YouTube, tapped her as chief content officer. The duties are leviathan: Maker creates and produces content for 55,000 YouTube channels, which, all told, have generated over 9.5 billion views per month. (Last year, Disney snapped up Maker Studios for an estimated $500 million.)
Raised in Aspen, Colorado, she graduated from Middlebury College and, later, Harvard Law School. McPherson moved to Los Angeles, where she settled into a grinding litigation gig for a major law firm. Though on the partner track, she yearned for a more creative career. "I wasn't going home at night feeling any kind of joy," she recalls. So when an opportunity arose to join a startup in 2000, she jumped at it. Six months later, the company folded. "For about a month, I was panicked," she says. "I'd just bought my first house. I thought, I just got laid off with no severance and no health benefits. What am I going to do? But being laid off was one of the best things that's ever happened to me, because I realized there's life after being fired. In fact, you most often go on to something way better."
She landed a gig as in-house counsel at Matt Damon and Ben Affleck's new media company, LivePlanet, which went on to produce the HBO series Project Greenlight. That led to a position at a Beverly Hills talent law firm, where she negotiated deals for clients like Kevin Spacey, Halle Berry, and Daniel Craig. Five years later, she scored a business-affairs job at Yahoo, which she parlayed into the gig heading up video programming. "I literally took any opportunity offered to me to learn and try something new," she says.
These days, she's inking partnership deals with the likes of Morgan Spurlock and James Franco, and dabbling in longer-form content. Not surprisingly, that's earning her a lot of attention in Hollywood. But McPherson doesn't sweat the competition, instead drawing inspiration from her childhood spent skiing. "If you approach the mountain without fear, that's when you ski really well," she says. "I'm always skiing better when I just push off. Your body is going to figure the rest of it out."
"Being laid off was one of the best things that's ever happened to me … you go on to something way better"
—by Karen Schwartz
The Insider: Sarah Lacy
Unfiltered, unafraid, and fiercely unapologetic, Sarah Lacy is one of tech's most influential chroniclers. You got a problem with that?
Lacy's Twitter handle is @sarahcuda. To those who follow her incisive, sometimes biting articles on her tech news site, PandoDaily, the nickname is fitting. Lacy, after all, has cultivated a reputation in industry circles as a no-holds-barred truth teller, and in the ultra-monied, back-scratching world of Silicon Valley, the truth can sometimes bite. Case in point: Last fall, Lacy, a vocal critic of app-based car service Uber for what she says are its lacking safety measures for women, was the subject of an explosive BuzzFeed story about Emil Michael, an Uber executive who suggested to a table full of media types that the company would pony up $1 million to dig up dirt on its critics. He specifically name-checked Lacy. She struck back, hard, on TV and social media, prompting one of her critics to accuse her of "playing victim."
But Lacy hasn't backed down. "A company that's worth some $40 billion says that they're going to try to destroy your family, that's pretty horrifying," she says. "What made it scarier is that I know [Uber cofounder and CEO] Travis Kalanick pretty well. I was not some nameless, faceless blogger." (Michael has since issued a statement expressing regret for his comments, and the company denied any plans to investigate journalists.)
Lacy launched Pando in 2012 after AOL acquired TechCrunch, an insider-y tech blog she helped put on the map. (Lacy says AOL had "damaged the brand.") She'd just had her second child and even brought the baby on pitches with investors. She raised $4 million from tech heavy-hitters like Zappos founder Tony Hsieh and famed venture capitalist Marc Andreessen. Those relationships have led some to question Pando's impartiality. Naturally, Lacy scoffs at the suggestion. "It's incredibly common for companies covering this industry to be funded by this industry," she says. "Everyone is owned by somebody."
Though Lacy has cited Uber as emblematic of the sexism in tech, she insists the Valley's reputation as a hotbed for "bro culture" is overblown. "I think the day-in and day-out life of Silicon Valley is a lot less sexist than other industries," she says. "In general, it doesn't feel like a gross frat party. It only gets that way in periods of really dramatic activity. Then the gates open up, it's a lucrative place to be, and people flood in." A few bad apples, in other words.
Not that Lacy has ever shied away from calling them out. "When I was growing up, I was always very outspoken and always very opinionated," she concedes. "I think that's cost me a lot of social points, and in another career would have cost me a lot of advancement. But in journalism, you kind of have to be that way."
—by Maria Ricapito
The Entrepreneur: Deena Varshavskaya
Deena Varshavskaya has made window-shopping with your friends—all of them, everywehre, 24/7—a whole lot easier.
In the race to win the social-meets-shopping world, Deena Varshavskaya, 34, is leading the pack. As founder and CEO of the dangerously addictive smartphone app Wanelo—shorthand for "want, need, love"—she has created, basically, the world's largest digital mall, putting access to 20 million products from 350,000 stores (and with it, quite a lot of consumer might) in the palms of some 11 million shoppers.
Here's how it works: A user follows stores she likes, and at any time she can buy their products or save items to her profile and share them online. Meanwhile, Wanelo's smart algorithm filters thousands of products to find ones it knows she—or someone she knows and trusts—likes. "You're never seeing anything because some advertiser paid to put it in front of you," promises Varshavskaya. While big-name retailers like Nordstrom and Sephora boast a Wanelo button on their sites, the app is ideal for introducing small indie brands to a wider online audience. "I needed a tool that would make it easy for me to find products from a huge variety of stores, from fast fashion to tiny little brands," she says.
Born in Siberia, Varshavskaya and her family moved to New Jersey when she was 16. Despite a formidable language barrier—in her high school Shakespeare class, "I had to look up every single word, it was painfully slow"—she was accepted to Cornell. But two courses shy of graduation, she dropped out, eventually moving to San Francisco to try her hand as an entrepreneur. Varshavskaya credits her father, a journalist, for her independence. "My dad never really established rules for me. I never had a curfew, never had anything forbidden," she says. "He always made sure I was questioning everything."
Wanelo was hardly an easy sell. Varshavskaya says she was rejected by 40 investors before finally landing $3 million in funding in 2012. Today, Wanelo is among Apple's most popular shopping apps and is reportedly worth $100 million. "Following your curiosity puts you in a position of amazing power," she says.
—by Amy Goldwasser
This article appears in the March 2015 issue of Marie Claire, on newsstands now.
You should also check out:
20 Women Who Are Changing the Ratio
Is Your High-Tech Life Making You Sick?
Celebrity news, beauty, fashion advice, and fascinating features, delivered straight to your inbox!