20 Women Who Are Changing the Ratio
To the ceiling-smashing, see-it-to-be-it badasses spotlighted here, we salute you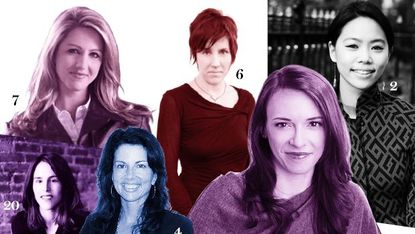 (Image credit: Courtesy of Subject/Getty Images/Chad Rachman/Nam-Chi Van)
1. The Advocate

Jessica Jackley, 36 Cofounder, Kiva.org

As the brain trust behind the online microfinance juggernaut, Jackley is responsible for $600 million in loans, some as small as $25, to more than 1.3 million women in 77 countries. The goal: Help them launch or preserve their small businesses. "Small, discrete steps taken today can lead to surprising and great things later," she says.
2. The Matchmaker

Rachel Chong, 32

Founder and CEO, Catchafire

The former UBS investment banker launched the eHarmony-like service, which pairs skilled volunteers with groups around the country in need of pro bono services.
3. The Icebreaker Extraordinaire

Jennifer Lee, 42

Writer and codirector, Disney's Frozen

The genius behind the highest-grossing animated film ever ($1.3 billion and counting) is also the first woman to helm a billion-dollar-box-office flick.
4. The Valley Firebrand

Gina Bianchini, 42

Founder and CEO, Mightybell

The straight-shooting veteran social-networking entrepreneur cofounded LeanIn.org with pal Sheryl Sandberg. Her latest venture, Mightybell, creates specialized online networks for, say, teachers or small-business owners and is the platform of choice for Lean In "circles" around the country.
5. The Night Owl

Amanda de Cadenet, 42

Host, Undone with @AmandadeCadenet

The former actress parlayed a cozy online chat show featuring celeb pals like Gwyneth Paltrow into a fledgling talk show, which debuted on Lifetime in late July. Since Chelsea Handler decamped for Netflix, de Cadenet is the lone female late-night host on all of network and cable television.
6. The Scene-Stealer

Leah Meyerhoff, 30

Founder, Film Fatales

Frustrated by the lack of mentorship among women in Hollywood, this indie filmmaker organized her own network for female filmmakers, based in New York, to help one another secure financing, recruit talent, and learn negotiating skills.
7. The Highflier

Amelia Rose Earhart, 31

President, Fly with Amelia Foundation Bearing the name of her hero (no relation), this former weather forecaster embarked on her own round-the-world flight this summer to raise funds to help put teenage girls through flight school.
8/9. The Media Mavericks

Glynnis Macnicol, 39

Rachel Sklar, 41

Cofounders, TheLi.st

Credit where it's due: Sklar cofounded Change the Ratio, which works to seat more women on panels and in pundit chairs. She and journalism pal MacNicol cofounded TheLi.st, an invite-only listserv for female influentials in media and tech. The goal: Land more women in prominent jobs so they can pay it forward.
10. The Equalizer

Angela Benton, 33

Founder and CEO, NewMe Accelerator

The mastermind behind one of the nation's only online startup accelerators—boot camp for entrepreneurs—targets minority and female founders, who have historically had a tougher time scoring mentors and investors.
11. The Visionary

Pam Grossman, 33

Director, Visual Trends for Getty Images

Grossman was instrumental in Getty Images' groundbreaking partnership with Sheryl Sandberg's Lean In to create and sell images of working women that are more reflective of the culture and workforce.
12. The Negotiator

Kelli Masters, 41

Founder, KMM Sports

The former Miss Oklahoma is the first woman to represent a first-round NFL draft pick (Gerald McCoy, Tampa Bay Buccaneers). There are few boys' clubs as ferociously exclusive as the business of sports agents. Masters is making her mark with eight NFL players and counting.
13. The Game Changer

Elizabeth Sampat, 32

Video game designer

An outspoken advocate of women in gaming, the designer of titles like Nineteen and Deadbolt contends that women are overlooked by recruiters at game companies based on the dated stereotype that women don't play, when, in fact, nearly half of all gamers are women.
14. The Grassroots Operative

Lindsay Zizumbo, 31

Founding member, Real Women Run

Not a single woman in Utah holds a congressional seat or statewide elected office, which is partly why the state ranks 49th of 50 for women in politics. (Only Louisiana is worse.) Three years ago, Zizumbo cofounded this nonpartisan organization, which produces workshops for prospective female candidates on the ins and outs of running for office.
15. The Local Disrupter

Kesha Cash, 37

Founder, partner, and director of investments, Impact America

How to transform underprivileged communities? Nurture their entrepreneurs. That's the idea behind Cash's private investment firm that funds early-stage businesses run by minority entrepreneurs in low-income neighborhoods. The upside: They must have a social or environmental mission.
16. The Life Coach

Jenni Luke, 41

CEO, Step Up Luke helms this national organization, which pairs at-risk teen girls around the U.S. with professional mentors for after-school and weekend programs in an effort to empower the girls and prepare them for both college and careers.
17. The Rainmaker

Ari Horie, 41

Founder and CEO, Women's Startup Lab

As founder of this Silicon Valley accelerator, Horie and her team provide professional coaching, mentorship, and capital to women-led ventures, which are notoriously underfunded in macho tech circles.
18. The Digital Defender

Vivian Graubard, 25

Adviser, White House Office of Science and Technology Policy

Graubard was a key force behind innovative anti-human-trafficking initiatives backed by the White House that leverage open-source data to help victims.
19. The Action Hero

Kim Woozy, 30

Founder, MAHFIA

The snowboarder turned video producer founded MAHFIA, a Web channel devoted to women's action sports. Her credo: "You can't be what you can't see."
20. The Thought Leader

Katie Orenstein, 45

Founder and CEO, The OpEd Project

The author and journalist is on a mission to recruit female writers and experts to contribute more to mainstream TV, print, and online news outlets, where women are underrepresented as columnists and pundits.
Related:

Meet the 20 Women Who are Changing Your World for the Better




Blake Lively Finally Opens Up About Her Marriage to Ryan Reynolds

Photos Courtesy of the Subjects/Getty Images/Chad Rachman/Nam-Chi Van
Celebrity news, beauty, fashion advice, and fascinating features, delivered straight to your inbox!