Your Guide to Surviving a Layoff
I've been there and it was actually the best thing that ever happened to me.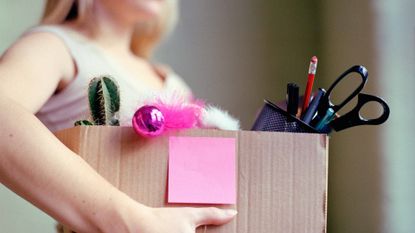 (Image credit: Getty Images)
Layoffs—they happen. At least, we see them happen. On the news, in movies, a friend of a friend. The important thing is, they never end up happening to us.
Until they do. And they did—to me. After getting over the initial blindsiding shock (all the ice cream, all the wine, all the tears), I began to realize it's not as big a life-ruiner as I thought. In fact, it may have saved my life, and could end up being good for you, too. Here's why.
It will finally hit home that you are more than just your job title (because that's a recipe for disaster).
I have absolutely, 100% been guilty of this in the past—how often is your first question when meeting someone new: "What do you do?" Not to sound like a life coach or a page from Chicken Soup for the Laid-Off Soul, but our job titles are not fundamentally who we are. (VP ≠ MVP.) I'm definitely not 100% there yet, but I've slowly shifted my focus from being Alyssa the content creation and digital branding expert to simply Alyssa, the trustworthy friend and family member with a youthful, energetic spirit. I can't tell you how refreshing it is to measure success outside of turning in an innovative project or speaking up with a great idea in a brainstorm.
Repeat after me: It's going to be okay, it's going to be okay.
Layoffs mean your career comes to a screeching halt, and nothing is more of a smack in the face. But with that moment, that pause, comes a bit of clarity. An awesome mentor of mine told me to take this time to actually envision what my dream career would look like. (Obviously, some of us can't pause for too long—we all have to eat and pay rent!) But once you stop freaking out, you realize this is your chance to save yourself from walking straight from a so-so job into another so-so job. While our job titles aren't who we are, they are obviously how we spend a lot of our time, so you want to make it count.
People are cool. Meet more of them.
Another valuable mentor has taught me the importance of staying close to your network and expanding it with the best people you can find. After a long day of work, relaxing on the couch with a glass of wine (and The Bachelor) can be more appealing than drinks with a peer or going to another industry event, but nothing turns this logic on its head faster than finding yourself with no job and no prospects. Word of advice: Maintain relationships so you don't have to be that desperate girl down the road. While unemployed, I now have time to connect with inspiring people in my industry. Stylists, editors, brand marketers, and fashion influencers have all become real people (and not just LinkedIn invitations), and I can compare notes with them to keep up with what's happening and what the hell I should be paying attention to. Also: Connections and friends don't have to be different, and a support network is kinda what we all need right now.
You get to live out all those freelance fantasies.
The last and most obvious advantage to being unemployed (besides getting to wear pajamas during the day) is the gift of spare time. Case in point: I hit up a Pure Barre class at 10:30 a.m. on a Tuesday, after posting on my blog and catching up on all the news of the world on every social platform, just because I CAN. I arrange fresh flowers from the corner deli into fabulous coffee table bouquets and drink things like lemon cucumber water and mint lemonade. Of course, I can't do this forever (And if I'm still in this position a month from now, you will probably find me selling off all my clothes, accessories, and housewares), but for now it's been really worthwhile to exit the rat race, clear my mind, and figure out The Plan. Whatever the hell that may be.
You should also check out:
Career Confession: I'm 10 Years Out of College and I Still Have No Idea Where I'm Going
8 Ways to Make Your Boss Not Hate You
Celebrity news, beauty, fashion advice, and fascinating features, delivered straight to your inbox!
Alyssa Surrett is the Social Media & Partnerships Manager at Harper's BAZAAR, where she writes about the latest trends and where to buy them. She began her career at Marie Claire, and went on to Rent the Runway before joining the team at BAZAAR. When she's not shopping online, she is an accessories enthusiast, Tennessee football fan, Pure Barre addict and Bloody Mary connoisseur.