Half of the Finance Advice You Get Is a Lie—Here's What to ACTUALLY Listen To
'Cause maybe your roommate shouldn't be your financial advisor.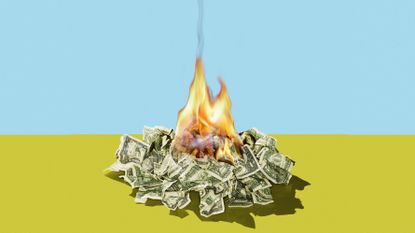 (Image credit: Archives)
Marie Claire Newsletter
Celebrity news, beauty, fashion advice, and fascinating features, delivered straight to your inbox!
Thank you for signing up to Marie Claire. You will receive a verification email shortly.
There was a problem. Please refresh the page and try again.
You've heard so much about money over the years—from your parents, your college roommate, and that guy in the benefits department. How's a busy girl to sort through it all? Here, the real deal on what advice to keep and to toss.
Keep: "Start Now"
The longer your money has to grow, the better. If at 25 you save $3,000 a year for 10 years, letting it grow at an 8 percent compounded rate of return until age 65, you'd have $472,000. Whereas, if at 35 you save $3,000 a year (at the same rate of return) until you're 65, you'd have $367,000.
Toss: "Buy That Ride"
Getting a car is typically cost-efficient if you plan to keep it until it sputters to a halt. But because people in their 20s and 30s today tend to job-hop three times more than previous generations, owning a vehicle may be too much of a commitment—and a poor financial decision. If a job change may take you to a city where residents rely on public transport, leasing a car is a better bet. Not to mention that owning a car costs about $9,000 a year, according to a 2014 AAA report.
Keep: "You Know What They Say About Eggs and Baskets"
William J. Bernstein, author of If You Can: How Millennials Can Get Rich Slowly, recommends spreading investments across different areas with varying levels of risk, from bonds and CDs to stocks in emerging markets. "You never want to have all your money in one place," he says. Having a diverse basket means that your whole portfolio may perform well despite one or two underperforming stocks.
Toss: "Borrow the Max"
A bank will typically offer the loan you qualify for, which may be more money than you need. It's better to get a loan for the amount you actually need, according to Sharon Miller, head of national sales for Preferred Banking and Merrill Edge. After all, she says, "You never know when your money situation will change, so it's better to be cautious even though we're in a favorable borrowing environment right now."
Keep: "Go Slow and Steady"
A mistake among young investors is to start and stop, depending on their cash flow at the time, says Terry Banet, CIO of online investment site SigFig. "It's crucial to be consistent over time," she says. "Even when you get laid off, keep putting away small amounts so you develop good saving habits."
Toss: "Cut Your Cards"
One way credit-rating agencies arrive at your score is by comparing credit used against your total available credit, so keeping more credit cards open—and, more important, paid off on time—will raise your credit limit and, possibly, your overall score.
Keep: "Have a Backup"
Experts say to keep three to six months' worth of cash in an emergency fund. If you can afford that, great, but if not, start by saving for at least two months. Keep the money somewhere you can access it in a day or two. No, not under the mattress, but in a savings or checking account. Just don't keep it in the stock market—your just-in-case funds shouldn't be subject to the ups and downs of daily trading.
Toss: "Don't Peek"
Some people may have the impression that checking your credit score lowers it. Actually, checking your own credit score is considered a "soft inquiry," compared with the "hard inquiry" financial institutions make when you apply for a mortgage loan or credit card. Only the latter can lower your credit score, and not enough to concern you.
This article appears in the April issue of Marie Claire, on newsstands now.
You should also check out:
Don't Blow It: The 6 Most Common Money Questions, Answered!
My Secret Shame: I Am *Clueless* About Money
Celebrity news, beauty, fashion advice, and fascinating features, delivered straight to your inbox!