My Secret Shame: I Am *Clueless* About Money
My Secret Shame: I Am *Clueless* About Money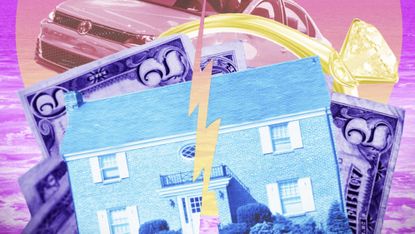 (Image credit: Elizabeth Renstrom)
On the eve of 2015, an e-mail from my company landed in my inbox with an urgent subject line: "401(k) Notices—PLEASE READ!" So I did. Or I tried to, anyhow. It said something about "safe harbor notification" and "qualified default investment alternative." I didn't have time to Google what it all meant, so I brushed it aside.
That night, after a glass or two of wine, I divulged to a colleague that I hadn't even bothered trying to comprehend the e-mail. I shrugged, resigned to my own cluelessness. This is who I am, right? Turns out, my admission opened the door for her to offer up a confession of her own: "No one who makes as much money as I do should be as stupid about it as I am," she said. This from a successful Manhattanite whose salary nears $200,000 and who is known for her organized approach to pretty much everything. She's basically my polar opposite, but when it comes to money, she's just like me: totally lost.
Sex, politics, that weird bump on your butt—nothing is off-limits with your girlfriends, with one exception: the complexities of money. We're aware of our friends' financial situations in generally vague terms, but rarely do we discuss what we're actually doing with our money. Why not?
Maybe it's because we're not actually doing much at all—a hard truth to admit if you're a savvy woman with a thriving professional life. "I'm embarrassed by my own lack of knowledge, even though I write about money every day," says Ester Bloom, an editor at finance site The Billfold. It only takes a short chat with her to see that Bloom really does know her stuff, but an endless array of complex financial products can make even a pro's head spin—and our failure to grasp it all, despite the fact that we are successful, intelligent women, can feel a little humiliating.
That shame is in no small part due to women's much-advertised and very real "confidence gap." According to a 2014 survey conducted by the financial firm BlackRock, a mere 15 percent of women said they were "completely confident" managing savings and investments, and women were more likely than men to use negative words like "nervous," "pessimistic," and "frustrated" to describe their financial future. Further, a 2012 study by Financial Finesse found that less than one-third of women are confident they're investing properly (compare that with 45 percent of men who feel at ease in the captain's seat).
None of this looks very good, but the end is hardly nigh—far from it. We're bringing in more money than ever (wage gap be damned!), and in rising numbers, it's the lady of the house who's the breadwinner. Women also have huge purchasing power, controlling up to 75 percent of household spending. And a major University of California study concluded that when women do invest, they outperform men.
The numbers don't lie. We're getting there—women are powerful now, and we need to get comfortable with it. And make no mistake, the money we earn is part of that power. Every day we fail to take the reins is a day we forgo the opportunity for empowerment (and profit). For me, that meant finally logging in to my 401(k) to figure out what the hell that e-mail was talking about. I'm happy to report, things are looking good. Now it's your turn. Trust me, if I can do it, anyone can.
This article appears in the April issue of Marie Claire, on newsstands now.
You should also check out:
The Lazy Girl's Guide to Saving Money Online
The 14 Biggest Career Mistakes Women Make in Their 20s
Marie Claire email subscribers get intel on fashion and beauty trends, hot-off-the-press celebrity news, and more. Sign up here.
Jessica is a contributing editor at Marie Claire and the Editor-at-Large at Jezebel. She loves naps, restaurants and travel—she gets antsy if she doesn't fly somewhere at least once a month. She lives in Chicago with her husband.