Icona Pop Holds Nothing Back: The Band on Touring with 1D, Feminism, and the Power of High Heels
Word to the wise? Don't ever tell these girls what to do.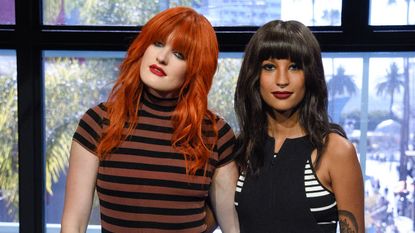 (Image credit: Getty Images)
Marie Claire Newsletter
Celebrity news, beauty, fashion advice, and fascinating features, delivered straight to your inbox!
Thank you for signing up to Marie Claire. You will receive a verification email shortly.
There was a problem. Please refresh the page and try again.
As far as pop music is concerned, Sweden has been, and always will be, the land of danceable tunes. And while our parents had Abba, in all their majestic, pop-rock-cum-disco glory, us millennials have been blessed with the infectious, synth-pop offerings of Icona Pop. The Swedish duo, comprised of Caroline Hjelt and Aino Jawo, first got us grooving with their rapturous breakout hit, "I Love It" back in 2012, and since then they've hardly pressed pause.
After touring with Marina and the Diamonds, Miley Cyrus, and Katy Perry over the past few years, the pair holed up in the studio for four months earlier this year to work on their just-released EP, Emergency. The album has three new songs, including "First Time," the first song Hjelt and Jawo ever wrote together, as well as "Emergency," a feverish, jazz-age-inspired song of summer candidate that begs to soundtrack a modern-day Gatsby party.
This summer, the girls have hopped on One Direction's On the Road Again tour, which means they're essentially performing for the 2015 version of Beatlemania—except in addition to today's most coveted boy band, these thousands of young girls will have two fiercely feminist performers to fawn over.
In light of our full-blown obsession with Emergency and the duo in general, we caught up with Hjelt and Jawoto to talk the adventures of touring with 1D, gender inequality in the industry, and their real-girl approach to working out. Plus, at our request, they've crafted a 13-track #RunLikeanIcon playlist that will help you hit the ground running, but like, literally.
Marie Claire: Your latest single "First Time," was the first song you guys wrote together. How did you go about about reprising it?
Aino Jawo: "We always wanted to show it people. So we took it into the studio and did a rework that reflects where we are now in our lives.There's a little sadness to it as well because it's remembering how it used to be. But things change, and things go forward. Instead of being sad, let's relive it in our memories. Let's make new first times now that we're a little bit more mature... [Laughs]... than the first time we got drunk. Hopefully we are."
MC: We've had your new EP Emergency on loop, could you guys describe it in three adjectives?
Both: "Refreshing. Personal. No rules."
MC: You were locked away in the studio for four months creating Emergency, how has you creative process evolved since you two first got together?
AJ: "We're always trying to take pop to a new level, to keep it interesting for others, but also to keep it interesting for ourselves. You can definitely hear that "Emergency" is not like the other songs we've done, but it still has that very clear Icona Pop concept. I think you can really hear how much fun we had and how comfortable we are writing together. We don't have rules. For us, it's very personal, especially with "First Time," it's really sharing a moment. We want to keep on growing and keep on challenging ourselves—working in new ways and directions. This EP was a really fun little experiment for us."
MC: You guys are super proactive about your feminism and gender equality in the industry—what progress and pitfalls have you observed since you guys got your start?
AJ: "I remember once—we're both really tall, like 5' 9"—and we were wearing super high heels and a guy we used to work with was like, "Uh, I don't think you should wear heels because it can be pretty offensive for a man when you're taller than them." So, the day after we put on even higher heels. It was shocking. There were also other people we used to work who were like, "We'd love to style you, but think you'd look better in less clothes." And it's stuff like that makes you feel nauseous. We don't do music because of how we look, we want people to love our music and feel it."
Caroline Hjelt: "And if we want to be naked, we want to do it because we want to be naked. We think it's beautiful to be naked sometimes, but we want to choose that moment and be the ones deciding why we're doing it. One frustration in the industry is that people do things like it's always been done. They say "Oh, this is terrible, but this is how we've always done it." Or this is how we did it with so and so artist back in the day. When you play at festivals, it's still very much male dominated if you look at the headliners. There still needs to be change for the better, but now there are so many amazing female producers, instrumentalists, and engineers, and that's something that's happening more and more because it's becoming more accepted."
AJ: "It also feels like when girls play live, it's like "Are you singing for real?" or "Are you really playing that instrument?" They ask us questions that really make us angry. It's like you have to be twice as good as the guys to get on the same level."
MC: In light of recent events, do you feel like the media tries to pit female performers up against eachother?
CH: "We're two best friends doing what we love and just because we're girls, people think that we fight a lot. We don't. [Laughs] When it comes to our other friends in the industry, I think it's so important that women support each other so that we destroy this vision of girls being catty. That's at least not our reality—we don't want it to be and don't want to hang out with people like that."
MC: You guys have opened for a slew of amazing acts, including Katy Perry and Miley Cyrus. You guys seem like you're totally on the same wavelength as both these ladies, but especially Miley.
CH: "When we were on tour with Miley, it was so fun—she was such an inspiration because she's really the boss of what she's doing. She's doing whatever she wants, and for great causes."
MC: And now you're touring with 1D, what's that like? That's one feverish fan base.
AJ: "We're actually the first girls to open for them! The boys are so nice, so down to earth. Super smart and fun, genuinely nice guys. We've been so working so much we really haven't had the time to hang out that much but we'll definitely make sure to have some stories when the tour ends. So if you ask us in a month, we promise to have some." [Laughs]
MC: So we have to tell you, your tour costumes are, in a word, epic. How do you pick out what you're going to wear on the stage?
CH: "We're so used to building our own costumes because that's what we did from the start. We didn't have any money so we'd look in our closets and say, "How do we want to feel onstage?" That's the most important thing. We want to feel strong. These days we'll sit with our dear friend and stylist Christopher Insulander and he'll help us. This tour it's a perfect mix of like Abba and Road Warriors. [Laughs] Before we were building Paco Rabanne-inspired dresses in plastic and people were like, "This isn't practical at all." And we're like, "But you don't understand, we feel so cool!" We were even bleeding because the plastic was so sharp. But we felt like super heroes, so it was worth it."
AJ: "We still have scars and that was like three years ago." [Laughs]
Sounds like the best kind of battle scars to us. On another note, we're obsessed with your Instagram account and looks like you two are no-nonsense runners.
AJ: "We've been working with Nike and they've been helping us fit exercise into our hectic lifestyle. And because of that, we've been having the craziest adventures. We've been running together with our fans!"
CH: "Yes! We started this thing called Run Like an Icon and it was so inspiring to see how a lot of our fans were saying, "I haven't run for years," or "I think I'm going to be bad," and we were able to talk to them through social media. Instead of like standing there and telling people to do it. We were like, "If we can do it, you can do it. Let's do it together!" And because we're traveling all the time, when you run, it's such a beautiful way to see different cities. You can jog around, pretending that you live in that city or that cute little house on the corner."
AJ: "And I mean, we love partying and we love beer. We love enjoying life. But just as well, it's important for us to stay fit as you have to be in great shape for longer concerts. I mean, we used to party 24/7, but then it comes to a point you need to stay on top of your game. You can run and then drink a beer." [Laughs]
So what are your go-to running jams?
AJ: "We always make different Spotify playlists. It's usually uptempo, but we have different vibes, like meditative or for stretching. We love Stromae because he's so theatrical, you imagine you're on a stage."
Editor's note: It's at this point that we decide we simply must ask the Icona Pop girls if they can make us a workout playlist, to which they obliged enthusiastically with these KILLER 13 tracks, including a Tommie Sunshine remix of "Emergency," that just dropped today. Listen and subscribe to the playlist, below:
Celebrity news, beauty, fashion advice, and fascinating features, delivered straight to your inbox!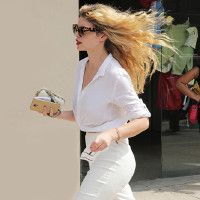 Lauren is the former beauty editor at Marie Claire. She love to while away the hours at coffee shops, hunt for vintage clothes, and bask in the rough-and-tumble beauty of NYC. She firmly believes that solitude can be a luxury if you've got the right soundtrack—that being the Rolling Stones, of course.