Meet the Woman Completely Shaking Up the Auto Industry
Busting up the boys' club.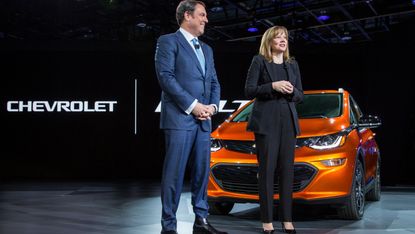 (Image credit: Photo by Steve Fecht for Chevrolet)
Car dealerships have long had a reputation as being sexist. A couple of years ago, Anne Mulcahy, the former CEO of Xerox, recounted an experience to Forbes in which a Porsche salesman asked her before she made the purchase, "Don't you have to talk to someone about that first?" She responded: "If you don't start working on the paperwork in the next 10 seconds, I'll drive 30 minutes to the next Porsche dealer and buy the car there."
Mary Barra, the CEO and chairperson of General Motors, takes those claims very seriously.
"I think it's huge," she told MarieClaire.com. "An environment where customers feel they're going to be respected, they're going to be listened to–that's going to guide how vehicles are presented or how we talk about the vehicles."
It's been a big week for Barra. She just unveiled the Chevrolet Bolt EV, a fully electric car. This is major, because GM is the first big auto company to introduce a car that doesn't require gas and is actually affordable. It'll cost around $30,000 after government incentives when it's available later this year.
A lot has changed since Barra's last time in the spotlight in the summer of 2014 when, a few months into the CEO job, she had to testify in front of Congress about GM's failure to recall cars known to have a faulty ignition switches which led to injuries and death. She was also forced to negotiate with GM investors who presented her with a list of demands.
"After going through an experience like that, I've become more determined than ever and I want to move fast," Barra said. "Time is not our friend."
And she's not kidding. Barra is the first female CEO of a major auto company and before taking the top job, she spent three decades in the company in roles like engineer, plant manager, vice president of global human resources and, eventually, as executive vice president of product design. So, to say she was prepared for the corner office is an understatement, and her foot has been on the gas peddle since day one.
In addition to the Bolt, GM just announced they are investing $500 million in car-sharing company Lyft (an Uber competitor), with an end goal of developing self-driving cars. So yeah, she's thinking big.
Barra gives credit to her team for these significant steps—and her team may not be what you'd expect. While the auto industry and GM in particular may look from the outside like a macho boys' club, she insists that couldn't be farther from the truth.
"One of the best-kept secrets at General Motors is how diversity has been significant really for over 20 years. I wouldn't be sitting here today as the Chairman and CEO if not for the decisions and support I had early in my career of pushing me, giving me stretch assignments, giving me constructive criticism," she says. "I've had some great mentors in my career. And if you look across General Motors, whether it's Cathy Clegg, who runs North America manufacturing, Victoria McInnis, who runs our audit and tax staff, our head of treasury is Dhivya Suryadevara. There are women in significant positions across the globe, across all functions. That's an investment and really the foundation was laid 10, 15 years ago."
In fact, there are 2,200 female engineers at GM and five of the 12 members of the board of directors are women. (Over at competitor Ford, two out of 15 board members are women, and 26% of their salaried global workforce is female.)
The driving force behind the Bolt is engineer Pam Fletcher.
"Pam is great. I've known Pam for years and she really has deep technical expertise in electrification," Barra says. "So when it came time to name a chief engineer for all of our electrification projects, it was hands down, Pam was the person to lead this whole activity."
Making sure female voices are heard is more important now than ever as more than 80 percent of car-buying decisions in the United States are influenced by women, according to a Frost & Sullivan report.
So, what do women want in their ride?
"Clearly, safety is important. And on the safety features, connectivity is also very, very important," Barra says. "But there's also a lot of women who want to drive a car that's fun to drive, and we're leveraging all of that."
Follow Marie Claire on Instagram for the latest celeb news, pretty pics, funny stuff, and an insider POV.
Celebrity news, beauty, fashion advice, and fascinating features, delivered straight to your inbox!
Kate Storey is a contributing editor at Marie Claire and writer-at-large at Esquire magazine, where she covers culture and politics. Kate's writing has appeared in ELLE, Harper's BAZAAR, Town & Country, and Cosmopolitan, and her first book comes out in summer 2023.