Jessica Mendoza, ESPN's First Female Baseball Analyst, on Why the Haters Better Get Used to Hearing Her Voice
From winning gold at the Olympics to becoming one of the first female MLB commentators, she's no stranger to hitting it out of the park.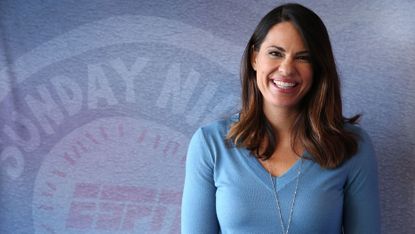 (Image credit: ESPN Images)
Marie Claire Newsletter
Celebrity news, beauty, fashion advice, and fascinating features, delivered straight to your inbox!
Thank you for signing up to Marie Claire. You will receive a verification email shortly.
There was a problem. Please refresh the page and try again.
If you watch a baseball game on a Sunday night this summer, you'll probably hear something a bit unusual: Jessica Mendoza's voice giving the play-by-play, sharing stats and tidbits about players and their lives (like, say, how a shortstop just took paternity leave and is playing with only a few hours of sleep). She's the first woman in ESPN history to analyze a Major League Baseball game, and she's now a full-time member of ESPN's three-person Sunday Night Baseball team, broadcasting live from the booth each week. Before becoming an analyst, Mendoza played softball for the U.S. Women's National Team, where she won both gold and silver Olympic medals. NBD.
Mendoza isn't afraid to say what she thinks, she lives for all things baseball ("I could go hours and hours just talking about it"), and she's got some amazing advice for anyone who's looking to break a few glass ceilings. Read on for how the California-based commentator, 35, got to where she is today.
MC: You played softball at Stanford University, leading the team to their first appearance at the Women's College World Series. Then you played professionally with the Women's National Softball Team, winning Olympic gold in 2004 and silver in 2008. How did you transition from being a player to reporting and analyzing games on TV?
JM: I was on the player end of interviews when we were on ESPN or various telecasts around the Olympics and our World Cup, and I'd be being interviewed and have a ton of passion, and I was told a bunch of times, "You should really think about getting involved in television, you have this passion and an ability to talk about [the sport]." But I just laughed it off, Me in front of a mic with no filter? Probably not a good idea. And then college softball boomed in terms of television coverage and the ratings and the support. It went from maybe a few dozen games on ESPN to hundreds. And they needed more analysts, which was rare in television: Usually everyone wants to be on television and there's very few roles. My agent was like, "You should really go audition." And again, I laughed, because I'm goofy and I'm silly and one of the big things about me is that I say how I feel. I don't try to hold back, and I was nervous about doing that on national television, because you don't know what's going to come out. I don't filter things really. But I went and I just fell in love with it. I love the fact that there's this audience where you get to showcase this amazing sport, whether it's baseball, or softball, or anything. I get to tell you about it. And also give you a little bit more insight on this specific player and her story and how she got here. I got the job, that was 10 years ago, which is crazy. And I was still playing [professionally], so I was kind of balancing [two jobs] most of that time. During the Olympic years, we were training in Oklahoma City during the World Series and I was doing the World Series for ESPN. One time, we had batting practice right before one of the games I was broadcasting and they wanted the Olympic team to hit on the field. So I literally was in my dress for the game, had to change into my sports clothes, go hit on the field 20 minutes before we were on air, run back upstairs, pat down all my sweat with a paper towel, throw back on my dress, completely out of breath, and then we hit air. It was crazy; it was absolutely crazy juggling both, because I really loved both.
MC: When did you decide to retire from playing professionally? How did that happen?
JM: I already had my first son, and he was 3 years old. My husband actually quit his job as a civil engineer so that he could travel, so we could be together as a family while I played professionally, which was crazy. We have such a role-reversal life and marriage, and I absolutely love it. I like to talk about it because I think there are rules that we're all supposed to fit now as women and as men. And sometimes there's reverse sexism with him. We'll be at functions and people ask him, "So what do you do?" And he's like, "I'm a stay-at-home dad." And they'll say, "No, no, no. What do you do for a living?" It's crazy to me because if that were a female, it would be, "Oh, I'm a stay-at-home mom," and that's totally acceptable. Lots of women do that. But I have so much pride for him because he quit his job, because I wasn't going to continue to play, having our first son—obviously I'm not going to have us split up for half a year. My pro team was in Florida and we live in California. So the first three years of my older son's life, we were this traveling family. I was the only mom in the league at the time. We went everywhere together. I look back and I don't even know how we did it, but it was awesome. We wanted a second child and I got to the point in my softball career—I think I was 32 when I retired—I came off the best season I've ever had professionally. I felt like I'd accomplished everything I needed to. So I felt good, I felt at peace. But it was time to go on to the next phase and television was a big part of that, too; I knew that it was there waiting for me. That helped me because I had a career that I was really excited about and had never jumped into because it was my second job. That was when I was able to put attention into baseball, which was really my passion, to cross into a sport that hadn't been crossed into.
MC: Once you were on air, how did you find your groove?
JM: Now that I'm in a men's sport, I know there's going to be more criticism and more people listening, because they've never heard a woman's voice [doing play-by-play], so they're thinking, What is she going to say? Everyone's listening to me more intently than ever. Before, even if I did make a mistake, it was like, Eh. Now I need to make sure, absolutely; I don't want to make a mistake. I'm so much more cognizant of that.
MC: How do you deal with the flack that comes along with being a woman analyzing a baseball game?
JM: Going into it, I try to prepare myself. I put my helmet on, Here we go. That was back before I really knew how crazy it was going to be. I just knew: first-time female on ESPN, there's going to be some backlash, like any change. There's always going to be resistance. There are going to be people that hear a female voice or see a female figure and are completely against it. It's one thing if you're coming after me because of something I said or I disagree with how you broke down that swing, but when it's, Get the woman out of the booth. I hate you, that's the stuff that blows me away. Because I'm not around it—I'm around a lot of men that are of the times. My father, my husband's a stay-at-home dad, and even going to school at Stanford, I've been surrounded by people that think progressively. How can we all be better? We can be better by constantly evolving and not saying, Because baseball has always had men, let's make sure we keep it that way. I think we should always challenge ourselves to do things that have never been done.
MC: What advice would you give to other women or people who might be up against some very old-school notions of who should hold a job they're taking on?
JM: When you're being challenged in your workplace because you're a female, whatever the circumstance might be, it's always more comfortable to just stick with what's been. And I think when you're really passionate about something, and maybe not every person is like this, but I think there's a large group that feels deep inside, I want something different, I want something more, I want to go on my own path. It's being comfortable being uncomfortable. Because to do that, you're going to have to jump outside of the comfort zone and it isn't going to be perfect. It's going to be scary. And to me, that's when great things happen. I think that partly goes back to my athletic days of knowing, Okay, when things are hard, that's when I know it's going to be great. Because I'm pushing myself beyond the limit that I've set and that's what really getting better is. Getting better is going further than a place you thought you could go...I don't like painting a picture either of, Oh, I just always push myself and then you get uncomfortable and it works out and it's great! No, there's times I've been floored and failed and couldn't breathe, wanted to throw up. And that's the stuff that I want to talk about the most when I talk about women who are trying to push themselves. Men, too. There's days even now where I'm very much like, This is hard and this is challenging and this is stressful, but I know that this is important. It's really important. And that overrides every other feeling that I get.
MC: What's an accomplishment you're especially proud of?
JM: This job that I have now [as an ESPN analyst] was supposed to be a one-game thing. To be able to take one game and turn it into a full-time job is something I'm proud of because, like I was saying earlier, I was just so scared about being known and being able to really do it well enough to get the attention of the people above me so they'd want me to stay. It was really important for me to not just be one of the first, but to literally break open the door and come in and stay, so that we could start inviting our friends and everyone, like, Come on. The door is open now. I am so proud of the fact that I put that pressure on myself: Alright, Jess, you've got a lot of women on your back right now and it's on you, so don't screw it up. I put that pressure on myself on purpose, so I'd realize it's not just about me, it's about a whole gender. I wanted to do it not just well but really, really well; I wanted to kick ass, so this door can stay open.
Follow Marie Claire on Facebook for the latest celeb news, beauty tips, fascinating reads, livestream video, and more.
Celebrity news, beauty, fashion advice, and fascinating features, delivered straight to your inbox!