Meet Airbnb's (Not So) Secret Weapon: Belinda Johnson
The company's highest-ranking woman is the quiet force shaping its path to global domination.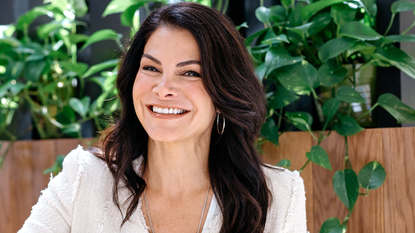 (Image credit: Courtesy)
Since launching nearly a decade ago, Airbnb has had its fair share of issues. Yet unlike some of the company's peers in the sharing economy, Airbnb has avoided any lasting damage to its reputation. Many credit cofounder and CEO Brian Chesky's ambitious optimism, but there's another school of thought: It's because he's had Belinda Johnson by his side for the past six years.
When I meet Johnson, the company's chief business affairs and legal officer, at Airbnb headquarters—a far cry from the staid white-shoe law firms where she started her career—she is wearing a peasant blouse and flared jeans. Her polished professionalism belies the fact that she's the behind-the-scenes operator fighting many of Airbnb's biggest challenges.
Airbnb hosts have been slapped with steep fines ranging from $1,000 to $25,000 and sued by their own cities. Hoteliers have lobbied cities to regulate the platform's expansion. In June 2016, the company filed its first lawsuit as a plaintiff—against its hometown, San Francisco; the city had passed legislation that allowed it to charge Airbnb $1,000 a day for every host who wasn't registered as a landlord with the city. Johnson encouraged a hesitant Chesky to approve that first lawsuit, claiming it was necessary if the company was going to continue operating in certain cities. Airbnb has since sued Santa Monica and Anaheim, California; Miami; and New York City—moves that led to looser regulations for Airbnb (in New York, for instance, the city can go after hosts but not after Airbnb itself).
RELATED STORIES
In 2016, around the time #AirbnbWhileBlack went viral on Twitter and shared hundreds of users' horror stories about racial discrimination, Johnson helped create an internal task force to address the problem. "We launched a series of commitments that we're still working on. That work is never going to end for us," she says. Those commitments included building a product team solely focused on antidiscrimination efforts and stricter terms of service. (In February, when an Airbnb host in California canceled a reservation because the guest was Asian, the company fully refunded the guest, found her a replacement stay, and permanently banned the host; in August, the company kicked out users associated with the ultimately tragic "Unite the Right" rally in Charlottesville, Virginia.) Airbnb has also launched 1.9 million "instant book" listings, which allow users to rent a home without being vetted.
As for the company's hot-and-cold relationship with cities around the globe—particularly those that feel Airbnb is encouraging commercial hosts to turn their properties into makeshift hotels, pricing out lower-income housing? "In those early days, we were moving so fast that we didn't necessarily have the resources or the ability to [deeply work] with every city," says Johnson. Today, her team partners with cities to create regulations that work for Airbnb—and their respective communities. "That's been a bit of a shift for us over time," she says.
A strong relationship between Johnson and Chesky has been crucial to helping Airbnb navigate each headache. The two first met in 2011. Johnson had recently left her role as senior vice president and deputy general counsel at Yahoo, where she had been for over 10 years. "I wanted that time and space to think about, What do my next 10 years look like?" says Johnson. She spent the summer with her children, now 11 and 14. "I did get a little antsy. My husband was like, 'No, you were going to relax! Put down that BlackBerry!'" She lasted a few months before asking a friend, investor Ron Conway, to connect her with Airbnb. (She says she was attracted to the regulatory challenges it presented, as well as the way it empowered its community economically.) Johnson informally consulted there for a few weeks; she doesn't even remember what she worked on—just that she got face time with the cofounders and the project soon led to a full-time job.
Johnson, who holds undergraduate and law degrees from the University of Texas, was lured to the tech world in 1996 by Broadcast.com, the Texas-based streaming company founded by Mark Cuban. "I thought it sounded really exciting. I reached out and said, 'Hey, what do you need?'" she remembers. "They said, 'We don't really need a lawyer yet, but we need good people. Come on board and we'll take it from there.'" She left her associate job in corporate law: "The partners at my firm were like, 'Are you sure?' Everyone thought it was crazy. The Internet was not even a thing," she explains. Less than three years later, Johnson led Broadcast's IPO and its subsequent $5.7 billion sale to Yahoo in 1999.
She moved to the Bay Area in 2000 to join Yahoo's legal team full- time and recalls one specific situation that proved formative in shaping her core workplace values: In 2005, Yahoo China turned over user data to the government, which led to the jailing of a Chinese journalist named Shi Tao. The company was criticized by everyone from Chinese bloggers to The New York Times—and executives had to testify in front of Congress. "You get into these crisis situations, and you get a lot of advice coming from outside crisis firms, PR offices, law firms, everything. You might have a set of lawyers who say, 'You can't go out and say you're sorry, because that's an admission' or 'You can't have a conversation with the other side,'" Johnson says. "At the end of the day, you have to do what you think is right and be human. Even if it's an opposing party, treat them with respect." She believes that if her team at Yahoo had just reached out to Tao's family right at the start, it would have saved everyone a lot of time, money, and pain. (Yahoo eventually settled with the family for an undisclosed sum.)
That's all to say that high-stress, high-growth environments aren't new territory for Johnson. When she joined Airbnb, it operated only in the United States. Today, the company has a presence in more than 65,000 cities and 191 countries, and a reported valuation of over $30 billion. Her day typically involves a combination of scheduled meetings with various teams (like operations and public policy) and impromptu one-on- ones with Chesky and other top executives. But she loves it, because the Airbnb team and community are her life. That's why, when Airbnb held its annual conference for 6,000 hosts on November 13, 2015, in Paris—the same date as a series of coordinated terrorist attacks throughout the city—Johnson was up until 4:30 a.m. making sure Airbnb employees and hosts made it home from the evening's various dinner plans safely. She tears up as she remembers touching down in San Francisco a few days after the ordeal. "It still gives me chills. So many employees from the San Francisco office were waiting at the airport to give us a hug."
That boundless passion for all in Airbnb's orbit fuels Johnson's head-first sprint into the sharing-economy action. And those swirling rumors of an Airbnb IPO? They don't hurt, either.
This article appears in the October issue of Marie Claire, on newsstands now.