Broke with a Big Idea? Here's a Trick to Fund Your Dreams
One entrepreneur dishes on the scrappy way she bootstrapped her company.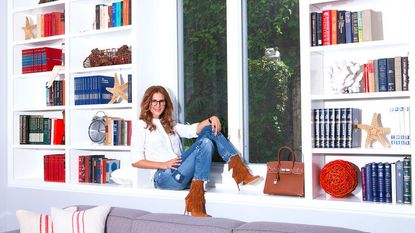 (Image credit: Tradesy)
Marie Claire Newsletter
Celebrity news, beauty, fashion advice, and fascinating features, delivered straight to your inbox!
Thank you for signing up to Marie Claire. You will receive a verification email shortly.
There was a problem. Please refresh the page and try again.
Trying to plan a vacation on the cheap? Airbnb is probably first on your open-a-million-browser-tabs adventure that is organizing a getaway. But it turns out the company's penny-saving magic can be applied to other aspects of your life—like funding your entrepreneurial dreams.
Airbnb released a report on Monday morning highlighting the financial successes of the more than one million women hosts in its global community. Since 2008, women renting out their homes through Airbnb brought in more than $10 billion total. That's some serious cash.
The extra income helps supplement basic housing costs like bills and groceries, and—in some cases—startups or side hustles.
Tracy DiNunzio launched designer fashion resale platform Tradesy from her kitchen table in 2009. She initially struggled to get investors interested—so she turned to Airbnb to help fund Tradesy's growth. Today, she's raised more than $70 million from investors including Richard Branson and Kleiner Perkins, and credits Airbnb with sparking the company's early growth.
DiNunzio, who's based in Santa Monica, CA, talked to Marie Claire about getting creative when trying to kickstart a big idea and shared her tips for crushing the Airbnb game.
MC: What sparked the idea for Tradesy and taking the plunge into entrepreneurship?
Tracy DiNunzio: I started Tradesy when I was 30 years old. Prior to that I was an artist. I spent my 20s traveling, painting, exhibiting my work, and doing odd jobs like nannying and bartending to make it all work. Like many women, my fashion taste was fancier than my budget, so I became an expert shopper (and seller) at local consignment stores and on eBay. I knew that if there were a safe, simple, stylish fashion resale app to buy and sell designer fashion, made just for women like us, it would really take off. So I decided to try building it myself. I sold my car and a few of my favorite fashion treasures, and hired a software development agency to build the first version of Tradesy, which was a website where women could connect to buy and sell pre-owned wedding dresses.
MC: How were you initially planning to fund Tradesy?
TD: I thought that I'd fund the company's growth with money that the site made. One problem: The site took way longer to turn a profit than I'd imagined, and there were ongoing costs I hadn't anticipated.
I started Googling local investors and cold-emailing them. I sent more than 30 emails, got three replies, and landed zero meetings. I even took the bus to a well-known investor's office uninvited one day, thinking that if I insisted on seeing him, he'd be impressed by my moxie. I didn't make it past the receptionist.
One year into my entrepreneurial journey, I had maxed out all my credit cards and thought I'd failed entirely. So I started making plans to get a job and set aside my vision for Tradesy.
MC: And that's when you turned to Airbnb?
TD: While looking for jobs, I saw a post on Facebook about a new company called Airbnb, where you could rent spare space to travelers. It would pay the rent while I stayed focused on my startup. My roommate was surprised but supportive when I told her that I was going to rent my bedroom on Airbnb and sleep on the couch for a while.
I had an Excel spreadsheet showing that at the nightly going rate for a room our neighborhood, I could cover my part of the rent by booking it for 13 nights per month. 16 nights per month would cover all of my living expenses too. Every night beyond that could fund business costs.
MC: Then you met your future husband through Airbnb…
TD: My first guest arrived in September 2010. Collin was a touring musician who had contacted me from overseas on Airbnb to book the room. I was excited to get my side hustle for Tradesy off the ground. Then Collin and I instantly hit it off, and by the time his week's stay was up, neither of us wanted him to leave.
MC: At what point did you realize you could stop renting out your apartment on Airbnb?
TD: After my roommate moved out in 2010, I started renting her room on Airbnb to fund the business. Together, Collin and I hosted over a hundred Airbnb guests in that room. The business grew rapidly during this time, funded by our Airbnb earnings. By 2012, Tradesy was profitable, and I was finally ready to expand beyond wedding dresses. Investors were starting to answer my emails. And after years spent growing and learning every inch of my business, I was well-prepared to pitch them. This is one of the greatest benefits of bootstrapping via a side-hustle like Airbnb instead of a traditional job: it really gives you the time and focus you need to become an expert entrepreneur, so you're ready when you have an opportunity to go to the next level.
After we raised our first big venture capital round of $1.5 million in 2012, I hosted my last Airbnb guest in that summer. A few days later, I turned that extra room into an office for our first few team members. It took off beyond our wildest dreams: Today we have over 100 employees and over six million users!
1. Create a descriptive, unique, high-quality listing. Unique titles like "A Stress-Free Stay by the Beach" work well. Take the time to include everything a guest might want to know - you'll get more bookings, save time on responding to questions, and ultimately have more satisfied guests.
2. Adjust your pricing to market frequently. Research what other comparable spaces in your area are renting for, and update your price frequently to remain competitive. In addition, take more short-term guests. Longer-term guests often expect a discount. If you're entrepreneur-ing and have the time to clean and change sheets regularly, you can make more money by booking a lot of short-term guests.
3. Make it easy for guests (and yourself). Setting up remote check-in is a must, as entrepreneurial life is unpredictable, and it helps to have a way to let guests in when you're not there. There are a variety of remote locks on the market that let you invite guests in from your phone—a total lifesaver! And a reminder that small personal gestures go a long way—like a bottle of wine set out with glasses, a map of your favorite local places, or waters by the bed.
Follow Marie Claire on Facebook for the latest celeb news, beauty tips, fascinating reads, livestream video, and more.
Celebrity news, beauty, fashion advice, and fascinating features, delivered straight to your inbox!