Meet the Women Behind the Internet's Favorite Work Dress
"The power of clothing is the power to transform the way you are feeling at a certain moment."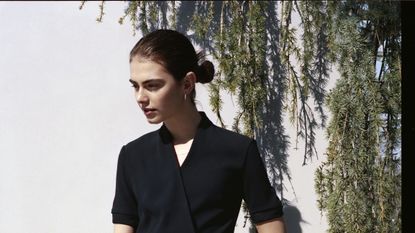 (Image credit: Courtesy of MM.LaFleur)
You'd think if a dress were to break the internet, it would be a provocative one. Transparent perhaps, or made of raw meat, or, you know, less of a dress and more of an embellished loincloth. MM.LaFleur's backordered-until-January Tory is a far cry from any of these looks. It's a conservative, short-sleeved black wrap dress that hits at or slightly below the knee. But what the brand's devoted customer base—largely made up of women in finance, consulting, and law—has discovered is that it's flattering to an almost absurd degree.
Flat images hardly do MM's clothing justice, as I learned during a recent morning at their Work/Shop in Noho with cofounders Sarah Miyazawa LaFleur (CEO) and Miyako Nakamura (head designer). They encouraged me to try a plain-Jane black cardigan on over my (highly profesh) black jumpsuit. When I looked in the mirror, I was a bit taken aback to see that the knitted blazer (AKA "jardigan") had transformed my business-very-casual outfit.
Here's the thing: dressing for work as a woman, particularly in a male-dominated fields that tend toward formal, is not so straightforward. It's hard to find clothes for every day of the week that are stylish but not unpolished, particularly when dudes get to throw on a suit and head out the door. LaFleur and Nakamura are aiming to change that. Here, they tell Marie Claire about their famous dress, good clothing as a form of empowerment, and working with customer feedback (sometimes multiple pages typed out in a Word doc!).
Marie Claire: I'd love to get started by talking a bit about this "perfect work dress" you've created.
Sarah Miyazawa LaFleur: "To be honest, we were surprised. It's one of our more fashion-forward styles. We have a lot of beautiful dresses that have become staples in many women's closet. This dress, I wouldn't necessarily call it that, a staple. But before you knew it, we had this crazy, crazy waiting list."
Miyako Nakamura: "As Sarah said, I wasn't thinking this would be a the best-selling dress of this season, though it represents our aesthetic really, really strongly. We try to problem-solve traditional wrap dresses. We create a lot of dresses with the wrapping detail, and then this dress actually has wrapping on both top and bottom. It's also wrinkle-free and machine-washable, highly practical. I think the reason this dress really spoke strongly to our customers is because it's the perfect balance between function and art."
MC: Such a big part of your brand is the fabrics you use—how easy they are to wear and take care of. You mentioned wrinkle-free, and I know a lot of them you can just throw in the washing machine, even though they look dry-clean-only. How do you find such functional materials?
SML: "It's almost surprising to us that other designers and retailers aren't thinking about this more. Having been a professional woman myself, I never could afford to pay three-figure dry cleaning bills, which was the norm. You bring in seven dresses, and the next thing you know your bill is $150. Washability was one of the first things we thought about, and the other was wrinkle-free fabric. Whenever we go in to work with our fabric mills and ask if a fabric is machine-washable, they ask what we're talking about. It's not really a normal question be asking."
MN: "Coming from the traditional industry, clothing care is something that we almost never think about. I've worked in the industry for 10 years, and I had never had a moment where I asked, 'Is this easy to care for or not?' This is typically something we don't consider while designing, but because MM's process really starts with the customer, our product development is very different from a typical design house. I like to think of our product as being a very kind product to our customer."
MC: Sarah, you started MM.LaFleur because you worked in consulting and were frustrated by the clothing options. What was lacking there that you wanted to create?
SML: "The story I tell most people is about my mother. She had impeccable style and was a working mom throughout my childhood. I saw her getting ready for work every morning, and she always looked so put-together. That was my image of what a professional woman looked like. Then when I got my first job out of college, I was so surprised at how difficult it was to look good. How do you present yourself in a way that makes you look respectable and professional but also stylish? It requires a certain elegance that I think most women never really learn in college.
I was always surprised by how the boys looked in comparison. They have such a clear uniform: wear a suit, or wear khakis and a shirt. That's where the idea came from. Can we just make this easier for women? Make better clothes that make women look professional and satisfy their tastes? Most women find it a chore to dress themselves. Telling women, 'Okay, you look great in that' has resonated so well with our customers, who frankly have better things to worry about than what they're going to wear to work that morning."
MC: How does dressing well for work, or otherwise, empower women?
SML: "That's a really interesting question. It has to do with how you feel. The last time I was in private equity, all the men were dressed very casually in khakis and normal clothes. I was by far the youngest person, and the only woman. For some reason, I started wearing this blazer. There was absolutely no need for me to be wearing a blazer, but somehow, wearing it made me feel more confident. That's the power of clothing: the power to transform the way you are feeling at that moment. I hope women see our clothes as their armor, and that they can put them on in the morning and feel like they're transformed into a slightly more confident, self-assured version of themselves."
MN: "With how a woman thinks about outfits in general, I do like to help her break some kind of rule. In professional environments specifically, the feeling women have in their clothes is very important. Normally, they're surrounded by men. Normally, they travel a lot. They have to look proper. So within all of these rules, how do I make them at ease but at the same time give them the 'wow' factor? That's sort of my rule for designing."
MC: How do you compete with brands like J.Crew and Ann Taylor, big names that are go-to's for women's workwear?
SML: "We're still small fish, but I think where we need to go with our customer is really our product. We put so much energy and research into every single one. The downside of that is time. We're definitely not a fast-fashion business. If you go on our site, you'll see some dresses that'll say, like, the Sarah Dress 3.0 or the Lydia Dress 4.0. It's 4.0 because we iterated on the patterns four times based on customer feedback. It's my hope that ultimately we become known for the quality of our products."
MC: How cool that you do so many iterations based on customer feedback. How do you solicit that kind of feedback?
SML: "We almost don't have to ask for it because our customers are so helpful! In every Bento form we ask for feedback. [MM href='https://mmlafleur.com/bento' target='_blank">Bento Boxes that allow customers to try on four to six pieces and keep as many or few as they like.'] Some of our customers literally type up and staple their comments to the return forms—we've gotten two-page documents! Incredible amounts of feedback. I think the cool thing about our business is that it doesn't go through some marketer—it goes straight to Miyako. She reads every single form."
MC: I have to ask— what's your number one tip for feeling put-together when getting ready for work in the morning?
MN: "Sarah and I are very different people. I'm really into getting dressed in the morning—it's one of my favorite things. When I have something perfect on, it completes my day, and I feel like I can lead a perfect day. What I like to say to our customers is, experience a lot of different clothes. So I curate a lot of things. Wearing different clothes gives me very different feelings."
SML: "The worst feeling is agonizing in your closet for 20 minutes trying things on and feeling like nothing is working. You need to minimize your options, find a uniform for yourself, and only have about 10 options. I always refer to the chocolate experiment. A psychologist found that most people are happier with their decision when asked to choose one of six chocolates, versus one out of 30. I think this applies, to a certain degree, to workwear. Workwear is not necessarily where you let your freak flag fly. You just want to sleep as long as you possibly can and get yourself to work in the morning feeling good."
Follow Marie Claire on Instagram for the latest celeb news, pretty pics, funny stuff, and an insider POV.
Marie Claire email subscribers get intel on fashion and beauty trends, hot-off-the-press celebrity news, and more. Sign up here.
I'm the features editorial assistant at Marie Claire. Before working at MC, I spent time in the production department at The New Republic and writing about politics for Bustle. When I'm not writing, you can find me museum-hopping, practicing mediocre yoga, and stalking pugs on Instagram.