The Rich Girl's Money Rules to Live By
Want to earn more? Spend smarter? Live a glamorous life? Take charge of your money with our financial cheat sheet.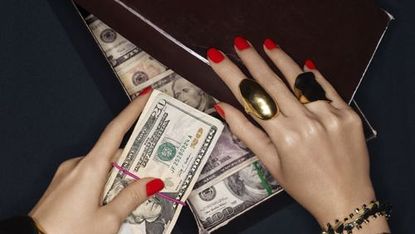 (Image credit: Bill Diodato)
Forget old-fashioned scrimping and saving. We asked top experts and polled a clique of super-successful women for their advice on how to make the most of what you've got — and earn even more. Check out the newest tricks to get wealthier (or at least get on your way...
Follow these basic guidelines and you'll never worry about money again:
ASSESS WHAT YOU'VE GOT. Know where your money goes each month and you'll feel instantly on top of things. The quickest way to do it? Sign up for a free site like mint.com. You'll enter information for each credit card, bank account, retirement plan, loan, and investment; your account updates with every transaction to give you the latest picture of your finances in a colorful, easy-to-read format.
MAKE A BUDGET. Throw out that calculator. All you need now for a simple budget is your iPhone and one of the scores of low-cost apps that will keep you in the smart-spending zone. Try Spend ($.99), which displays what you can blow for the day, week, or month; Expenditure ($1.99), which has a currency converter for vacation money management; or iXpenseIt ($4.99), which lets you store receipts digitally and even alerts you to upcoming bills before they're due.
MAXIMIZE YOUR PAYCHECK. Take pretax dollars from your salary to ensure you have funds for things you need. A flexible spending account (FSA) lets you pay for health expenses like contact lenses or acupuncture (a woman making $50,000 a year who puts $2,500 in her FSA could get a tax savings of $625); a transportation-benefit account earmarks several hundred bucks a month for commuting; a 401(k) invests a portion of your salary for retirement.
DITCH CREDIT-CARD DEBT. If you carry a balance — $10,000 or even $1,000 — paying it off is a priority, says Alexa Von Tobel, founder of learnvest.com, a personal-finance site for women. Many cards have six-month introductory rates of zero percent, which later reset higher. Transfer your balance to one of those, and for half a year pay it down with every penny (skipping retirement savings). Close the card once your debt is paid. "Emotionally, you'll fee so much better."
STAY ON TOP OF YOUR BILLS. Create an e-mail account — like janiesbills@gmail.com — for electronic bill-delivery. Set up calendar alerts for each vendor three days before payment is due so you can read the statement and fix mistakes, like inflated restaurant tips. (Von Tobel says they're not uncommon.) Forget automatic transfers — "bills have errors!" says von Tobel. "You need to check them."
We peeked into the wallets of U.S. women ages 18 to 34. See how you stack up!
2.3 credit cards per woman
43%have credit-card debt of $10,000 or more
23%saved up at least three months' expenses (compared with 34% of men)
The New Money Rules You know how not everything your parents told you is true? That goes for money, too! Experts toss the old rules and share how to get ahead now
THEN: Invest in real estate
NOW: Rent, rent, rent!
"The American dream is changing: People have lost so much money buying homes. The new key is job stability and a solid savings account, not property investment."
— Farnoosh Torabi, money coach and contributor to Yahoo Finance and MoneyWatch
THEN: Go to graduate school
NOW: Take an adult-education course
"We all used to just assume we'd pay for grad school later. But tuition has sky-rocketed; the debt follows you forever. Try a professional development class instead."
— Catey Hill, author of SHOO, Jimmy Choo! The Modern Girl's Guide to Spending Less and Saving More
THEN: Date or marry up
NOW: Be your own breadwinner
"A man is not a financial plan. So many women's husbands and boyfriends have been laid off. It's more important than ever that we take charge of our own finances."
— Manisha Thakor, coauthor of Get Financially Naked: How to Talk Money With Your Honey
"Paying too much in rent! There's no quicker way to erode your financial foundation than moving to a new city after college and splurging on a place you can't afford. The rule of thumb: No more than 30 percent of your post-tax salary should go to rent or mortgage. So get roommates or commute farther to work, but don't start your financial life out of balance." — Alexa von Tobel (left), founder of learnvest.com
SPEND SMARTER!
Work the Web
Billshrink.com: This free service highlights hidden charges or actual fraud on your credit card. Nerdwallet.com: Compare your credit-card rates against other companies' for better deals. Gasbuddy.com: Check prices at local gas stations, sorted by state. Farecompare.com: Search multiple travel sites at once to get the ticket you want at the lowest price possible. Soap.com: Get all your drugstore basics and household supplies at once from this new site; delivery is often next-day, and prices are low, thanks to e-coupons for as much as 20 percent off. Shopittome.com: Sign up for customized e-mail sale alerts based on your size and favorite retail brands. Savored.com: Pay $10 to make reservations at upscale restaurants (like Beso in L.A. or The 21 Club in New York); you'll get 30 percent off your bill, no coupon necessary.
Download These Apps
Redlaser: Wave your iPhone in front of any item's bar code. The app scans websites and nearby stores to tell you if it's available for less elsewhere. Key Ring: Swap those pesky plastic rewards cards for an app that manages all of your store loyalty programs at once. Tweetalicious: Get an instant feed of trending Twitter deals from stores like Ann Taylor and Victoria's Secret. LifeBooker: Find and make health and beauty appointments for up to 70 percent off at salons and spas across the country. Happy Hours: Track down drink specials in your neighborhood; you can even search for amenities like free Wi-Fi or live music.
Make Small Changes at Home
Save $33 a month: Turn your fridge temperature up to 40 degrees and your freezer up to 0. Your food will stay fresh, but settings any colder ramp up your bill. Save $30 a month: Plug every appliance into a surge protector, not the wall. Save $12 a month: Switch to CLF (compact fluorescent lamp) lightbulbs; they use one-fifth the power of regular bulbs.
Little treats to make you feel like a million
1. Buy fresh flowers. They'll do wonders for your state of mind. Ask a florist which last longest.
2. Just have the latte. Don't deprive yourself. If you want it, get it.
3. Shop with a pro. Stores like Nordstrom and J.Crew offer free personal shoppers. You'll get an expert opinion and tip-offs on future sales.
AT THE GROCERY STORE:
Skip the shopping cart unless you've got a family to feed. You'll buy 40 percent more with a trolley than if you carry your purchases around.
Pass up samples. Eating releases dopamine, a feel-good chemical that heightens your senses, encouraging you to overspend.
Perimeter-shop. Brand-name processed foods live on the store's inner aisles, while cheaper, fresh items like produce are at the outer edge. Browse here for healthy, low-cost shopping.
AT THE DEPARTMENT STORE:
Hands off. Touching merchandise for more than 30 seconds makes you more likely to buy it.
Shop solo. Browsing with a friend triggers competition; you'll be more objective alone.
Save your receipt. Stores from Banana Republic to Target have 14-day price-adjustment policies. If your purchase goes on sale, they'll pay you back the difference.
Live Luxe for Less! We get it: You have one (or two) can't-live-without indulgences. But whether it's a glam apartment, a killer fitness routine, or twice-weekly blowouts, here's how to make a deal
THE LUXURY: Fabulous pad

THE SCORE: Choose a small spot in a cool 'hood, which gives your place some cachet, or find nice digs somewhere less central.
THE LUXURY: Regular mani-pedis

THE SCORE: Have a party! Invite a few girlfriends over and hire a nail artist to snag a group rate to split among your pals.
THE LUXURY: Blowouts

THE SCORE: Negotiate a special price at your salon for a regular appointment. Offer to pay for a month of styling up front for a reduced rate.
THE LUXURY: Cool trips

THE SCORE: Follow overseas exchange rates for the best time to travel abroad. Bonus tip: Book a trip to Paris in July to take advantage of the sales!
THE LUXURY: Personal trainer

THE SCORE: Split your sessions with a buddy to pay 50 percent less. Or invite the trainer to your place, off the books, for a lower price.
MAKE CHEAP COOL:
"I love collecting dishes and odd cups. Little shops, vintage stores, even eBay sell quirky, interesting china. Why spend a lot on an expensive set when I can get a glass for a dollar?"
Rebecca Minkoff, 31, creative director, Rebecca Minkoff
SAVE FOR A RAINY DAY: "I've stashed away three to six months of expenses. Everyone should do the same — you could get laid off, or a dream opportunity could materialize that you'll want to jump on."
Nicole Lapin, 27, former CNBC anchor, recessionista.com founder
SKIMP ON THE SMALL STUFF: "If you and I went into a drugstore, you'd think I was your poorest friend. I always buy the generic mouthwash or the on-sale tissues."
Sloane Crosley, 33, author of I Was Told There'd Be Cake
INVEST IN A STATEMENT PIECE: "I bought a black Chanel bag. It cost a fortune, but I did the math and the price came out to a dollar a day because I carry it everywhere."
Jenn Hyman, 30, cofounder and CEO, Rent the Runway
$50 Cash in where you hang out: Always at your fave café? Pick up some shifts to earn money (and score free coffees).
$200 Multitask: If you have an errand-day planned, add a few of someone else's. On taskrabbit.com, users advertise one-off jobs with a rate and location; pick up a few bucks to grocery shop, or earn a few hundred bucks in two hours for packing boxes or editing audio files.
$1000 Clean house: Weed out your closet and visit resaleshopping.com to find local consignment shops; sell old electronics on gazelle.com; visit textbookbuyer.com to unload college books.
$10,000 Pursue what you love: Have a knack for knitting? Sell your skills on Etsy or Craigslist. Got even bigger dreams? Crowd-source donations for a startup on kickstarter.com. (Tom Hanks' son Colin raised more than $90,000 to produce a film!)
Money coach Farnoosh Torabi's tips for upping your salary
Do Your Research: Visit sites like payscale.com and salary. com to see how your earnings compare with peers' elsewhere.
Time It Right: Get your company's fiscal calendar and plan your meeting before the annual budget is set. Talk to the boss on Wednesday. Monday's busy; people are inweekend mode by Friday.
Make Your Pitch: Say you love your job and want to discuss your future there. List three recent accomplishments — e.g., you beat a deadline or increased sales. Explain that you're hoping to improve your salary. Name an amount. If you don't get it, end the meeting by asking when would be a good time to follow up.
— Additional reporting by Ashley Ross and Lauren N. Williams
Check out our free career boot camp with LearnVest here.
Celebrity news, beauty, fashion advice, and fascinating features, delivered straight to your inbox!