Salma Inc.
Though she's best known as a spitfire actress with va-va-voom curves, Salma Hayek also oversees a growing entertainment, beauty, and wellness empire that's made her one of Hollywood's unlikeliest moguls.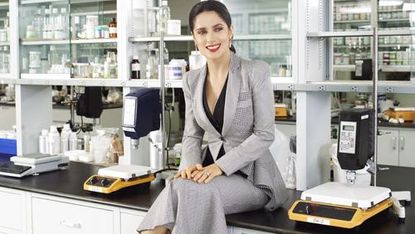 (Image credit: Archives)
Salma Hayek has seen it before, the eye roll that transpires when people hear of yet another celebrity slapping her name on some pretty pastel goody—fragrance, shoe, duvet cover, whatever. She knows the marketplace is glutted with these products, many of them designed just to make a quick buck. Not mine, she thought, no way. On her own, Hayek, the granddaughter of a Paris-trained cosmetologist, researched exotic ingredients like blue agave, prickly pear, and lime enzyme, and stood alongside chemists in the lab, testing combinations and mixing scents. What was planned as a brief break from the entertainment business turned into a passion project of sorts. "I don't know that many people in my position who would actually put that much time into it," says Hayek, 45. "It's a lot easier to get a contract or say that you are doing the work when it's really someone else. I don't think my own agency—or even I—knew how stubborn I was going to be."
The result of her efforts: Nuance Salma Hayek, a line of 100 products, including moisturizers, cleansers, and cosmetics, available online and carried by more than 6,000 CVS drugstores nationwide. Hayek, an unabashed devotee, uses them all. "We have a pimple medication that treats the spot and the discoloration on your face at the same time," she says with obvious pride. "It's one of the best products we have."
Whether they like it or not, most actresses find themselves at the mercy of age and the fickle tastes of moviegoers. Not Salma Hayek, who presides over an impressive business empire that has her securely calling the shots. In addition to Nuance, she cofounded Cooler Cleanse, a popular juice-cleanse outfit vying for a lucrative piece of the $77 million detox industry—Hayek even helped formulate the recipes. She also owns Ventanarosa Productions (Spanish for "pink window"), whose impressive list of credits includes The Maldanado Miracle, a made-for-TV movie that earned Hayek an Emmy for Best Director; Ugly Betty, which by the end of its four-season run had amassed 18 Emmy nods; and Frida, the biopic of Mexican artist Frida Kahlo, for which Hayek scored a Best Actress Oscar nomination in the title role. Even more ambitious projects are in the works: a miniseries based on Broadway's Wicked, as well as an animated feature inspired by the Khalil Gibran classic The Prophet.
Hayek isn't one of those high-minded, Inside the Actors Studio types who insists she was born to be on-screen. Nestled in the back of an SUV following a long day of meetings, Hayek, clad in a horizontally striped Gucci sweater and tight jeans, ruminates on what brought her here. "Imagine if I'd said, 'I have to be the best actress—I want that and nothing else,'" she tells me as we head to her Bel Air home. "I never would have directed. I never would have produced. I never would have done a beauty line. I would have just worried about getting a job or been frustrated that I wasn't getting the job that I wanted. I was ready to be a businesswoman."
But not everyone else was ready to accept that. "Because I have a background in a different field, it can be hard to negotiate and make a good deal for myself. People always underestimate me," Hayek says of her initiation into the business world. "But if you stick around long enough, act out of conviction, and try to be honorable in everything you do, good things will come to you. I have seen karma work in this business."
Defying expectations has been a recurring theme of Hayek's career. Born in Coatzacoalcos, Mexico, she was a popular soap opera actress before moving to the United States in 1991 at age 24. Though she didn't speak a word of English, her relentless work ethic and bombshell looks quickly caught the attention of casting agents. By 1995, she won the female lead in the ultraviolent Desperado, opposite Antonio Banderas. (Their scorching sex scene, in which Hayek appears nude, is often cited as one of the hottest romps ever committed to film.) She proved her versatility by following up with comedies like Fools Rush In and Wild Wild West. Still, she knew she was capable of much, much more: For several years she fought to produce a film about Frida Kahlo, which at one point Madonna was also rumored to be pursuing. Hayek eventually succeeded and stunned critics with her range.
She's had to overcome plenty of skepticism during her career. Hayek has been unusually frank about losing roles because of her accent—she was once told that it would remind audiences of their housekeepers. Then there's the matter of her husband. Three years ago, Hayek wed French retail magnate François-Henri Pinault, whose family owns luxury brands like Gucci and Yves Saint Laurent. (The Pinault family is worth $11.5 billion, according to Forbes.) They split their time between Los Angeles and Paris with their 4-year-old daughter, Valentina. "He's the best thing that ever happened to me and my work," she says assuredly. "I was trying to figure out how to have a child on my own. I came to terms with saying, '[Love] might not happen, and I have to be OK with that.' Then someone came along whom I never would have pictured or thought I would have wanted; he was completely out of my box. Even though I was not looking, I was present and I was open. I am the luckiest person I know."
Still, there is an unspoken expectation that an actress who marries a mogul must forgo her own career, la Ellen Barkin. Hayek confesses that she considered abandoning Hollywood after she gave birth. "I think if you are young and you have children, you still have so much to prove. When you have children later in life, you lose a bit of that urge for working," she explains. "At the time, I was thinking, I can do another movie that may or may not work, or I can be with my child, nourish her, and not miss a moment of this precious time. And if my career is going to end in two years, what's the difference, anyway?"
It was Pinault who urged her to return to Hollywood, Hayek says. "He told me, 'You feel like this right now, but when Valentina grows a little older, you are going to want to go back, and it might be too late. You are so smart, so talented. You have so much more potential. Don't you want to see where it will take you?' I was always trying to make people believe in me, and then I found someone who believed in me more than I believed in myself."
Hayek has never been busier. This year she stars in Savages, an Oliver Stone-directed drama costarring Blake Lively and John Travolta, and Here Comes the Boom, opposite funnyman Kevin James. She is also deeply entrenched in The Prophet, which she is producing. The film will feature 13 segments, each by a different director, in the style of Fantasia. And despite the unending demands on her time, she remains a committed activist. Hayek has partnered with Avon on domestic-violence-awareness initiatives and with UNICEF to provide tetanus vaccines to pregnant women in Third World countries. In January, she was selected by French President Nicolas Sarkozy to join the Legion of Honor, the nation's highest honor.
Her acting work, while still hugely important to her, is no longer everything, says Hayek. That stunningly simple revelation has made all the difference. "What once was an expression of who I was—acting—also became my hiding place. But now I don't depend on it so much for my happiness or my identity. And since it's not my priority, I am doing the best work I've ever done."
We want to know what you think about MC@Work. Click here to tell us!
Celebrity news, beauty, fashion advice, and fascinating features, delivered straight to your inbox!