The Secret To Making the Right Career Change
Veep producer Stephanie Laing parlayed a job as a bank teller into an Emmy Award–winning career in TV. We asked what her secrets are to finding—and seizing—career-changing breaks.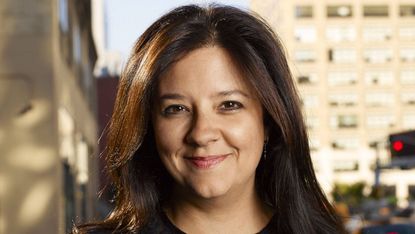 (Image credit: Courtesy of Subject)
Marie Claire newsletter
Celebrity news, beauty, fashion advice, and fascinating features, delivered straight to your inbox!
Thank you for signing up to . You will receive a verification email shortly.
There was a problem. Please refresh the page and try again.
MARIE CLAIRE: You were a bank teller in Ohio when you got your big break in TV. How did that happen?

STEPHANIE LAING: One day one of my regulars, who worked in film and TV, said he had a truck commercial coming up and asked if I would like to work on it. So I drove the truck from the dealer to the set, washed it, and drove it back. That was it. But I was hooked. When I quit my job at the bank, they tried to keep me with an 11-cents-anhour raise. I said, "No, thanks!"
MC: How did you get from there to Hollywood?

SL: I worked on three or four commercials, and then a Joe Pesci movie. After that, I pretty much followed the circus to Los Angeles. Relocating was a huge gamble. I had $1,200 to my name and a six-week job paying $200 a week. I remember buying gas with dimes! But I stuck it out because I really loved what I was doing. And I wasn't afraid to go home to Cincinnati for a few months when things got tight. That never felt like failure.
MC: What advice would you give to anyone weighing a career change— but scared to make a move?

SL: It's OK to be afraid—that's when good stuff happens. Keep your eye on the future, but remember to stay in the present. That energy will attract the person who'll bring you your next career opportunity. It's about the journey as much as the destination.
MC: But what if you feel stuck?

SL: Think about why you feel stuck. Is it the job or the people around you? I've had jobs running lowly errands but had a blast because of the atmosphere. I've also had high-up producer gigs that felt toxic because the people there were unpleasant. Don't try and find a thing you'd rather do but people you'd rather be around. That way, no matter what you do, you'll do it well, and that will lead to more opportunities.