Why 20-Somethings Shouldn't Stress About Picking a Career
Not sure what you want to be when you grow up? No problem—neither did these women.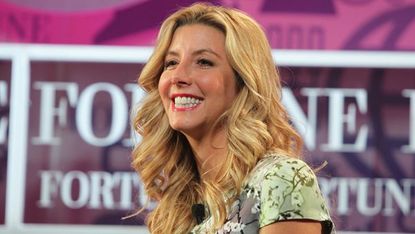 (Image credit: Getty)
When Anne Sweeney, co-chair of Disney Media Networks and president of Disney/ABC TV Group, announced her plans to step down from her perch as the most powerful woman in Hollywood to direct television, the news was met with equal parts excitement and skepticism. Some wondered if her reason for leaving was the latest example of the Hollywood spin machine, while others celebrated Sweeney for embarking on a new journey. There's no doubt the entertainment industry could use more female directors.
But the news triggered another reaction for us here at Marie Claire, one that we celebrate on a daily basis: a change of course in the pursuit of passion can lead to something magical. Sweeney is not alone in taking a hard left in her professional life. Check out some of the most famous career changes below, which remind us that launching next chapters are oftentimes risks worth taking.
Vera Wang was a competitive figure skater during high school and turned to fashion when she didn't make the 1968 U.S. Olympic team. She found success quickly as a fashion editor, and after 15 years working at a magazine, she decided to pursue her dream of designing bridal gowns.
Before striking gold at the age of 29 by creating Spanx, Sara Blakely worked as a Disney World ride greeter and door-to-door fax machine salesperson. She is now the world's youngest self-made female billionaire.
PopSugar and Sugar Inc. founder Lisa Sugar was an ad agency media planner before developing a popular online destination for women in 2006.
Nora Ephron went from being a journalist at The New York Post to writing the romantic comedies that keep us all company on rainy afternoons. Throughout her career, she added director, producer, playwright, and author to her many list of professions.
Candace Nelson was an investment banker before she became responsible for a nationwide cupcake obsession. Nelson started Sprinkles cupcakes when she was 30, after spending nearly a decade in a previous career path.
Julia Child's impact on our lives needs little explanation, but before the chef introduced a nation to French cooking when she was 49, she worked for the U.S. State Department.
Before becoming the domestic, craftsy goddess that she is, Martha Stewart had previous careers as a model and Wall Street stockbroker.
After being fired from her job in advertising in 2008, Melissa Bushell went on to fulfill the mini cupcake cravings we never knew we had just one year later.
Sophia Amoruso channeled her obsession with selling vintage clothing on eBay into the international fashion enterprise, Nasty Gal.
Celebrity news, beauty, fashion advice, and fascinating features, delivered straight to your inbox!