The Women of Netflix are Upending Business as Usual in Hollywood
How the original, wacky, and totally compelling Orange Is the New Black is changing the game in Hollywood. Bring it.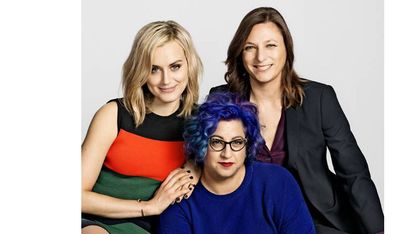 (Image credit: Peter Yang)
By any measure, Orange Is the New Black should have been a nonstarter. Based on the 2010 memoir of the same name, the Netflix series about Piper Chapman, a Waspy 30-something convicted of a crime she committed a decade earlier, is set in a women's prison in Connecticut. It is populated by the kinds of female characters that don't typically get much airtime on television. They're poor, mostly black and Hispanic, from broken families and dire circumstances—women like miss Claudette (Michelle Hurst), a graying Haitian immigrant in prison for murdering a man who abused one of the kids in her child-labor housecleaning racket, and Sophia Burset (Laverne Cox), a transgender hairdresser in the clink for credit card fraud. There's drug abuse, graphic girl-on-girl sex, and racial and class tension. The ladies of Orange may be the grittiest bunch of women to ever grace the small screen.
They're also arguably the safest bet on television. That's because while cable and broadcast networks traditionally rely on a fuzzy alchemy of factors when deciding which shows to green-light— focus groups, name recognition of the star, and even gut instinct play a role— Netflix bases its decisions on hard data, crunching reams of information it collects from the viewing habits of its more than 44 million subscribers worldwide (more than HBO, Showtime, or Starz), including their genres, directors, and celebrities of choice; which shows they binge-watch; and even the scenes they fast-forward. That information gets plugged into a proprietary algorithm that determines how many subscribers will likely tune in to any given series. There are no guesses and no hunches. Viewers get exactly what they want.
It's the kind of geek-approved approach you'd expect from a Silicon Valley–born DVD-by-mail service turned video-on-demand giant, and it seems to be working exquisitely well. In an October letter to shareholders, Netflix chief Reed Hastings said Orange was on track to be its most-watched original series ever, besting even the first season of House of Cards, the baroquely sinister, ultra-buzzy Beltway potboiler helmed by Oscar winner David Fincher (Fight Club, The Social Network). Netflix is famously secretive about its ratings, and even Orange's showrunner, Jenji Kohan, isn't apprised of how her show is actually faring. ("That's one thing that's a bummer, but in a weird way, it's relaxing.") Still, Cindy Holland, vice president of original content for Netflix, allows that the audience for Orange "is slightly tilted in favor of women, but not dramatically so."
That's a crucial detail: It means the series enjoys the kind of crossover appeal that flouts the conventional wisdom in Hollywood that only women watch shows about women. For decades, broadcast networks have clung to the dated belief that shows written by women or starring women were somehow niche, this though there have been plenty of groundbreakers—from I Love Lucy to The Mary Tyler Moore Show to Sex and the City—that defied the neat little boxes (wife, mother, daughter) that Hollywood relegated its female stars to. And yet, all these decades later, shows about women still face resistance. In 2012, NBC passed on The Mindy Project, though its creator, Mindy Kaling, had executive-produced The Office, one of its biggest hits, reportedly because the network had already green-lit three other pilots starring women.
But as a Hollywood outsider, Netflix isn't beholden to its culture or mores. Like its cable rivals, it makes money on subscriptions, not advertising. It also boasts the enviably deep pockets of a tech giant: Netflix is said to spend at least $4.5 million per episode of its other big hit, House of Cards, and just under $4 million per episode for Orange, making these some of the most expensive shows on television. Netflix recently announced that it was raising $400 million for a new slate of shows. The first to be announced: a sitcom starring Lily Tomlin and Jane Fonda. "I really felt like it was the future," says Kohan of her decision to work with Netflix. "The binge model—getting exactly what you want when you want it, anywhere, anytime—that's new."
Before it developed House of Cards, an adaptation of a popular British series, Netflix had already discerned a strong appetite for political thrillers, David Fincher films, and movies starring Kevin Spacey. The data also revealed an eager audience for edgy, female-driven ensembles, and so it ordered up Orange, which had by then been passed on by HBO and Showtime. "We weren't thinking specifically of programming for women, but we did observe series such as Weeds, Grey's Anatomy, and Desperate Housewives, which were doing really well for us as well as their first-run networks, at the time that we were thinking about Orange Is the New Black as a series," Holland says.
Despite the company's emphasis on data analytics, showrunners still retain creative control at Netflix. "I don't think you can influence the creative process with data. Or you shouldn't," Kohan says. "There is something ineffable about why a show appeals to someone and how things are born in the creative process that you can't quantify and pull out of a computer. [Netflix] didn't ask a lot of questions; they just thought it was cool. I've gotta say it was really a relatively easy process."
Kohan admits she used Orange's lead character, Piper Chapman, as a "Trojan horse" to showcase the diverse supporting cast of miscreants. "Everyone has interesting stories, but the ladies of the ghetto are a much harder sell," she says.
"It's very exciting to be involved with this new way of storytelling, where the rules don't apply as much," adds Orange star Taylor Schilling, who plays Piper. "Where a creative voice like Jenji's can play out her vision without being confined by a studio or by money or not fitting into a formula of what's worked in the past. There aren't a lot of places like that right now in the media."
While it's true that cable has long been a pioneering venue for strong, interesting female characters— from Carmela Soprano to Carrie Bradshaw—for the most part, these roles have all hewed to the same template: white, educated, middle-to-upper-class, and inextricably linked to their romantic relationships.
Not so for the ladies of Orange, who are at once gritty and brutish, and prone to challenging conventional ideas of femininity and sisterhood. Like the mother-daughter inmates who once shared the same drug-dealing boyfriend, or the mentally unstable Suzanne "Crazy Eyes" Warren, who, when Piper rebuffs her advances, retaliates by urinating outside her cell. Piper is the face of white privilege, a woman who, in the hours before the bars close behind her, implores her fiancé to keep her website updated. "Orange was a game changer for me," Schilling explains. "Before, a lot of roles [I was offered] were the girlfriend or wife, a woman getting over a breakup. So it was really exciting to read a script so clearly about a woman in the seat of her own experience. And I was so excited by how many women were in the script, period."
House of Cards offers its own share of typecast-busting female roles. The women navigating D.C.'s underbelly are as morally bankrupt as their male counterparts. There are no heroes here. Claire Underwood, played with steely menace by Robin Wright, is the calculating and ambitious yin to her ruthless husband's yang. When a pregnant ex-employee threatens to undermine her plans, Claire calmly warns her, "I'm willing to let your child wither and die inside you if that's what's required." Muckraking reporter Zoe Barnes, portrayed initially with savvy entrepreneurialism by Kate Mara, soon enough trades sex for scoops. She's a walking billboard for why Americans distrust media. None of these characters is particularly likable, and whether they're "good" or "bad" for women has become a favorite pop culture parlor game. Earlier this year, a writer for The Atlantic argued, "Women need Claire as a feminist ally like a fish needs a wood-chopper."
"You should never assume who the true viewer really is of any piece of content," warns Holland, a sly nod to Netflix's wager that audiences are far more open-minded than traditional networks would have us believe. And with the casting of Tomlin and Fonda, two septuagenarians, as sitcom leads, Netflix has all but doubled down on the notion that unconventional female characters are big draws for audiences. Should Netflix finally open the kimono to reveal its ratings and demographic figures, we may finally have our proof that girls really do rule.
Celebrity news, beauty, fashion advice, and fascinating features, delivered straight to your inbox!