Moira Forbes on the Most Powerful Women in the World
The list of women you should consider your role models.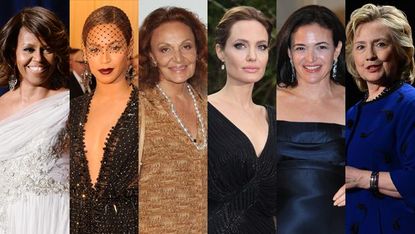 (Image credit: Getty Images/Erin Toland)
Marie Claire Newsletter
Celebrity news, beauty, fashion advice, and fascinating features, delivered straight to your inbox!
Thank you for signing up to Marie Claire. You will receive a verification email shortly.
There was a problem. Please refresh the page and try again.
A decade has passed since Forbes magazine introduced its World's 100 Most Powerful Women list, the latest of which was released on Wednesday. In some ways, little has changed. Angela Merkel, the Chancellor of Germany, leads the list for the fourth consecutive year. Yet this year's list has more self-made billionaires, more technology entrepreneurs, and more women using their power in one domain to influence a different sphere. All together, the list contains twenty-eight C.E.O.s (compared with twenty-four last year), eighteen entrepreneurs (two more than last year) and nine heads of state; there are also several entertainers, media moguls, and philanthropists.
To come up with the list, Forbes looks at four factors: money, media presence, impact, and spheres of influence. The names among the top 10 women tend not to shift much year to year (though this year the Federal Reserve chair Janet Yellen made her debut on the list at No. 2, and the General Motors C.E.O. Mary Barra and I.B.M. C.E.O. Virginia Rometty climbed into the top ten for the first time).The philanthropist Melinda Gates, Bill Gates's wife, remains the third most powerful woman in the world; the President of Brazil, Dilma Rousseff, the International Monetary Fund head Christine Lagarde, the former U.S. Secretary of State Hillary Clinton, the First Lady Michelle Obama, and the Facebook C.O.O. Sheryl Sandberg swapped places in an august game of musical chairs.
These days, it's not as novel for a woman to helm a country or a company. Also over the past decade, a new technology emerged that helps bring down traditional barriers to power: social media. "Women are wielding power in ways that didn't exist ten years ago," Moira Forbes, publisher of ForbesWoman, said. "Power has been democratized in some ways." The actress Yao Chen (No. 83) leveraged her fifty-two million followers on the Chinese social media site Weibo to become a "goodwill ambassador" with the U.N. refugee agency. The Cisco chief technology officer Padmasree Warrior (No. 71) is on the list partly because shehas amassed more than 1.4 million Twitter followers.
Power is difficult to calculate, a squishy idea to define much less quantify. But barriers to entry are lower than ever before, thanks to the growing reach of social media. In this new age, Twitter followers and Facebook fans go a long way in cementing one's power, and not only for entertainers like Oprah (No. 14), Beyonce (No. 17) and Angelina Jolie (No. 50). There are several routes to global power – climbing the corporate ladder, becoming a lifelong civil servant, building upon an inheritance, to name a few – but the road traditionally less taken – entrepreneurship – appears to be an increasingly popular path. Take, for example, the three fashion designers on the Forbes list this year, all of whom used their fortunes to support other women. Diane von Furstenberg (No. 68) helps more than a dozen non-profits through her foundation and the DVF Awards to honor women who have changed the world. Tory Burch (No. 79) also has a foundation to provide female entrepreneurs with small business loans and mentoring. Folorunsho Alakija (No. 96), now the wealthiest Nigerian, started a clothing line in the 1980s and began investing in oil shortly after. Now she helps other women, though her Rose Sharon Foundation, which supports widows in Africa.
Still, many newcomers to the list continue to hail from traditional bastions of power: the U.S. Ambassador to the U.N. Samantha Power (No. 63), the Nasdaq president of global information and technology Adena Friedman (No. 69), and the Governor of the Bank of Russia Elvira Nabiullina (No. 72), for example. Meanwhile, the categories into which the powerful women are organized reveals as much about the state of power as the names listed. This year's list is divided into eight spheres of influence: billionaires, business leaders, lifestyle entrepreneurs and celebrities, media moguls, philanthropists, politicians, technology, and finance. (The latter is new this year.) The sixcategories on 2004's inaugural list included executives, women in media and entertainment, and presidents and prime ministers. It also included heiresses, queens and wives.
Most parts of the world are more accustomed to seeing women in positions of power and, as a result, becoming more accepting. That's due in part to the existence of the lists themselves, Nancy Rothbard, a professor of management at the Wharton School of the University of Pennsylvania, told me. Lists are more than a tactic to appeal to our collective desire to sort and classify. They're chock full of "role models for a path that you envision yourself on as a woman," Rothbard said. "It gives a concrete view in your mind that it is possible." The cumulative effect of lists like Forbes', and Fortune magazine's Most Powerful Women in Business, which is limited to corporate executives and 50 at that, then, is larger than the sum of its parts. If you can see it, you can be it.
More Related Articles on Powerful Women:
Meet the New Guard of Powerful Women

The New Power Trip: This Drug Is Helping Powerful Women Become Enlightened
Celebrity news, beauty, fashion advice, and fascinating features, delivered straight to your inbox!