Leighton Meester Sounds Off On the Feminist Undertones in Of Mice and Men
"If sexism is one of the featured themes, why not say it?"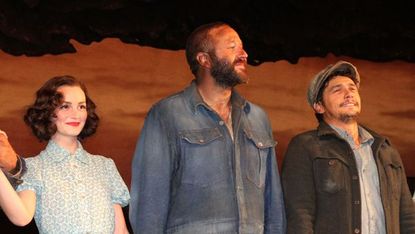 (Image credit: Archives)
Earlier in the year, Leighton Meester (opens in new tab) made headlines when she revealed that her role model was American writer Betty Friedan, who helped spark the beginning of a second wave of feminism with The Feminine Mystique (1963). At a time where many female stars rebuff a feminist label, it was thoroughly refreshing. Now, Meester has chosen to call attention to the feminist undertones in Of Mice Men (opens in new tab).
For the past few months, Meester has starred on the Broadway revival of the literary classic as "Curley's Wife," and in that time has gained not just a better understanding of her character, but also garnered a deep-seeded empathy for the story's only female character. She voiced her thoughts in a heartfelt op-ed for The Huffington Post that's shedding new light on one of our middle school reading requirements.
"The insults are thrown at Curley's wife: bitch, tramp, tart," Meester writes. "The further along in the production we go, the more I realize that the audience agrees. In rooting for our heroes—the everyman protagonists who scorn and demean the only woman—the audience finds themselves unquestioningly hating her, too. But why?"
Meester goes on to acknowledge that Steinbeck tactfully wrote her character to be complex—not just a nefarious, dramatic temptress. This was brought to light in a letter that the play's director gave to her, in which Steinebeck advises the actress that originated the role, Claire Luce.
"She was told over and over that she must remain a virgin because that was the only way she could get a husband ...," He writes. "She only had that one thing to sell and she knew it," Steinbeck wrote to Luce. "She is a nice, kind girl and not a floozy. No man has ever considered her as anything except a girl to try to make ... As to her actual sex life—she has had none except with Curley and there has probably been no consummation there since Curley would not consider her gratification and would probably be suspicious if she had any."
Meester grapples with the fact that while Steinbeck acknowledged the struggles of being a women during the Depression era, sexism still wasn't one of the central themes of the classic tale. We can personally testify to the fact that a close-examination of "Curly's Wife" wasn't included in our spark notes.
"If this woman is purely a victim, why is she so hated?" asks Meester. "And if she is truly harmless, why is she so threatening? Without question, it was a commentary on the social climate at the time, which still surprisingly applies today. But if sexism is one of the featured themes, why not say it?"
Sexism, and its subsequent backlash, is what breeds feminism in the first place. While sadly it can often go unaddressed, there are a handful of classics that tackle it head on. One of the oldest is Charlotte Brontë's Jane Eyre (1847), in which Eyre shakes up a male-dominated society by writing about taboo subjects such as class and sexuality. Here's a list of other literary works (and one film) with a feminist agenda:
Matilda (1988)


This tale tells the story of a grade school girl with extraordinary powers, which she uses to stand up to corrupt adults and empower those around her to find their voice, like her extraordinary, Miss Honey.
The Blind Assasin (2000)


Female protagonist Iris Chase takes us through 60 years of her friendships with women in the science-fiction story. The "human male as an alien form," according to author Margaret Atwood.
The Hunger Games (2008) Series


Heroine Katniss Everdeen in an oppressive, post-apocalyptic nation where she rivaled her male counterparts in a trying death match.
Easy A (Film, 2010)


Emma Stone is a teenage girl who likens her experience with slut-shaming to the persecution displayed in The Scarlett Letter (1850).
We can't commend Meester enough for taking a stand and calling attention to the injustices that exist not just in the Of Mice and Men narrative, but in society today. Hopefully, her Hollywood peers will take note and they too will use their stardom as a platform for advocacy.
Lauren is the former beauty editor at Marie Claire. She love to while away the hours at coffee shops, hunt for vintage clothes, and bask in the rough-and-tumble beauty of NYC. She firmly believes that solitude can be a luxury if you've got the right soundtrack—that being the Rolling Stones, of course.