Exclusive Excerpt: Cover Girl Anna Kendrick's December Interview
With eight new movies, including this month's musical film Into the Woods, Anna Kendrick exhibits her remarkable range (literally). Not only is she immensely watchable, but she's also immensely retweetable as a wicked-smart wit who calls it as she sees it. Here, a preview of her profile from the December 2014 issue of Marie Claire.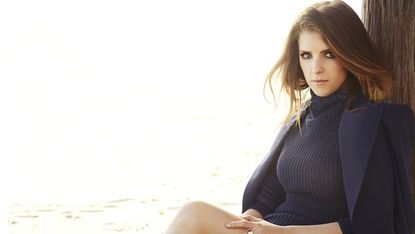 (Image credit: Archives)
Marie Claire Newsletter
Celebrity news, beauty, fashion advice, and fascinating features, delivered straight to your inbox!
Thank you for signing up to Marie Claire. You will receive a verification email shortly.
There was a problem. Please refresh the page and try again.
Anna Kendrick has a recurring dream in which she is kicking ass. "Like, really physically kicking, and throwing punches and doing karate moves and breaking things," she tells me. "Which I could never actually pull off in real life because I'm so small." She pulls aside the strap of her tank top to flex a slender bicep that, admittedly, looks more Olive Oyl than Popeye. "Ol' McSpaghetti arms," she says ruefully.
We're sitting in the back of an SUV in traffic, an hour late for our dinner reservation and tipsy enough from the bartending class we'd taken at the Varnish, a speakeasy-ish bar in downtown L.A., that I feel comfortable delving into Kendrick's inner psyche. She doesn't know whom she's beating up in the dream, but whenever she has it, she wakes feeling awesome and powerful. Which is way better than when she has her other recurring dream, in which some family member has died. "Those are just, ugh," she says, punching her gut. "I end up carrying that sadness the whole day."
If, as Freud said, one can understand a person by the visions they conjure while sleeping, then he might have looked at the things rattling around in Kendrick's psyche and deduced—well, who knows. But at this moment, slightly buzzed and charmed by this 5'2" actress who drops "fuck" every other word, whose eyes nearly well up as she talks about her family, I'm inclined to think that the combination of personality traits revealed by her dreams—tough girl with a vulnerable streak—is one of the reasons she has been kicking metaphorical ass in Hollywood.
On her role as Cinderella in Into the Woods: "The character is thoughtful and complicated. You see what happens after she marries the prince, when you start to face problems in seemingly perfect situations. The interesting thing about her is she overthinks things, she's uncertain – we don't see that in most versions. In a lot of ways, I think it's this incredibly brave story. She's neglected and abused her entire life she finally gets love and it's not the kind of love she was looking for, and she stands up for herself."
On taking a short break: "The whole going-movie-to-movie-to-movie thing, I've been living that way for three years. Like I need to be a person and, you know, maintain relationships."
On insta-fame following her 2010 Oscar nomination: "It was insane. Like really groovy and exciting. [But] there was a lot of 'Why me?'—that sort of thing."
On the celebrity hacking scandal this fall: "I'm so infuriated on behalf of those girls. And bummed out that people feel like that's something they can do."
On having her looks scrutinized: "The most common thing that I get is, 'Am I the only one who doesn't think that Anna Kendrick is pretty?' And you're like, 'No, you're not the only one. Arguably, all of the boys in my high school agree with you.'"
On ambition: "Mostly it's the fear that the wolves are always at your heels and you're going to be tossed out into the street. If you grow up middle class, you just always feel like you've got to be working, because otherwise you won't be able to pay the rent."
Read the read the full story with Anna Kendrick in the December issue of Marie Claire on sale November 18, 2014.
Go behind-the-scenes of Anna's cover shoot:
Celebrity news, beauty, fashion advice, and fascinating features, delivered straight to your inbox!
Jessica Pressler is a staff writer at New York magazine. She is the the former editor of the magazine's news blog, Daily Intelligencer, and a regular contributor to GQ and Elle.