Jessica Alba:
Despite rocketing to fame on TV's Dark Angel and snagging a starring role in the film Fantastic Four, Jessica Alba says she still feels like a Hollywood outsider. Here, she talks about secrets to that amazing body, growing up multiracial, the naughty pictures she hopes you won't see and the things in life she absolutely can't live without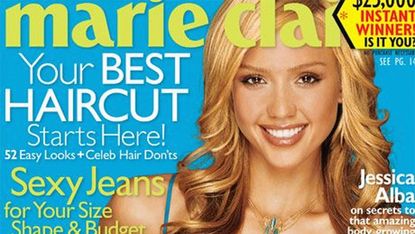 (Image credit: Matthew Rolson)
The first thing Jessica Alba mentions when I hand her a camera? Naughty pictures. I'm talking to her about Things She Can't Live Without (TSCLW), and already the conversation has surprised me. Turns out, the camera I've handed Alba looks familiar to her. "I had the same one," she says, snapping the view from the balcony of her French villa-style house in the hills above L.A., one of her TSCLW. "I just lost it ‑- which is why I'm so happy I had deleted the naughty pictures." What was that? "Not that naughty," she says with a laugh. Were the pictures of her and another person? "My boyfriend," she reveals. Alba has been dating Cash Warren, a director of development at a production company, whom she met while shooting her latest film, Fantastic Four. And with that, Alba takes a picture of herself wearing the gold and diamond hoop earrings Warren gave her for her 24th birthday in April. "I'm bad at smiling because I always feel cheesy," she admits. I look closely at the earrings, which seem as if they were made for Alba's delicate ears. "Cash knows me very well ‑- every day, I find an excuse to wear them."
Next, Alba leads the way to her bedroom and runs her hand along a wall of books. "This is actually the most exciting part of the room for me," she says, scanning the titles. "It's great having a bookcase here. I love to read; I just don't always have a lot of time to do it." Her spacious bedroom is bathed in creamy tones, but it's hard to see what else is in there on account of all the clothing racks. Alba apologizes for the mess, some of which she'll pack up for her trip to the Cannes Film Festival, and we head to the master bath. "That's probably the most decadent thing I own," she says, pointing to her "big-ass" bathtub, which seats at least two and has a flat-screen TV mounted above it. "I take a bath almost every day. Because I work out so hard, I usually put in a gallon of Epsom salts." Given Alba's incredible shape, I wonder if she's one of those people who lives to work out. "It's such a pain in the ass," she groans. "Running is suffering, I don't care what anybody says. But it always makes me feel good afterward." Clearly, this bathroom is Alba's retreat. "I like to light my Joya vanilla candles that smell like cupcakes." So how long is she likely to soak for? "Cash and I took a two-and-a-half-hour bath the other day while we watched TV," she says, giggling at the memory. "It's a really romantic spot."
Jessica Alba's childhood wasn't nearly as dreamy. Born into an Air Force family in the L.A. suburb of Pomona, CA, she made the first of many moves when she was just an infant. Being a military brat meant Alba attended 12 different schools before graduating; always being the new girl in town was a reality she couldn't shake. Learning how to fit in was the key to survival, especially growing up biracial. Alba is French-Danish on her mother's side and Mexican-Indian and Spanish on her father's. "I was never accepted into the Latin community as a Latina girl, and I was never accepted into the white community as an all-American girl," she reveals. "Hopefully, I can be an example to other people who feel like outcasts."
At 12, Alba discovered acting, and she immediately loved it. "I took classes at Beverly Hills Studios," she says. "Driving into Beverly Hills was a big deal. We had a Ford Probe and a Buick Regal, neither of which ran very well. And gas was expensive." Through the school's "showcases," Alba got an agent ‑- and her first commercial. "It was for Froot Loops or something," she says with a laugh.
Two months later she got her first film, Camp Nowhere. "But I wasn't just lucky," she says. "We hustled. My mom gave up working and drove me to auditions, and my dad put the 'never quit' thing in my head." Downstairs again, Alba picks up a favorite picture of her with her dad propped up on a table that's covered with family photos. "My dad is so dark, and my mom is so light," she says. Has her mixed ethnicity ever come into play in terms of casting? "It was definitely something that made it a struggle at the beginning," she admits. "I fell into the 'We don't know what you are' category. Now, it's more open." Case in point: In Fantastic Four, Alba plays Susan Storm, a scientist who happens to be fair-skinned, blue-eyed and blonde. "I play a role everyone said I could never play. It's funny now, with Angelina Jolie and people who are a little bit different-looking starring in movies. Like audiences can finally wrap their heads around the idea that not all American women look like Kate Bosworth."
The notion of "fitting in" seems to be a continuing theme in Alba's life. And Hollywood may well be the ultimate "exclusive clique" that Alba must contend with. "I don't really know what Hollywood is; I just know what I am. I do know I've never been cool," Alba reveals. "I've never been part of the 'cool' Hollywood crowd, whatever that is. I've just never been that girl."
Besides her role in Fantastic Four, Alba has played a lasso-twirling exotic dancer in Sin City, a hip-hop choreographer in Honey and a scuba-diving shark expert in the upcoming Into the Blue. Though Alba is the first to admit she's in a cutthroat business, she claims she doesn't spend a lot of time crying over parts that got away. "If someone isn't completely gung ho about me doing a role, then I don't want to waste anybody's time," she says. "There are a lot of lovely girls out there, and I want women to be stars in every movie, in all genres. The more Camerons and Drews and girls like that, the better." It's clear Alba is thinking of her own future. "I'd like to do a physical comedy, and I'd love to do a really gritty drama," she allows. "But people in this business are afraid to take a risk on you. So actors are only as good as the roles they get. Would Tobey Maguire have gotten Seabiscuit if he wasn't successful in Spider-Man? Probably not. Success allows you the freedom to do roles in the movies you really want to do."
Alba walks over to a nearby shelf, where she keeps a selection of action figures from the now-defunct TV show Dark Angel. Though she can live without the toys themselves ‑- "I think they're hilarious" ‑- they represent a pivotal time in her life. "I graduated high school when I was 16, and I took college-preparatory classes. At the time, I thought I wanted to be a marine biologist. I told myself that if I didn't get something significant in acting by the time I turned 18, I was going to quit the business and go to college," she says. "I got Dark Angel when I was 17." The series, produced by Titanic director James Cameron, changed the way Alba thought about the business. "Jim allowed me to be part of the development of the show," marvels Alba. "I don't know any other man in this business that would give a 17-year-old girl so much control. It was like, Finally, all my hard work and my parents sacrificing and not having money has paid off! That was when I knew I could really do this for a living and not just be 'Girl Number Five' in some movie." The doorbell rings. "Oh, Bille is here!" she says excitedly. Bille Woodruff is Alba's best friend and a definite TSCLW. They hit it off instantly when Woodruff, the filmmaker behind the recent hit Beauty Shop, directed Alba in Honey. It was Woodruff who, in the aftermath of Alba's breakup from her Dark Angel costar Michael Weatherly, bought her the book The Art of the Seduction, by Robert Greene. The tart and twisted relationships primer is also on Alba's TSCLW list.
Bille: Jessica didn't really need The Art of the Seduction, but I wanted to remind her of the diva that she is.

Jessica: He was like, "Don't go out with guys who are lame," because I was seriously depressed.

Bille: That was my tough love. I was like, "Don't let him call you anymore!" She did not stop crying. She was like, [mimics crying] "Nobody likes me..."

Jessica: It was the worst.
The two friends share a knowing look, but it's not all about nursing bad breakups. "Whenever I'm feeling fat, Bille takes me shopping and makes me try on jeans that make my booty look bigger," Alba says. "Well, I don't want her to get too skinny," says Bille. "You know, that Hollywood thing."