The Hanson Brothers Break Down Every Track on Their Nostalgic Holiday Album
Because it's been a long year, and frankly we deserve something good.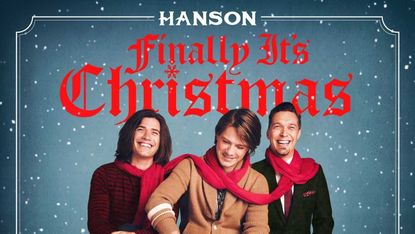 (Image credit: Courtesy of Hanson)
Marie Claire Newsletter
Celebrity news, beauty, fashion advice, and fascinating features, delivered straight to your inbox!
Thank you for signing up to Marie Claire. You will receive a verification email shortly.
There was a problem. Please refresh the page and try again.
In 2017, Hanson celebrated its 25th year as a band and the 20th anniversary of its debut album, Middle of Nowhere. Even if you haven't heard any of their five subsequent studio albums (or seen one of their 14 official tours since 1997), they live on in the hearts, ears (damn you, "Mmmbop"), and Christmas CD collections of anyone who came of age in the late '90s and early '00s.
And while some bands might bristle at playing the 20-year-old hits that made them famous, the brothers have embraced that nostalgia factor and used it to their advantage. "We never avoid any of the old stuff. It's a very important part of who we are and something that we're very proud of," Isaac Hanson, the eldest of the musician brothers, tells MarieClaire.com of their latest tour. "I feel really lucky that in spite of the fact that we were very young—young musicians, young songwriters, young artists—we've managed to be very, very proud of everything we've done."
Hanson just wrapped its Middle of Everywhere tour (get it?)—which spanned the globe and featured "Mmmbop" as well as other TRL chart-toppers—and then hopped on another mini-tour promoting their latest release, Finally It's Christmas.
They recorded the album in 2016, and despite the fact that they're two decades older (and their voices are a few octaves lower), Hanson says Finally It's Christmas is a spiritual follow-up to their two-million-selling 1997 holiday classic Snowed In.

"Some of the voices are really noticeably different—like Zac's voice is really noticeably different, my voice less so," Hanson says. "You have some of those inevitable things, but we were trying as best as we could to say to ourselves, 'If this is chapter two in a book, it's got to feel as connected to the first one as we can without feeling like we're repeating ourselves.'"
Below, Hanson takes us behind-the-scenes in a track-by-track journey through the new album. Bye Santa, no other gifts needed.
1. "Finally It's Christmas"
The title track—which the band released on their website a few years ago—is actually what inspired the album itself. "We were like, 'This is really cool. We'll put this out on the website as a special release along with some Christmas products and stuff like that, just for the fun of it,'" Isaac says. "And then when we listened back to it, we were like, 'This really feels very connected to Snowed In. It feels like it makes a lot of sense with what we did on it 20 years ago.'" YOU'RE RIGHT, HANSON, IT DOES.
2. "A Wonderful Christmas Time"
Yes, it's a cover of the Paul McCartney Christmas classic, and no, it almost didn't make it on the album. "We were still looking for a more upbeat song, something that felt familiar, but we felt like the original version was just not something that we were going to be able to put our stamp on," Isaac says.
But once the trio added a Motown drumbeat and a new chorus, it became their own. "It lent itself to some reinterpretation and we wrote a new section for it to give it even more of a lift, even more of a chorus, because the song really doesn't have a chorus. It very much feels like an original song in a certain sense because we really took a lot of liberties, but I think it doesn't betray the original version at all. I just think it's a very different version than anyone's done."
Please take note, Paul.
3. "Rudolph The Red Nosed Reindeer"
The adorable children you hear singing a snippet of this Christmas classic? Yes, they're the brothers' offspring (they have twelve between them)—and the decision to include them is actually a shoutout to the Hansons' youngest brother Mac being featured on Snowed In. "We said, 'What if we just sat around and sang some of those classic sing-along type songs with the kids and see what happens?'" Hanson explains. "And so we set up some mics and we brought in all the kids and we said, 'Okay, let's sing 'Rudolph the Red Nose Reindeer.' Here we go.'"
4. "Til New Years Night"
Isaac's description for this Chuck Berry-inspired song is basically perfection. Behold: "The song is about what happens between Christmas and New Year on the North Pole, because that's apparently the time when all of the elves and Santa let loose because they've been working all year until that point."
5. "Please Come Home"
Another cover, with a Hanson twist: "It's a great, classic, old school, rock-and-roll Christmas song. It's mostly a love song. It's not really a Christmas-y song, it's just mostly that it's in context of Christmas. I think Charles Brown would feel good about our rendition."
6. "Someday At Christmas"
"This is one of the real standouts for me," Isaac says of the Stevie Wonder cover. "We took a little bit more of a melancholy approach than some people have in the past, and it's a little bit more orchestral feeling. We use a lot of sweeping background vocals and I feel like it hits a good emotional tone."
File under: That feeling when you find yourself crying to Hanson Christmas music.
7. "Joy To The Mountain"
This mashup of "Joy to the World" and "Go Tell It On the Mountain" came about when the brothers wanted to combine two traditional Christmas sounds. "It would not be Christmas without some traditional Church hymns," Isaac said. "And we felt like one of the best ways to represent that was not only to use a more traditional Christmas song that goes back centuries...but also a song that represents a different stage of Christmas music, which is that gospel-inspired Christmas music."
8. "Jingle Bells"
This is basically the Hansons' embracing their dad vibes, hence the inclusion of all their kids: "We're dads. We're dads and uncles, and it's kind of fun to have that contextual reference as well."
9. "Happy Christmas"
Keeping with tradition, this song features Taylor's oldest son Ezra: "That high octave that's being played is actually being played by Ezra, which is kind of wild and fun because Ezra's about the age that Taylor when we made our first Christmas record, which is super bizarre."
10. "All I Want For Christmas"
"This ain't Mariah Carey's version," Isaac says. "That's all I have to say about that."
11. "Winter Wonderland"
"'Winter Wonderland' is one of my standout favorites on the record. I think what we tried to do was reinterpret the version that Aretha Franklin did," Isaac says. "She changes up the melody a little bit and we really really liked that and liked the vibe of what she had done, but her version is mellow."
12. "Blue Christmas"
The making of this song was pretty interesting, and the final version was completely different than how it was originally recorded: "It was actually an accident. We were listening back to Taylor's vocal performance and wanted to get rid off some of the stuff around it to make sure that we felt great about his vocal take. We went, 'Wait a second. That's really cool. What if we started it this way and then slowly build in?'" Et, voila!
13. "Peace On Earth"
This song directly speaks to the "spiritual and religious components of Christmas, which is the origin of the Christmas season," Isaac says, explaining that this is an "important part of our own lives, and so it had to be in there and I feel like this song has a very epic quality to it."
14. "Have Yourself A Merry Little Christmas"
Yes, it's one of the saddest Christmas songs ever—and Hanson leaned into that for their closing track. "I think our version is probably on the sadder side of versions of 'Have Yourself a Merry Little Christmas.' It's very melancholy, but I really had a lot of fun singing it and we had a lot of fun putting it together," Isaac says. "I mean, people like Bing Crosby and Perry Como are just Christmas to me. I hear those Christmas records and I'm instantly back with misty eyes. It was really fun to be able to sit right in front of a mic real close and sing it low and slow and earnest."
Finally It's Christmas is available now. Listen below.
Celebrity news, beauty, fashion advice, and fascinating features, delivered straight to your inbox!
Jean Bentley is an entertainment reporter who has written about television for Marie Claire, E! News, Mashable, Nerdist, MTV, Entertainment Weekly, and many more. She loves Law & Order: SVU so much that her cat is named Olivia Benson (before Taylor Swift, thankyouverymuch).