Don't Expect Rose McGowan to Ever Back Down from the Fight for Justice: "My Body and Spirit Were Stolen"
With her new book BRAVE, one of the original whistleblowers on sexual assault in Hollywood continues to tell her truth.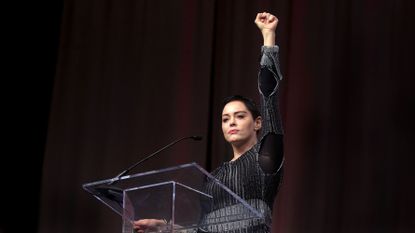 (Image credit: Getty Images)
For 20 years, Rose McGowan was silenced, harassed, and maligned—this year, she finally felt what it was like to be believed. In October, a New York Times story unleashed a torrent of accusations of sexual harassment and assault against Hollywood mega-producer Harvey Weinstein (the total number of accusers is now 90; Weinstein denies any allegations of "nonconsensual sex"). Included in the report was a mention that, in 1997, McGowan, then a 23-year-old actress fresh off a role in Scream, reached a $100,000 settlement after "an episode" in a hotel room during the Sundance Film Festival.
McGowan has never publicly recounted the details of the assault (though she tweeted, "HW raped me" a week after that NYT story was published), until now. In January, McGowan published BRAVE, a powerful story of how she reclaimed her life that's half memoir, half instruction manual for dismantling the patriarchy. Here, she discusses what she's endured, how her childhood in the Children of God cult prepared her to take on Hollywood, and the larger #MeToo movement she helped inspire.
Marie Claire: What can you tell us about the book?
Rose McGowan: I compare [Children of God] to the cult of Hollywood. The cult I grew up in is male dominated, male serving, and [women were there to serve men sexually], and I can say the same thing about Hollywood. BRAVE starts with my escaping [Children of God as a child], and then having seven wild years when I was free of that, before I got absorbed into another cult: Hollywood. It's a story of a lot of trauma, but also a lot of perseverance. It's a memoir manifesto, and what that means is, it interweaves my philosophies throughout. I speak directly to the reader often, and it's very different than what people are expecting. Ultimately, it's about teaching people how to be brave in their own lives.
MC: Do you write about what Weinstein did to you?
RM: I do—it's part of my story. I've been telling this story privately and to people in the business for years. I have never been shy about it. I have told people in the media casually, but society wasn't ready yet. The focus of the book is really a lot more about comparing the two cults—that's more interesting to me to talk about than the actual incident. We've heard other women recounting [sexual assault], so you can imagine [what happened to me]. The one thing I will say is: When people think of a hotel room, they think of a small room. These are like presidential suites; these are the entire top floors of a hotel. There are offices and many rooms. It's not like you're walking into a room with a bed. We were set up for meetings despite this man's proclivities and penchant for rape and sexual assault. I look upon that as human trafficking.
MC: You've said you don't want Weinstein's name in your obituary; do you worry about him being forever a part of your story?
RM: I had to make peace with the fact that this monster and I are locked into this death match and probably will be until the day I die, or he does. And it's not fair—all I've ever tried to do is stop an international rapist. That's it.
MC: How does it feel to go from being called crazy to being believed?
RM: Well, the fact that I still want the best for the world is kind of amazing. People slandered me for years and years and years. I would say [to them], "Thanks for having a closed mind."
MC: What do you think your career might have been like had this never happened to you?
RM: It's really tragic, isn't it? All of us had our careers stolen. Annabella Sciorra, Asia Argento, all of us, are amazing talents. That's the joke of it all: You had to be pretty talented to work for [Weinstein]. And I would say the public's been stolen from, too. You missed out on our art.
MC: Could the larger #MeToo movement exist without you?
RM: No, I don't think it could because I know what I did behind the scenes. I know all the massive plates I had to spin and the amount of energy, strength, fortitude, and financial risk I took on. I've been working on this for 20 years. I orchestrated the writing of the articles [about Weinstein]—I am behind all of it. I was like, you stupid men think that I'm going to be quiet. They didn't know they had a panther walking around them. They decided, I can abuse this [woman], like I did all the others. They really fucked with the wrong person.
MC: Do you think it has the potential to shift how sexual harassment and assault are viewed from now on?
RM: I know it is. It is happening. We're in it. But we need to keep fighting. I had this realization two days ago. I thought, Oh my God—this is the first time in history women are being believed. And I know this is really triggering for a lot of women and girls who've been hurt. To them, I would say, "Hang tight. It's really, really important. We can't let this die. I'm sorry you're being triggered, but it's really important to get to the truth."
MC: What still needs to change?
RM: I want to change the terminology. I think "domestic violence" is ridiculous and cutesy—to me, it's a hate crime. When someone is coming at you in a rage, they have hate in their eyes and hearts. These [terms] were all made up by men, some of whom could be the hashtag #IDidIt. So I don't respect them, nor do I recognize laws about my body made by men. I also see the media use "sexual misconduct." And I'm like, no, it's rape. It's not sex: It's trauma and terror, and it's being hijacked. My body and spirit were stolen—that's theft.
MC: Does it bother you that Weinstein is unlikely to face prison for what he did to you?
RM: It's abhorrent and a miscarriage of justice, and there is little justice for women, but I am going to work to change that. If you can do a flash mob and have a bunch of people dancing at one time in the street, why can't we go and do that at a senator's office? I realized when I had far more followers than [Senate Majority Leader] Mitch McConnell that I was a publicly elected official who couldn't be voted out of office. So I decided to run my life that way.
MC: What's next for you?
RM: It took me a long time to realize I actually hate acting. I have a lot of projects. The first is destroying the propaganda machine—my book will help do that. Then I have an album, a skincare line that's going to upend the beauty industry, and a documentary. It's like a massive social enterprise I've embarked on—I had to have all these things ready for when I strike.
[image id='2621746a-98ce-4b44-903e-5a53f194b539' mediaId='31535d9c-b1e7-4477-8d6c-f8702131a9e3' align='center' size='medium' share='true' caption='' expand='' crop='original'][/image]
BRAVE, on newsstands January 30
Celebrity news, beauty, fashion advice, and fascinating features, delivered straight to your inbox!
Kayla Webley Adler is the Deputy Editor of ELLE magazine. She edits cover stories, profiles, and narrative features on politics, culture, crime, and social trends. Previously, she worked as the Features Director at Marie Claire magazine and as a Staff Writer at TIME magazine.