Borat on Beauty
His tips and tricks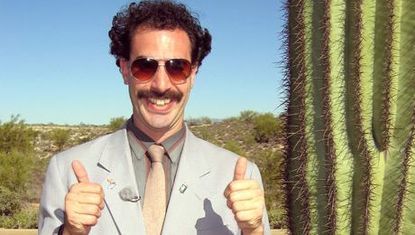 (Image credit: Unknown)
Borat on Beauty
We tracked down Kazakhstan reporter Borat Sagdiyev during the filming of his documentary, Borat: Cultural Learnings of America for Make Benefit Glorious Nation of Kazakhstan, to see what we could learn about Kazakhstani beauty rituals. What we actually learned: When you ask questions, make sure you really want to know the answer...
MC: How do women's beauty rituals in Kazakhstan differ from those of American women?

Borat: In Kazakhstan, women do not do a bikinis wax — instead they removes hairs from their backs and use it to increase the size of their pubis. It a great sign of beauty for a womans to have more hair between legs than on her head. Only time woman shave vagine is for infestation of Kratzuli, or in winter to make wool for knit gloves. Kazakh pubis hair, is the finest in the whole of Central Asia and is our number three export. It is highly valuable because it very good for clean pots and pans.
MC: What beauty secrets could American women learn from Kazakhstani women?

Borat: Our Kazakh womens have many beauty secrets. I will tell you some. Why not? Many our ladies hang rocks from their teets, in order to make them hang low. Beauty queen, Karylgash Akplasticmetova, have a beautiful pair of teats that make dangle 1.3 metre [1.54 if you include nipple]. I would very much recommend western ladies try Kazakh face pack of Aral Sea mud mix with bear semens. If it made proper it will remain on skin for up to 3 month. Our womens also bathe their hands in horse milk for keep their skins soft after a day pulling a plough.
MC: In your movie, you profess a strong attraction to a certain blond celebrity. What is it about her that you're so attracted to?

Borat: This beautiful virgin was unlike any Kazakh woman I have had seen — she have teeth that only grow on inside of her mouth, and her arms was so slenderings that she did not look strong to pull a plough or even punch a horse to sleep.
MC: How do you think she would react to the scent of your unwashed suit?

Borat: My suit was wash 8 year ago. Anyways, my intend was to make romance inside her, so I would have remove bottom half my suit.
MC: Where are you on the whole plastic surgery debate?

Borat: I think it OK for certain thing...removal of back hair, transplant for bald head and also procedures for men. Problem is when it abused — example many jew in America has had their horns removed, which can makes them very hard to spot.
MC: Would you ever consider getting a nip or tuck for yourself?

Borat: I would perhaps consider have my testes lowered or moustache enlargement.
MC: Are you more of a leg or boob man?

Borat: My preference is a lady that have both. In ideal situation two of each. If you read this and have both of these — then I very interest to make sexytime with you. You contact me please on myspaces the number is myspace.com/borat.
MC: What's the one beauty ritual you think a woman should never skip?

Borat: They must remember to varnish their false teeths or else the wood will become rot.
MC: What's the one beauty ritual you would never skip?

Borat: Every years I travels to Lake Alakol at foot of Tinshein Mountains where I place water on my body for make smell nice. Also, I always ensure to brush my hairs — head, mouth and anoos.
MC: Are you ready to have women throwing themselves at your feet after what's sure to be the success of your film?

Borat: In Kazakhstan womens has to throw themselves at the feet of all men anyways (only mens over age of 7 — we is not sexyist nation).