Urban Legends: How 'Broad City's Stars Turned Millennial Malaise into Comedy Gold
Abbi Jacobson and Ilana Glazer get serious(ly funny).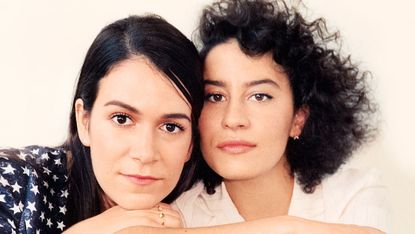 (Image credit: Andreas Laszlo Konrath)
Over breakfast with Abbi Jacobson and Ilana Glazer at the swank East Village restaurant Gemma in New York City, it's hard not to feel like a third wheel. The duo, who created and star in the Comedy Central hit Broad City, now entering its third season, talk back and forth, back and forth, trading insightful yet amusing thoughts and observations like they're an old married couple still in love with each other. I'd rather not interrupt.
Jacobson: "I mean, people think Ilana is not white. And we're like, What's happening?"
Glazer: "I want to say white people think that, but no, everybody. And they're like, 'Colombian, right?' And they'll speak in, like, Spanish."
Jacobson: "And you're, like, Long Island Jew!"
Glazer: "I'm total New York Jew. I can't believe you heard my voice, saw my face, and think I'm anything but a big old New York Jew."
It's the same patter (though decidedly less raunchy) that's become a mainstay of Broad City, the buddy comedy they initially launched in 2009 as a Web series, about two fumbling Millennials cavorting around New York City, sleeping with whomever, smoking weed, and navigating "only in New York" indignities—like riding a packed and stinking subway or shopping for an outrageously overpriced apartment— experiences that, while geographically specific, could also be read as a metaphor for the messiness of youth. Broad City's humor is unabashedly vulgar, and not just about sex, but about other bodily functions, too. On the show, Abbi is the sheepish one, working as a "pube cleaner" at an upscale gym called Soulstice, though she desperately wants to be a trainer. Ilana is the rudderless free spirit, clocking in (just barely) at a Groupon-inspired startup and Skyping Abbi during sex with her on-again, off-again boy toy (he wants more from their relationship; she doesn't). Abbi and Ilana's friendship on-screen is refreshingly devoid of any passive-aggressive and stereotypical female drama, and their real-life rapport is just as easy. Jacobson and Glazer vigorously agree with virtually everything the other says, and while they don't arrive at breakfast together, they accidentally show up in matching denim jackets. "We're denim girls today," Glazer tells Jacobson, who smiles and nods.
The core difference between the fictional besties of Broad City and their IRL alter egos: The real Abbi and Ilana (they're usually referred to in tandem, like Laverne and Shirley) defy every conventional wisdom about Millennials that their show comically underscores. On Broad City, the girls are, ostensibly, archetypal 20-somethings, self-involved college graduates who can't find or hold on to a "real job" or "real love" because they're too angsty, too wishy-washy, and still too dependent on their parents for support. But flip the script and they can just as easily be described as ambitious, idealistic 20-somethings using this particular life stage, when they have no real responsibilities and can depend on support from "the family plan," as Jacobson puts it, to explore their passions, work on their own terms, and cultivate a uniquely modern form of renown via social media. Not everyone rises to the occasion à la Mark Zuckerberg and Bethany Mota. For those who don't launch their own startup or preside over a YouTube empire, the realities of post-college mediocrity are played out in hysterically vivid form on Broad City, where the characters aren't lazy or coddled so much as unsure and struggling.
"There is this thing where our generation has been told, 'You can do anything! You're the best! You are so special!' And I think that has paralyzed people or empowered them," says Glazer, 28. "It's like, Oh, fuck, you can do anything. You can make a Web series with 35 episodes, and it will turn into something bigger!"
Soon the pair trade witty commentary on the perils of being on the verge of aging out of a generation. "I feel like when our parents [used to say], 'Man, we didn't have this,' now, we say that like two years later," says Jacobson, 32. "We say, 'I can't believe we're checking Internet on our phones.' And that's not a whole generation; that's, like, four years ago. We're old fogies now. Not really, but the technology changes so much that a 20-year-old is in a different world. Even our characters on the show—I think we have to try to remain very current because we're kind of out of that already."
Glazer jumps in: "This year, we wrote in the office of the production company that produces our show, and they have a lot of young interns, so we're like, 'Hey, what's Tinder?'"
It's hard to believe that these two, who've emerged as our sharpest observers of urban Millennial life, feel as though the world is getting away from them, too. It's easy to look at them now and say they've transcended the stereotype (success will do that), but one can only imagine what their parents thought when these liberal arts graduates were first starting out with dreams of comedy careers. Certainly not that they would create a show so zeitgeist-y, it would nab a Hillary Clinton appearance. (Clinton, a front-runner for the Democratic presidential nomination, will make a cameo this season.)
Jacobson hails from Wayne, Pennsylvania, and attended the Maryland Institute College of Art in Baltimore, where she studied fine arts, with a minor in video. Glazer, a Long Island native, attended New York University, where she majored in psychology. In 2007, the pair began taking classes at the Upright Citizens Brigade (UCB) improv theater (Jacobson was 23; Glazer was 19). They were the only women on their indie improv team, and crazy though it seems, neither one was having much success landing spots on the UCB house teams, so they joined forces and transformed their banter into a Web series, Broad City. It quickly amassed a small cult following among comedy nerds, including Amy Poehler, a cofounder of UCB, who threw her weight behind it, helping shepherd the series into the mainstream. "We've been told that men won't watch us, but Comedy Central"—whose core demographic is men ages 18 to 34—"was down," says Glazer. During that first year, the two were paired with a more experienced showrunner, Tami Sagher (How I Met Your Mother). That lasted a season before Sagher was gone. "I think we learned that we had to be the showrunners and the show has to be run by our younger vision," says Glazer, confidently.
"But we also haven't really hired anyone who has worked in the business for longer than four years," adds Jacobson. "We don't want a formula with a lot of big writers' rooms. Ours is very small."
As a result, the two have become leaders in a resurgence of young, funny women populating television in recent years, dispelling the notion that men won't watch them (they do)—last season, the show averaged 1.2 million viewers, more than 60 percent of which were men—but also crushing taboos about what women can, will, and want to joke about. That includes an unflinching look at female grooming rituals (in one scene, Ilana stands bare-bottomed in a dressing room, picking at her bikini line, asking for tweezers); the ways women objectify men (Ilana rates guys based on dick size); and even their scatological peccadilloes (one episode sees Abbi and Ilana scheming over how to unclog a toilet without tipping off Abbi's romantic interest). "I don't think we ever approach a story in terms of being raunchy," says Jacobson. "That comes from: When you're into someone, what's the worst thing that could happen? It comes from that place rather than: Let's get a shit stuck in the toilet.
"It's emotional because it's a friendship," she adds. "What will they do for each other?"
The supporting cast on Broad City is also subversive for television, which has traditionally assigned even second-string roles to white actors. Ilana's on-again, off-again fuck buddy, a straitlaced dentist, is black (played by Hannibal Buress), and her daffy gay roommate—and drug dealer—is Latino (Arturo Castro). Jacobson and Glazer are unafraid of checking their blind spots: In the first season, when Ilana declares, "What's hotter than a pink dick with a sense of humor? I mean, a black dick," Abbi responds, "Sometimes you're so antiracist that you're actually really racist." But getting credit for any kind of diversity is not something either seems particularly comfortable with. "It's diverse compared to the rest of television, but it's not diverse compared to the world," says Jacobson. "It actually feels weird and gross when people give us that credit for being so diverse," adds Glazer. "Because we are women, we're 'othered,' so we're considered diverse, but we are two white people who are Jewish in comedy."
Glazer has a point, of course, but given Hollywood's long history of gender inequity, it's hard not to cheer their ascent as a sign that the barriers for women really are breaking down, maybe even for good this time. In November, Jacobson and Glazer hosted the Gotham Independent Film Awards in Lower Manhattan, and they're also writing and producing (though not starring in) an untitled comedy with Bridesmaids director Paul Feig. Neither seems terribly concerned that the success of women in comedy right now is just a phase; nor do they worry that Hollywood decision makers will stop churning out female-driven entertainment just because something might bomb at the box office; anybody who thinks that way, according to them, is on the way out. "They are literally dying," says Glazer. "They're really old, and young people like us are going to be writing those parts one day."
In other words, these broads are on the move, so you best get out of the way.
This article appears in the March issue of Marie Claire, on newsstands now. Oh, and while we were on set for the photo shoot, we decided to have a little fun by quizzing the co-stars about how well they know each other. You've got to see what happened:
Follow Marie Claire on Instagram for the latest celeb news, pretty pics, funny stuff, and an insider POV.
Celebrity news, beauty, fashion advice, and fascinating features, delivered straight to your inbox!