Why Failure Was Never an Option for Canva's CEO
Melanie Perkins, the newest member of the Unicorn Club, shares her tips for making it big in business.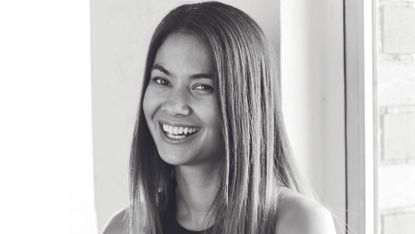 (Image credit: Photo courtesy of subject)
Melanie Perkins cofounded Canva, an online design and publishing tool, in 2012. Today, it's valued at $1 billion. Here, she shares how to join, and thrive in, the Unicorn Club.
Marie Claire: When you first launched your company, what were your goals?
Melanie Perkins: From teachers creating lesson plans and worksheets, to marketers creating social media graphics, to businesspeople building presentations, everyone is finding the need to design. That is why we created Canva—to make design easy and affordable for everyone, even if you have no design experience. Today, Canva is used in 190 countries and in 100 languages, with 13 designs created every second.
MC: In January, it was announced that Canva is now valued at $1 billion. How did you celebrate?
MP: It is important that valuations don't become the only goal. When you're growing this fast, you need the entire team to focus on things that really matter—and that's making our users' lives easier and better. But each raise is an opportunity to pause and reflect on how far we've come!
MC: How many "nos" did you get before you got your first "yes" from a major investor?
MP: There were hundreds of rejections: from investors, potential team members, early customers. To build a startup, you have to run against the grain for years. Every time we got a hard question or picked up on a reason people wouldn't invest, we focused on what we could change and revised our pitch deck. We never considered failure an option.
MC: The #MeToo movement has sparked major cultural changes in business and beyond. What does it mean for female founders?
MP: There were some old rocks that urgently needed to be turned over. It's encouraging to see that antiquated and sometimes atrocious behaviors are no longer tolerated. We have a much greater responsibility than the old mantra, "Do no evil." We have an incredible opportunity to step up and take heed of our power to help create a world that's better for everyone. It's easy to think that it's someone else's responsibility to shape this world that we live in. But it's not. It's all of ours. I'm excited to see what the next chapter will bring.
MC: Have any mentors helped shape your business?
MP: A key moment for me was when I first met with Lars Rasmussen, a co-founder of Google Maps. Until then, I hadn't considered that people who start huge, world-changing companies could be normal, lovely people. It radically changed my perspective and the scale of my vision for Canva. Lars also played a key role in securing us an exceptional tech team and helped us find the right technical cofounder, ex-Googler Cameron Adams, who is our Chief Product Officer.
MC: What's the most important hiring lesson you learned while building your team?
MP: What makes a team efficient is its attitude, its creativity, and its problem solving capacity. If people want to join a startup, they need to embrace change and the chaos that comes with being at a very fast-growing company. Technology requires people who thrive in these types of settings and who are willing to forge their own path.
Want to learn more about the Unicorn Club? Hear from other billion-dollar female founders and venture capitalists here.

A version of this story appears in the April issue of Marie Claire, on newsstands now.