Who Is Danny Fujikawa? Everything You Need to Know About Kate Hudson's Boyfriend
He's going to be a new dad.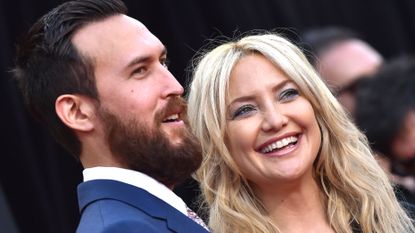 (Image credit: Getty Images)
1. He's a musician2. He studied at New York University3. He founded a record label4. He has one film credit on IMDb5. He has a very unique Instagram handle
Today, Kate Hudson announced she's expecting her third child, posting a very sweet video to Instagram of her and her family finding out she's having a girl. Hudson has two sons Bingham, 6, with Matt Bellamy, and Ryder, 14, with ex-husband Chris Robinson. This will be her first child with her current boyfriend Dany Fujikawa.
RELATED STORIES
The two have known each other for over 15 years. Fujikawa is Hudson's best friend's stepbrother, but they only recently started dating a year ago. Relationship rumors were buzzing last March when they were seen kissing in L.A. out at lunch.
She's been friends with Fujikawa since she was 23 years old, so she never expected that a hike they took through the mountains last year would turn into their first date, and then into love.
In an Instagram post from a few months ago, she wrote: "A year ago today Danny took me on a hike and what I thought was just a hike with a family friend turned very quickly into an unexpected first date. No moves were made on this first date. In fact, it took months for him to make the first move!"
Hudson seems very happy with Fujikawa, and he's the first man she's publicly dated since calling off her engagement to Bellamy in 2014. Here, everything we know about Danny Fujikawa:
1. He's a musician
The Santa Monica, L.A. native was a singer and guitarist in a band called Chief alongside his brother, Michael who played the drums. According to the New York Times, the band released a record in 2010 called Modern Rituals. "I listen and it immediately feels natural to see myself driving down the Pacific Coast Highway," Fujikawa told Domino USA. "But at the same time, maybe it would feel the same way if I were walking through New York."
2. He studied at New York University
Fujikawa traveled to the East Coast to attend school at New York University, where he met his Chief bandmates.
3. He founded a record label
In 2013, Fujikawa and the front man of The Delta Mirror, Chris Acosta, started Lightwave Records "as a way to release their music on their own terms," according to the label's Facebook page. Since its opening, the label has released several albums, including one from The Delta Mirror and Fujikawa's first solo record, Cellophane Castles.
4. He has one film credit on IMDb
If you search Fujikawa on IMDb, you'll find that his voice was heard in the movie Scumbag in 2017. Next to the credit it reads "(voice: phone call)," so we can only assume he's the voice on the other side of a call in the film.
5. He has a very unique Instagram handle
No, you won't find him as @dannyfujikawa on Instagram, but rather with the handle @swimswammyslippyslappy (try saying that 5 times fast). Fujikawa's personality really shines through on his social media. He's posted photos of himself crying about his beard transformation and wearing sheet masks. Right now, he's only got about 5,000 followers, but we're sure more will come with the excitement of Hudson's pregnancy.
I'm currently working at Dotdash Meredith as the Celeb & Entertainment E-Commerce Lead contributing affiliate content for People.com and InStyle.com. I'm basically like your personal shopper, from writing about that cozy loungewear set you didn't know you needed to keeping tabs on the best sales and deals on the internet. I'm also a pro at finding affordable dupes for celebrity looks and I love to dig into the data to strategize content opportunities.