Chelsea Handler on That Time She Spent $200,000 to Meet a Guy, What Superpower She'd Have, and What's Next for Her Career
The Chelsea Does star answers our rapid-fire quiz.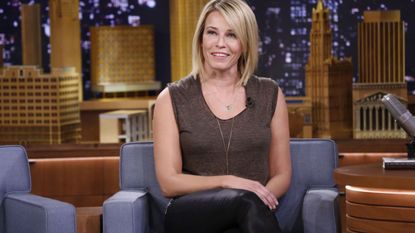 (Image credit: Getty Images)
1. If I weren't a talk show host, I'd be: A waitress
2. Best career advice I've gotten: It doesn't matter how many people say no. All it takes is one person to say yes.
3. Most gracious response to career setback: The most gracious thing to do is to not comment on anything, but I'm incapable of that sort of elegance.
4. Least gracious response to career setback: Me.
5. The three qualities that got me where I am today: Determination, belief, humor.
6. Moment I felt I made it: When I heard a DJ on the radio announce my birthday.
7. Most agonizing career decision I've ever made: Quitting a reality show that I hosted right when my show [Chelsea Lately] started on E!. I was so bad at hosting reality, and it was a Steven Spielberg show, and I had to get out because I sucked so badly.
8. The easiest career decision I've ever made: Moving to Netflix. My baby.
9. Kind of work I'd do for free: Listen to people.
10. Favorite perk of the job: Feeling like what I say may matter to someone.
11. Worst pitfall of the job: I get to dance around a beautiful house in my underwear while drinking a vodka. No pitfalls.
12. What my career will look like in 5 years: Who knows? I'm the worst planner. I know I won't allow myself to be bored.
13. Change I'd like to see in my industry: I want people to stop having to discuss gender disparity.
14. How I made my first dollar: I folded t-shirts in the back of a T-shirt store in Martha's Vineyard because it was illegal to be working at 13.
15. Who do you admire and why? I admire my best friend Mary McCormack for her love and devotion to her children.
16. Last thing I binge-watched: Shameless on Showtime.
17. Book that left a lasting impression on me: Wuthering Heights. It just went on and on and on and on and reminded me to wrap it up.
18. Song that always makes me cry: No songs make me cry.
19. Movie that had the greatest ending: Terms of Endearment. That's real life. People die and break your heart.
20. Song I want played at my funeral: "Rolling in the Deep."
21. First album I bought: I've never bought an album, but my first concert was Bon Jovi in New Jersey.
22. On my bucket list: I don't make lists. I can't organize. Things just have to appear.
23. If I could live in a foreign country, it would be: I love Spain. From the top to the bottom.
24. What every woman should try once in her lifetime: To jump off a cliff. Or out of plane. To jump.
25. How my perfect day begins: With my dog, Chunk, rolling around in bed when I scratch him in the morning with his sleepy face, and someone bringing me a really cold green juice on a tray. I like luxury.
26. How my perfect day ends: Fucking someone I love.
27. One thing I'm exceptionally good at: Telling you what I think. I'd like to get less good at it. It's not popular.
28. One thing I'm epically bad at: Long division or anything make-believe.
29. Superhero power I'd want to have: I don't believe in superheroes. I only believe in Smurfs.
30. How do you clear your mind after a crappy day? I read a book. I always read to get myself out of myself. Or I go to Mary's house.
31. Something nice I did for myself recently, because hey, why not: I am always doing nice things for myself. I like to remind myself I'm on my side.
32. If I could compete in an Olympic sport, I'd like it to be: TENNIS!
33. The last time I felt beautiful was: While writing this...
34. The beauty essential you have to pry out of my cold, dead hands: Liz Earle serum. I slather it on my face several times a day.
35. My first kiss: With a guy I met in Martha's Vineyard named Justin. He looked like Brad Pitt, and I was so disgusted by having a man's tongue in my mouth. Who knew.
36. The three qualities I thought I wanted in a partner: Smart, handsome, funny.
37. The three qualities I know now matter: Generous, honest, affectionate.
38. Advice to a woman with a broken heart: It gets better. Broken hearts turn into beautiful hearts.
39. Relationship advice to my younger self: There are other fish in the sea. Tons of fish.
40. Moment I knew I was in love: I've always known that I would love a man the moment I met them. Three times.
41. The craziest thing I did for love: Chartered a plane for $200,000 to meet him. I WILL NEVER DO THAT AGAIN. IDIOTIC BEHAVIOR.
42. What my high school boyfriend would say about me: I think he's in jail. He probably thought I'd be.
This article appears in the May issue of Marie Claire, on newsstands now.
Celebrity news, beauty, fashion advice, and fascinating features, delivered straight to your inbox!