Amy Schumer Takes on Gun Safety in Her New Comedy Sketch
Firearms for all!
Marie Claire Newsletter
Celebrity news, beauty, fashion advice, and fascinating features, delivered straight to your inbox!
Thank you for signing up to Marie Claire. You will receive a verification email shortly.
There was a problem. Please refresh the page and try again.
Amy Schumer is back at it, kicking ass and taking names as she makes you cry with laughter. In a new Inside Amy Schumer sketch, which debuted on Entertainment Weekly, the comedian tackled the very serious issue of gun violence and the legal loopholes that make purchasing firearms far easier than it should be.
In the skit, Schumer plays a home shopping network host, whose latest, hottest deal is—you guessed it—guns! "Perfect for everyone" and selling for the low, low price of $39.95.
"How cute is that?" she exclaims as the sparkly, polka-dot box opens to reveal the handgun up for sale. "And now, here is what's great about this, pretty much anyone can purchase this!" Schumer adds.
The scene continues as questionable callers dial in to get their hands on their very own gun, which is no problem, thanks to the ultra-lax firearm laws.
"Oh no, I could never get a gun. I have several violent felonies," said one caller.
To which Schumer replied with a laugh, "Caller, you bite your tongue, you silly goose! You can absolutely get a gun!"
Watch below:
This isn't Schumer's first encounter with the issue of gun safety. A man opened fire in a Louisiana theater during a showing of her 2015 movie Trainwreck, which compelled Schumer to become even more of an advocate for gun safety than she may have been already.
For this particular sketch, she partnered with advocacy group Everytown for Gun Safety, to ensure accuracy of the information and policies they poked fun at.
"This was a sketch that Amy personally felt really strongly about," Inside Amy Schumer executive producer Dan Powell told EW. "The whole writers room piped in with jokes and ideas and things like that but ultimately, this was Amy's baby."
By the way you can actually call the number featured in the clip if you want to know more about getting involved.
Follow Marie Claire on Facebook for the latest celeb news, beauty tips, fascinating reads, livestream video, and more.
Celebrity news, beauty, fashion advice, and fascinating features, delivered straight to your inbox!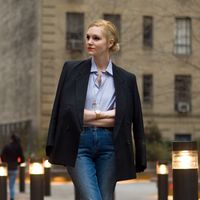 I am an experienced editor, writer, and creative strategist, specializing in fashion, beauty, and lifestyle content for digital media outlets, as well as video and social platforms. While I currently operate as a freelance contributor/consultant, with such clients as The Zoe Report, my 10+-year background in the industry was cultivated at the dot-coms of elite publications, including Harper's BAZAAR, ELLE, and Marie Claire.