Why Princess Diana Wouldn't Wear the Chanel Logo After Her Divorce
For a very sad reason.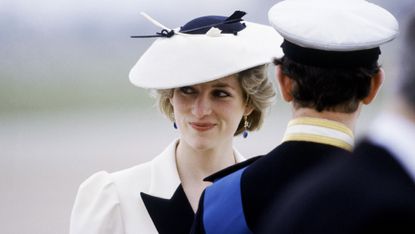 (Image credit: Getty Images)
Marie Claire Newsletter
Celebrity news, beauty, fashion advice, and fascinating features, delivered straight to your inbox!
Thank you for signing up to Marie Claire. You will receive a verification email shortly.
There was a problem. Please refresh the page and try again.
Princess Diana, one of the most influential style icons of the 20th century, was known for wearing a lot of classic designer brands, from Jimmy Choo to Christian Dior. But there was one fashion house she avoided after her very public divorce from Prince Charles.
According to designer Jayson Brundson, who spoke with Harper's Bazaar Australia about working with Diana in 1996, Diana couldn't bring herself to wear Chanel because of the label's iconic double C logo.
Brundson explained that while he was helping to style her during a trip to Australia, Diana told him she couldn't wear a classic pair of Chanel shoes:
"After [Joh Bailey] had finished her hair she had to get ready for a hospital visit and she said I'm going to wear a cream Versace skirt suit. It was a very fitted jacket and pencil skirt, and she said, 'but I don't know what accessories to wear with it.'"
Bailey suggested Brundson, who was there mainly because he was a fan of Diana's and volunteered to assist with her hair, help her pick what accessories to wear"
"She came out holding like handfuls of shoes and bags and just dumped them all down on the couch. Then said, 'What do you think?', so I went through them all and I found a pair of Chanel shoes, and I said, 'Well these would look great with the Versace,' and she said 'No, I can't wear linked Cs, the double C.' So I asked why, and she said, 'It's Camilla and Charles.'"
"It was definitely the timing, it being post-divorce," Brundson continued. "She would have seen linked Cs and they would have just reminded her of Charles and Camilla. The shoes were quite boldly Chanel, I think they had gold linked Cs on them. And I think for photo optics, people would have honed in on that considering it was so fresh after the divorce as well."
Princess Diana separated from Prince Charles in 1992 after finding out about his affair with Camilla Parker Bowles. In a tell-all interview with BBC post separation, Diana famously said, "There were three of us in this marriage, so it was a bit crowded." The late royal's divorce from Prince Charles was finalized in 1996.
Celebrity news, beauty, fashion advice, and fascinating features, delivered straight to your inbox!