Alisha Boe Loves a Good Cry
The 13 Reasons Why star reveals what makes her happiest.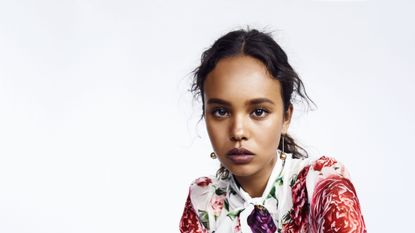 (Image credit: Lauren Knudsen)
AGE: 21
LIVES IN: Los Angeles
YOU KNOW HER FROM: Hulu's Casual (2015), MTV's Teen Wolf (2016), Showtime's Ray Donovan (2016), and Netflix's 13 Reasons Why (2017)
WHAT DO YOU DO IN YOUR DOWNTIME? Hiking. It's the Norwegian in me. Norwegians are very, very serious about nature. Los Angeles is a big city, but there are all these beautiful hills and canyons. I love going hiking alone, because it's kind of meditative. It's the best form of self-care, in my opinion.
LAST VACATION? For my 21st birthday, in March, my friends got this cool Airbnb in Joshua Tree for four days. We road-tripped from L.A., and we celebrated, explored the national park, went to the top of the mountain.
FAVORITE BOOK? I keep re-reading The Diary of Anaïs Nin. She is an erotic writer. She wrote A Spy in the House of Love, which you should read. She wrote these diaries, and they're so poetic, even a woman in 2018 can relate.
GO-TO MEAL YOU COOK? I am in love with porridge. I love breakfast foods. Last night, I had granola with berries for dinner.
LAST SHOW YOU BINGE-WATCHED? I just finished the latest season of Love in one night. I was really proud of myself.
YOUR BLISSOUT PLAYLIST? I put on Sly & the Family Stone radio on Spotify in the morning. Billie Holiday at night.
BEST CONCERT YOU'VE EVER BEEN TO? Outside Lands music festival in San Francisco in 2016. My 13 Reasons Why costar Brandon Flynn and I bonded over—this sounds like such music-festival pretentiousness—Radiohead. By the end, we were hugging each other, crying. If you're not in tears, you're not having a good time. Put that on my tombstone.
Follow her @alishaboe.
This article originally appeared in the 2018 issue of Marie Claire, on newsstands now.
RELATED STORY
Marie Claire email subscribers get intel on fashion and beauty trends, hot-off-the-press celebrity news, and more. Sign up here.
As deputy editor, Jen oversees Cosmopolitan's daily digital editorial operations, editing and writing features, essays, news, and other content, in addition to editing the magazine's cover stories, astrology pages, and more. Previously, Jen was a senior editor at Marie Claire. Before that, she worked at GQ.