The Best Daniel Movies Ranked by Overwhelming Hotness
Harry Potter didn't make the list, sorry not sorry.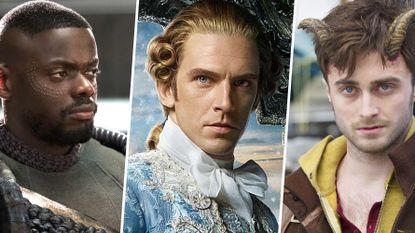 (Image credit: Getty Images)
Things I learned from making this list: 1) There are a lot of men named Daniel. 2) Most men named Daniel are hot. 3) Daniel Radcliffe as Harry Potter is possibly the least sexual thing of all time, and should be on no hot list ever. So it's not here. What is here? Several other Daniels, all of whom are hot, ranked by said hotness.
10. Daniel Radcliffe: Swiss Army Man
Unfortunately for people who prefer to watch movies with Daniel Radcliffe alive, he is very much dead in this film. In fact, he spends his entire time as a farting corpse whose erection doubles as a compass. Why have I included Daniel the Corpse on this list of Hot Daniels? Honestly, if you don't know, I can't help you.
Please, try to name a more dashing corpse. I shall wait.
9. Dan Stevens: Beauty and the Beast
Am I attracted to Dan Stevens as a dog/buffalo who traps a young woman in his castle and Stockholm Syndromes her? Yes. Do I wish I wasn't. Yes. Alas, here we are. If you, too, are disturbed by your own crush on Dan Stevens as a literal beast, maybe this gif of him in a CGI outfit will help.
No? How about this one.
8. Daniel Craig: The Golden Compass
Oh, you thought James Bond would appear on this list? No! He is a sexist/misogynist who, frankly, can step in a box to the left and make room for THIS DUDE:
No, I don't know what he's doing with his face here. But I endorse it. Also, please be advised that Daniel Craig's soul takes the form of a large cat in this movie, so if animated felines are your thing (I am not judging), you should probably search for it on Netflix right now.
7. Daniel Craig: A Kid in King Arthur's Court
"Excuse me," you ask, "Is this a list of the hottest Daniels, or the most WTF?" My answer: Get you a list that can do both. Which brings us to Daniel Craig and his bowl cut in A Kid in King Arthur's Court.
Yes, it is deeply alarming and unfortunate. But if you really get in touch with your internal truth, I think you'll find yourself agreeing there's something weirdly hot about this. Like, c'mon:
Editor's note: For all of you readers out there thinking, why is this woman with questionable taste in male hairstyles ranking men's movies by hotness? keep reading.
6. Dan Stevens: The Man Who Invented Christmas
Wow, guys, who knew Charles Dickens was such a snack? Not me, but who am I to question this photo?:
Who knows WHAT that newspaper did to earn Dan Stevens looking so seductive-yet-suspicious, but I am very much here to support everything about him, including his hair choices in this film. Please don't bother to ask me if I am currently experiencing vision problems—my mind is made up.
5. Daniel Day Lewis: The Crucible
Take away all the horror and death and The Crucible is basically a sexual awakening for people really into witches (a.k.a. ME), thanks to one Daniel Day-Lewis. I mean...
4. Daniel Kaluuya: Sicario
Obviously, we'll get to Daniel Kaluuya in Black Panther. But before we do, here he is looking extra handsome as an FBI agent in uniform:
And, even more extra handsome as an FBI agent out of uniform:
Tysm for your time.
3. Daniel Radcliffe: Horns
Honestly, don't even pretend to argue with me on this. Life will be easier if we all just accept that a horned boy-who-lived is coming in at number three. Not that you'll have any argument at all once you look at this smoldering image.
2. Daniel Kaluuya: Black Panther
Most people were focused on the extreme hotness of Michael B. Jordan in Black Panther, which, fair. He is smoking. But Daniel Kaluuya is not to be overlooked. Partially because of the fire vibes he gave off in the film itself:
And partly becuase of his press tour, which was just as much a promotional tour for Daniel Kaluuya's charm as it was a promotional tour for the movie.
1. Daniel Day-Lewis: Last of the Mohicans
Daniel Day-Lewis in Last of the Mohicans is quite possibly the most sexual thing to happen to Daniels as a species. Many a Ph.D. theses could be written about his indisputable hotness, which is best summarized by several photos of his flowing hair and unparalleled bone structure, which I shall now make allow you to stare at.
NOPE, NOT DONE YET.
Mehera Bonner is a celebrity and entertainment news writer who enjoys Bravo and Antiques Roadshow with equal enthusiasm. She was previously entertainment editor at Marie Claire and has covered pop culture for over a decade.