Why Everyone Thinks Justin Trudeau's Eyebrow Fell Off in This Video
Welcome to #eyebrowgate.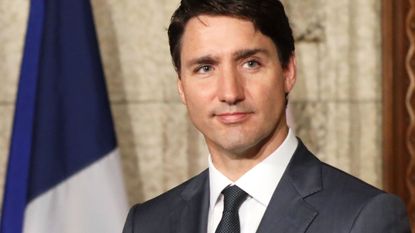 (Image credit: Getty Images)
In today's dose of things I truly can't stop thinking about, the internet is convinced that Justin Trudeau's eyebrow fell off during the G7 summit on June 8. Yup—my crush, your crush, and your mother's crush is in the midst of a fake eyebrow "scandal" that Twitter is calling #eyebrowgate (y'all, I'm already tired).
Over the weekend, the Canadian Prime Minister hosted President Donald Trump, Chancellor Angela Merkel, and other international allies for the 44th G7 summit. Sure, there were bigger take aways from the event (like Trump throwing shade at Trudeau for being "meek" and "mild"), but the only thing I care about right now is the fact that the Prime Minister's eyebrow was definitely doin' some weird-ass stuff during the broadcast.
Let's check the receipts:
Justin Trudeau's fake left eyebrow came unglued during his G7 speech! 😂 pic.twitter.com/SIobTNUkK7June 10, 2018
See more
In case you missed it, take a peek at Trudeau's right eye—either an actual caterpillar crawled across his face, or the guy's eyebrow is literally touching his eyelid. Or, you know, the whole thing is just the result of some weird lighting that gives the illusion of, uh, fake eyebrows.
Hey, your guess is as good as mine. But before you call me crazy, let me say that I'm not the only one obsessed with Trudeau's eyebrows. The aforementioned #eyebrowgate feed is currently blowing up with a lot of ...feelings.
I will never forgive Twitter for making me Google "Justin Trudeau eyebrows" at 2 a.m.June 10, 2018
See more
BREAKING: Canadian Mounties have launched a desperate search for Justin Trudeau's missing eyebrow.DO NOT approach the eyebrow, which is believed to be searching for a Labatt's and may be armed. pic.twitter.com/vI72kRVscZJune 11, 2018
See more
I am sorry but this Trudeau #EyeBrowGate is the funniest thing I have seen in a long time😂😂😂😂😂😂It's just so surreal and bizarre... pic.twitter.com/40HyBTv2yCJune 10, 2018
See more
Needless to say, I'm left with too many questions. Is Trudeau actually wearing fake eyebrows? Has Trudeau always worn fake eyebrows? Did his makeup artist take the day off? How did he NOT NOTICE this was happening?! Was it an evil shadow?!
I'll be on standby for news from the Prime Minister's office—the people of Twitter deserve answers. Now.
RELATED STORY
Celebrity news, beauty, fashion advice, and fascinating features, delivered straight to your inbox!
Ruby was the beauty editor at Cosmopolitan, where she covered beauty across print and digital. Her work has appeared on The Zoe Report, Fashionista, and StyleCaster. Follow her on Instagram.