Woman to Watch: Kristen Wiig
Woman to Watch: Kristen Wiig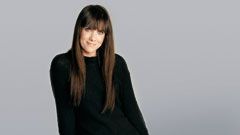 (Image credit: Archives)
WHY SHE'S ON OUR RADAR: Saturday Night Live's white-hot wiseacre cuts up as Ricky Gervais's inept doctor in the I-see-dead-people comedy Ghost Town. "I play his surgeon," says Wiig. "He dies and then comes back to life. It's pretty much my fault."
HER SHTICK: Dead-on impressions, like the excitable Target clerk and jacket-loving Suze Orman.
ALSO SEEN IN: Walk Hard: The Dewey Cox Story, Semi-Pro, and Knocked Up.
FUNNY FACES: "Aunt Linda was inspired by a lady I saw on a plane who was confused by the in-flight movie," says Wiig, 35, of her daffy film-critic character on SNL. "She just kept saying, 'What's going on?' So I wrote a sketch about a woman who was watching The Matrix and kept asking, 'What are they doing? Why are they flying?'"
MONKEY BUSINESS: "It's the little things that aren't meant to be funny that make me laugh most, like bad fight scenes in old movies with dummies thrown around that we're supposed to think are people, or a gorilla that's clearly a man in a suit. I think every old TV show borrowed that same suit."
TINY DANCER: "I was always a closet performer," says Wiig. "If we had a babysitter, I'd sing and dance for her. I was also a Munchkin in The Wizard of Oz, but I broke character to wave to my mom."
HELL ON WHEELS: Up next, Wiig skates opposite Ellen Page in Drew Barrymore's directorial debut, Whip It!, about Roller Derby dolls. "I can definitely skate," she says. "I spent hours of my childhood at Overlook Roller Rink." --Thelma Adams
UNDER THE KNIFE: "I'd make a terrible surgeon. The fear of blood? Very high on my list."